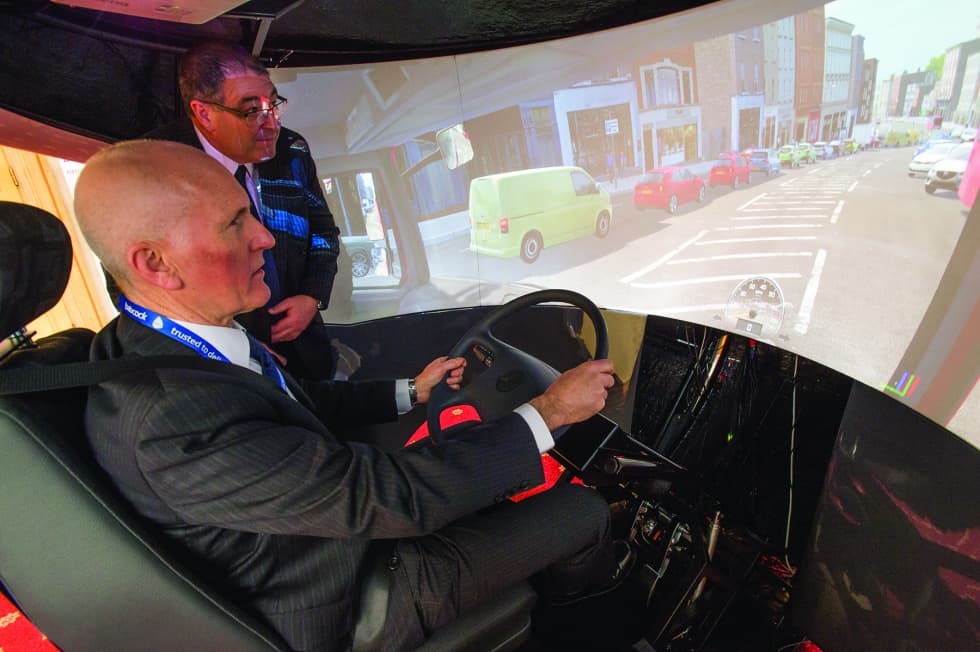 Simulators play a crucial role in many different types of vehicle training, from nimble fighter aircraft to the vast lumbering cargo ships and tankers that roam the oceans. While it seems obvious to invest in simulation training for these multi-million-pound machines, the same economic and safety factors don't tend to come into play for driving.
Although driving simulators have been around for decades, experience on the road is the preferred method of learning. For the 'blue-light' drivers of emergency vehicles, however, practising their skills on real-life streets can pose a risk for them and other road users. That's one of the factors that led engineering services company Babcock to develop a simulator specifically designed to replicate the experience of emergency services driving.
Its recently launched fire-truck prototype is the culmination of 18 months' R&D. Featuring a 200˚ wraparound screen, the simulator will not only facilitate emergency driving in a safe environment, it will also enable training tailored to specific incidents. According to Alistair Cumming, Babcock's head of training, design and development, this will enable more focused instruction, complimenting real-life training rather than replacing it.
"Say you're not particularly good at zebra crossings," he explained to The Engineer. "What we can do is have zebra crossings on the simulator and keep replaying approaches to zebra crossings, so that you get plenty of repetition and plenty of experience. If you're out on the road you might need to drive for another 30 or 40 minutes until you find another zebra crossing."
Simulators for emergency services driving do exist, but Cumming claims many of them lack the realism required for effective training. While they can be useful for imitating certain situations, they fail to replicate what it's like to sit inside a fire engine and handle a vehicle that weighs 12 tons.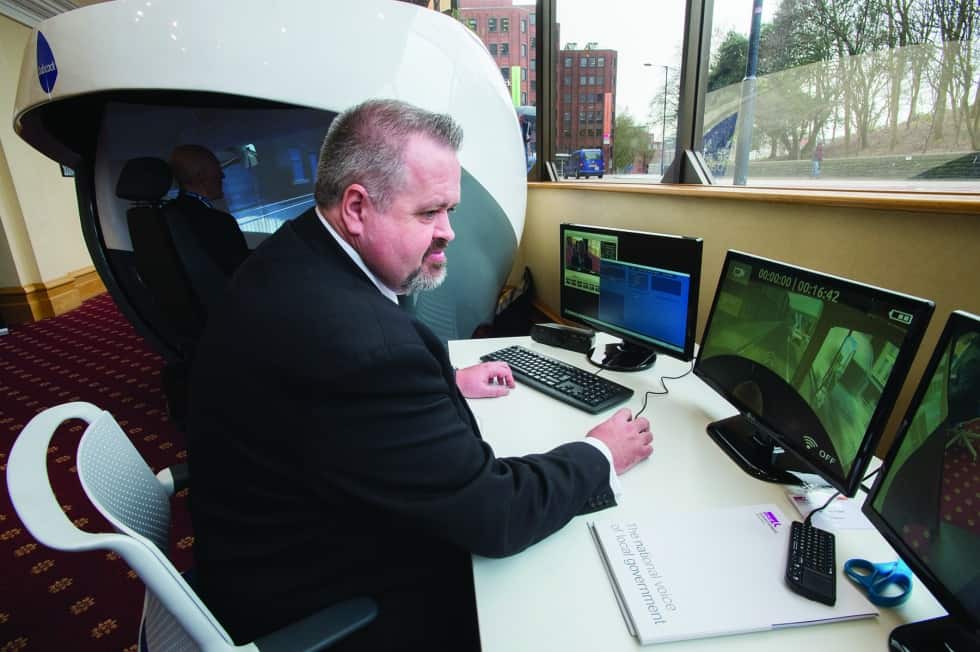 "The big difference with this is that you're actually in a fire engine, you're actually sitting inside the cab of a fire engine and it becomes immersive," he said. "The only way that simulation can actually be effective as a training tool is if you're immersed in it."
Fundamental to this is the way in which traffic in the Babcock simulator reacts to the emergency vehicle and the decisions the driver makes. Just as in real life, certain cars will respond differently to the presence of blue lights in their mirrors and the approaching blare of a siren.
"The bit that no one's ever done before is this artificial intelligence reacting to blue-light users," said John Fuller, a London Fire Brigade (LFB) Emergency Response Driving (ERD) instructor for 15 years, and another of Babcock's key figures behind the simulator concept.
The only way that simulation can actually be effective as a training tool is if you're immersed in it
"The reason they've never done it before is because it's so complicated, with millions of variations. First off, we wrote a mapping document of the rules we would expect people to adopt in different scenarios. Bear in mind they've got to be mapped to what [people] do wrong, as well as what they do right. Then we worked with a team of software developers to get the mapping – the experience I've got in my head about what people will do – to get the software engineers to make that happen on the screen… we had quite a few people who said it couldn't be done."
That process resulted in some features that Babcock claims have never been achieved before. Vehicles in other simulators are typically just window dressing travelling blindly on rails, unresponsive to environmental factors. However, each individual vehicle in the Babcock simulator has its own AI model, 'thinking' independently and reacting to the movements of other traffic.
This traffic populates a variety of different terrains covering 167 miles, including urban, inner city, and rural roads. These are divided up into different 'runs' that can be shuffled and swapped into any order, providing an almost infinite variation of routes to test drivers. Environments are geo-typical rather than geo-specific, with some layouts from the real world copied but with altered characteristics to prevent drivers making assumptions from personal knowledge and experience. Layouts were specifically selected to provide a complete range of challenges, with different types of intersections and junctions.
"It means the driver gets exposed to an awful lot more than they would do if they were street driving," said Cumming. "It's much more challenging, much more testing. And that's why you can be confident that when you come out of the simulator, it's a better and more effective experience than somebody who's just learned to drive in a road vehicle."
When it comes to driver immersion, precise simulation of handling is just as important as responsive traffic. In order to accurately reproduce the movements and feel of a fire engine, Babcock worked with Motion Simulation and Serious Games International, which played key roles in developing the hardware and software respectively. Together, they conducted a series of tests so that the handling physics of the simulator would match those of a fire truck as closely as possible.
Using several fire appliances fitted out with cameras and measuring instruments, the team designed a testing regime that involved braking, acceleration and handling runs. These runs were carried out with the vehicles both fully loaded and empty, under wet and dry road conditions.
"We did everything three times to give us an average," Fuller explained, "and then we got a full set of performance figures so we know exactly, on a real fire appliance, it will brake exactly from that speed to that speed in that amount of distance. We know that's a fact because we tested it and we've got all of the data there.
The full range of blue-light vehicles will be covered.
"It threw up a few surprises. It brakes far better than any of us would've bet money on. We were all checking our figures… and the software engineers were asking us if we had our figures right, but we could show them all the engineering data." Although the initial prototype has been set up for a fire appliance, the same testing will take place on cars and ambulances so that the full range of blue-light vehicles will be covered.
Hardware and software tweaks will allow the simulator to mimic the handling of each vehicle, with adjustable elements, including the ride height and steering wheel. The underlying software can be modified for both left- and right-hand driving, opening up international markets in Europe and North America.
Babcock is also working with the Royal Society for the Prevention of Accidents (RoSPA), with the company's instructors required to gain a national diploma in Emergency Response Driving Instruction. Plans are also in place to have the simulator and its courses accredited by RoSPA.
"We are delighted to be working with RoSPA to gain accreditation," said Fuller. "We want to make sure these drivers get to jobs in the safest and quickest way they can."