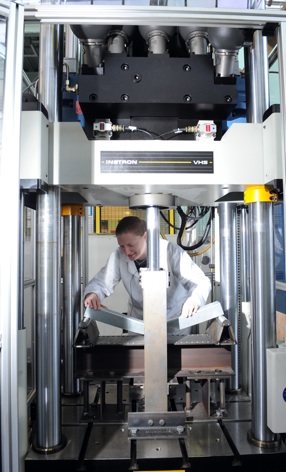 Hard at work in a series of very modern looking buildings dotted around the country, several teams of researchers are attempting to carefully construct the future of British manufacturing. In fact, if the seven organisations that comprise the High Value Manufacturing (HVM) Catapult prove successful, they could play a major role in shaping industrial production around the world.
Launched in October 2011, the HVM Catapult is the first example of a key part of the government's new industrial policy: a group of technology and innovation centres designed to bridge the gap between academic research and business in a number of key sectors. That the government even has an industrial policy is quite an amazing fact in itself given the last time the Conservative Party was in power it pretty much did away with the notion of state involvement with business. And the concept – and industry in general – remained rather unfashionable for the next 25 years.
But the financial crisis changed everything. The focus is now on rebalancing the economy and rebuilding the UK's manufacturing base. And given the difficulty in luring mass production back from developing countries offering cheap labour, new technology and high-value manufacturing based on world-class research are typically seen as the way to do this.
If only it were that straightforward. It's become a cliché to say that Britain is good at coming up with scientific and technological ideas but not at commercialising them. However, there is a real problem for many small firms and university spinouts developing new technologies that need large amounts of capital in order to ready their products for market or work out how to manufacture them at higher volumes.
'I've seen some really promising technologies flounder because investors ran out of patience,' said HVM Catapult chief executive and former Jaguar engineering director Dick Elsy. 'At best some fizzled away and at worst some got snapped up for nothing and went overseas.' This is where the Catapults come in, or at least that's the plan: they will provide a set of national assets that companies and universities can use when they need then, effectively hiring facilities and research expertise that would be too costly to develop and build themselves.
'I've seen some really promising technologies flounder because investors ran out of patience

Dick Elsy, HVM Catapult ceo
The Catapults sprung out of the Technology Strategy Board (TSB) as a way of supporting long-term collaborative industry research programmes. The previous government commissioned Acorn Computers founder and venture capitalist Hermann Hauser to write a report on how physical centres could perform the task of feeding academic research and expertise into business. He drew heavily on the model of the Fraunhofer institutes in Germany that work in similar way, but also looked at the old research labs run by the likes of former chemical manufacturing giant ICI.
'We talked a lot about the demise of the large corporate laboratories in the UK and how they were about translation,' said David Bott, the TSB's director of innovation programmes. 'The immediacy of t1he market and the need for short-term returns meant most companies divested themselves of long-term assets. When I was young there were large bluechip research laboratories in the chemicals, electronics, engineering and pharmaceutical industries. Even the pharmaceutical ones are effectively going now.'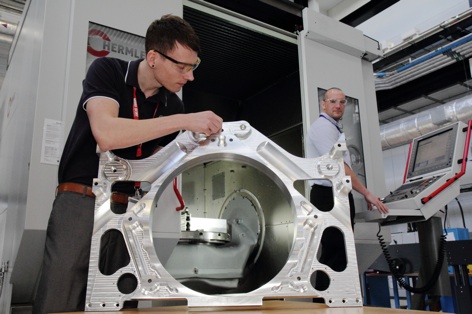 When the new government came to power, science minister David Willetts took the idea forward and asked the TSB to create six to eight Technology and Innovation Centres (as they were originally called). The most obvious choice for the first centre was to focus on high-value manufacturing, not least because the UK already had a number of research facilities such as the Manufacturing Technology Centre (MTC) that fell into this category and could be brought together under one metaphorical roof. There was also a clear need for a centre focusing on offshore renewable energy that could help develop the rapidly growing wind and marine energy sector.
'When I was young there were large bluechip research laboratories in the chemicals, electronics, engineering and pharmaceutical industries. Even the pharmaceutical ones are effectively going now

David Bott, TSB director of innovation programmes
'The need for physical assets in manufacturing and offshore engineering is just paramount,' said Bott. 'Not everybody can afford a large heavy press or the most up-to-date computer milling machines or the best additive layer manufacturing machines or be at the cutting edge of composite manufacture. We have to focus all the components of the UK innovation chain into one place and stop competing internally and start competing with China and Germany and America.'
The same ideas about developing supply chains and taking the risk out of new technologies by providing the tools to get them to market were also applied to two other sectors identified as having big commercial potential for the UK: cell therapies and satellite applications. 'We needed to start putting in assets ahead of the market growth,' said Bott. 'So we started looking for markets where we could see real growth in the next five to ten years, real very strong UK capability and an enormous home market and international market that companies could grow into for export.'
The final three Catapults were selected from sectors that didn't need physical equipment in the same way but still required substantial research and development (and also computing resources) to become commercially buoyant industries. This has led to centres for "Future Cities" (effectively smart grid-type technology), "Transport Systems" (digital communications and control infrastructure for vehicles and traffic management), and "Connected Digital Economy" (a less well-defined area that basically includes any internet-based technologies that could alter business models in across sectors from retail to healthcare).
Most of the centres have yet to open for business, but the HVM Catapult operates across existing research facilities so it gives us an early glimpse of how the concept works. The model prescribed by Hermann Hauser and taken up readily by the TSB is for one third of the funding for each project to come from industry, one third from government (in this case through the TSB), and one third from academia or grant funding sources such as the EU.
The Catapults
By the end of 2013, the Technology Strategy Board hopes to have Catapults up and running for:
High value manufacturing
Offshore renewable energy
Cell therapies
Satellite applications
Connected digital economy
Future cities
Transport systems
The ideas for projects will also come from both universities and businesses, explained Elsy. 'We look to the research institutions to see what's coming out of there, what promising new technologies could really add value in the UK and are ready for scaling up. Then we look to industry to say: "What is it that you guys want to help develop the manufacturing footprint in the UK? Do you need lightweight vehicle structures and do we need to develop that capability to embed it in the UK? Do we need next-generation landing gear for aircraft?"'
When a technology is identified, the Catapult can then begin the process of trialling and developing manufacturing processes, producing batches of advanced prototypes and testing them to destruction, and scaling up the fabrication process ready for commercial launch. 'Being part of the Catapult gives you the money to go out and build your capability,' said Ken Young, technology director at the MTC. 'It allows us to work in areas that industry wants us to before they can pick up the bill themselves.'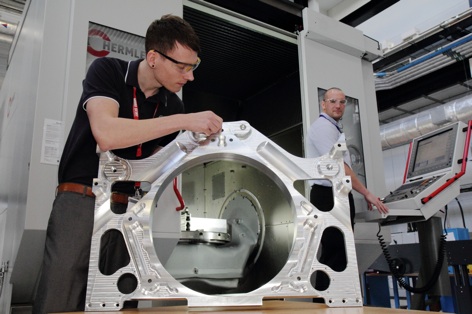 Bringing the HVM Catapult's component centres together under a single organisation should enable them to more easily share knowledge and expertise (although Young said this would only happen over time). And a company can benefit from their full range of capabilities on single project rather than working on individual elements separately, according to Dick Elsy. 'We've got everything from raw materials through to finished product, high-integrity assembly processes ­– we've got this complete spectrum,' he said. 'We can marry up metallurgical capabilities with composites and process, and we can also do a lot of cross-sector work in a way that those research institutions that were tied to companies didn't do.'
This also hits on a key question about why the government has decided to effectively subsidise the kind of research that used to be carried out by big companies on their own but that they gave up to boost short-term profits. Hamid Mughal, executive vice president of manufacturing engineering & technology at Rolls-Royce, which is part of several Catapult research programmes, argues that the environment for manufacturing companies has altered since the days of the big industrial research labs.
'The nature of competition in manufacturing has changed radically in the last 20, 30 years,' he said. 'The development of manufacturing technology has to be that much more comprehensive compared to what it was before. We have to be world-class in application, quality, cost and in the deployment and integration of technology. Therefore I don't think individual companies can quite do what they might have done in the past in this competitive environment …
'What we need is an industry-scale innovation sandpit where you combine the skills of industrial engineers, university research staff, equipment providers, tooling experts, software specialists. You pool together these resources to address real business issues and then create step change improvements, because that's what we need. This kind of multi-skill environment is not possible in any one organisation because you're limited by your knowledge, by your capability, by your infrastructure. That's the reason why this kind of model has been successful in Germany.'
High Value Manufacturing Catapult
The first of the Catapults to open comprises seven existing research centres:
Advanced Manufacturing Research Centre (Sheffield University)
Nuclear Advanced Manufacturing Research Centre (Manchester and Sheffield universities)
Manufacturing Technology Centre (Coventry)
Advanced Forming Research Centre (Strathclyde University)
National Composites Centre (Bristol University)
Centre for Process Innovation (Wilton and Sedgefield)
Warwick Manufacturing Group (Warwick University)
Having national centres that can be shared between companies is also a more efficient use of resources that will ultimately benefit and strengthen the country's whole manufacturing sector and give firms more reason to keep production in the UK, said Elsy. 'Even for a big corporation, it's a big ask to put in a big piece of kit in that gets intermittent use … This equipment isn't just available for the big players, it's also available to their supply chain in a way that some of the smaller enterprises couldn't possibly afford. So you're actually drawing the entire supply chain in behind you, which is so powerful because that's the way of ultimately embedding the value chain in the UK.'
In one sense, this seems quite an old-fashioned way of thinking about the state's role in directing the economy for maximum efficiency: we're back to industrial policy again. The government is even picking winners, or at least picking sectors, something that most free-marketers probably thought they had won the argument against. Certainly there's a big question over why a public body should be trying to lead business-focused research around internet technologies when the digital sector probably more than any other has demonstrated the dynamism of capitalism in recent years. And it's especially surprising given the trend towards privatisation of government-provided services. But those in favour of the Catapults say government is filling a gap that would otherwise go empty due to market failure.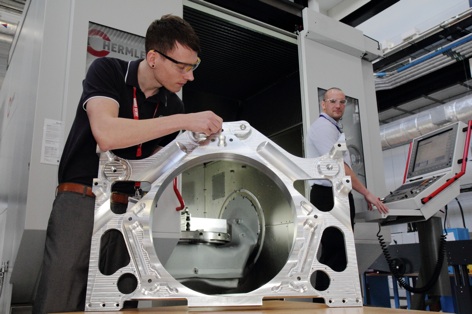 'The important thing about the last three centres [Connected Digital Economy, Future Cities, Transport Systems] is they are pre-commercial investability,' said the TSB's David Bott. 'The risk is such that the government needs to make a stand about what it wants the industrial landscape of the UK to look like. Even with these things, if the markets decide not to do it, it won't happen … We're pre-investing in markets that we're relatively sure we're going to get, but the path from where we are now to where we have to be is not particularly obvious.'
It's almost as if this were a new kind of public sector, directed by business but funded mostly by the taxpayer. Elsy is keen to stress the commercial focus of the centres, however. 'The way the Catapults have been set up is as companies limited by guarantee and we're selecting people from relevant industries to lead them so it's got a very strong commercial delivery ethos … It's drawing from the strength of the university involvement but the centre of gravity is very much weighted to delivery for industry.'
'The risk is such that the government needs to make a stand about what it wants the industrial landscape of the UK to look like.

David Bott
It's probably too early to say whether the Catapults will have the desired effect of helping to commercialise more British-born technologies. According to Hermann Hauser, we won't really be able to reap the full benefits for 10 to 20 years, although he is positive about the setup. 'I think the efforts are very good,' he said. 'But we won't know whether they're really going to work for quite some time and it's hard for politicians to stick with anything for longer than a legislative session.'
Not everyone is convinced the Catapults can do everything they claim to offer. Some established firms feel the model is more suited to university spinouts that have no experience of manufacturing and one described it as an 'anomaly looking for a purpose rather than an industry-led development hub'. But private sector involvement is strong and the concept has plenty of support. Rolls-Royce is involved in similar projects in the US and Singapore and a comparable model has even sprung up entirely driven by the private sector in the shape of Tata Steel's new automotive "Proving Factory" in Rotherham.
For the most enthusiastic proponents, there's a sense of optimism around the Catapults that they could be the start of a new era of manufacturing for Britain. 'Industry is completely up for it in a way I've never seen industry engagement like it,' said Elsy. 'And there's a well crafted process out of the TSB … it feels absolutely right to me. This is a really, really good use of government money to fuel and fund growth in a genuine and lasting way.' Only time will tell.
Case Study: Sandwell
Northamptonshire-based Sandwell is an SME specialising in shot peening (a metalworking process) for small batches of complex components for sectors such as motorsport. When the firm wanted to develop a robotic shot peening system but couldn't raise the money to do it alone (and ironically had been turned down by the TSB for not being innovative enough), it approached the Manufacturing Technology Centre, part of the HVM Catapult. As well as providing funding to support the project, the MTC developed a software package to control an eight-axis robotic system and identified the best 3D scanning system for creating accompanying CAD files. 'Certainly without their expertise there was no way we could have done it,' said Sandwell technical director Colin McGrory.