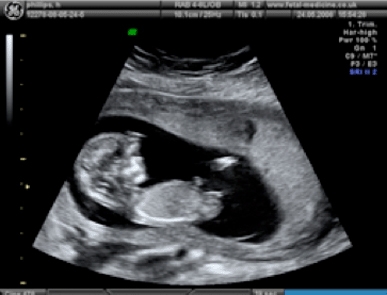 The real-time analysis software, called ScanNav, is being piloted by the foetal medicine department at St George's University Hospitals NHS Trust in Tooting, London.
The AI system, developed by Cardiff-based MedaPhor Group, is designed to carry out a "peer review" of the ultrasound images during the scan.
Manually auditing ultrasound scans to ensure they conform to medical protocol is a time consuming process, according to MedaPhor's chief technology officer, Nick Sleep.
By providing an instant review, the AI system allows sonographers to take additional images immediately if needed, he said.
"Sonographers want to make sure that they capture the right images, and they want to make sure that those images are of good quality," Sleep said. "It's actually quite a pressurised environment, they are dealing with a baby that is moving, and a mother who is probably quite worried to be having a scan."
The system should help newly qualified sonographers to ensure they take good quality scans, as well as reassuring more experienced specialists that they have not inadvertently missed an image, he said.
The technology is initially aimed at use as part of the UK's pregnancy screening programme, for which it is capable of evaluating over 50 different criteria to verify that the six views required by the programme are fit for purpose.
ScanNav uses machine-learning algorithms to identify and grade ultrasound images. It has been trained on over 350,000 images to assess the same features sonographers look out for.
"We sent scans to a panel of expert sonographers, who first categorised them and then graded the images against clinical criteria," said Sleep. "We then feed those images into deep learning algorithms, which try to match the features in the image with the results we have given."
In this way the algorithms learn to make a decision on images based on information gleaned from the database of previous scans.
Ultimately, the technology could also be applied to ultrasound procedures outside of obstetrics, such as checking liver or kidney scans, for example, or looking for signs of trauma in accident and emergency patients, he said.