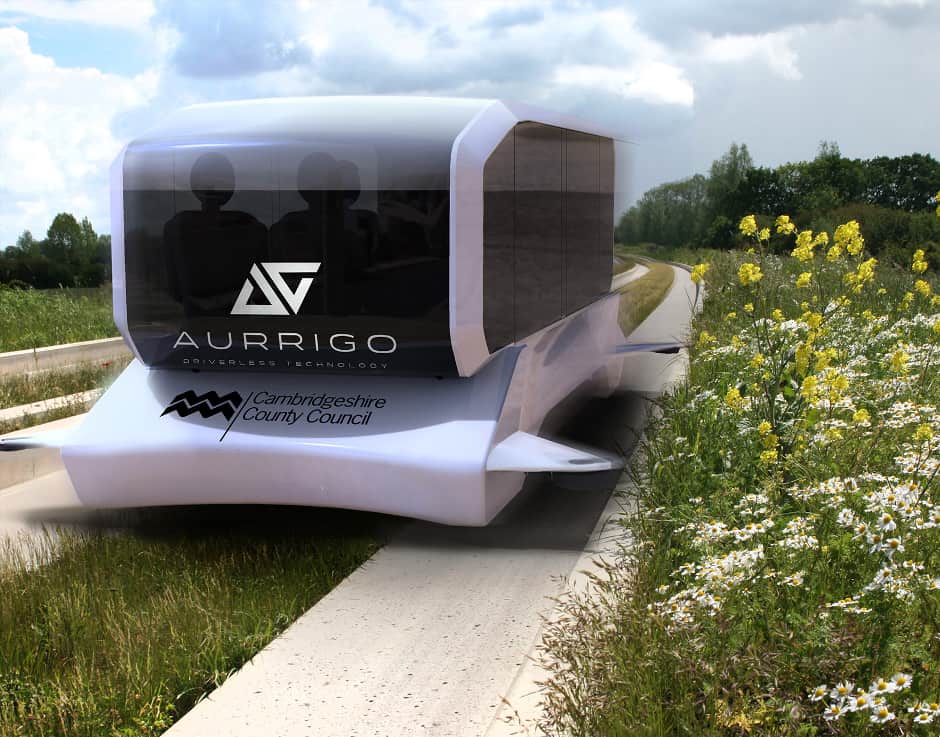 The grant from the Centre for Connected and Autonomous Vehicles (CCAV) will be used to build and trial six 10-15 seater self-driving shuttles to operate on the Southern section of the existing guided busway in Cambridge, initially for an out-of-hours service when buses aren't running.
This will run between Trumpington Park and Ride and Cambridge Station, via the Cambridge Biomedical Campus site, including Addenbrooke's and Papworth Hospital and a number of life science companies.
Dr Richard Fairchild, director of Autonomous Mobility Programmes at Coventry-based Aurrigo said: "Working in partnership with Smart Cambridge, we will be creating a cost-effective and efficient service that will benefit shift workers, weekend shoppers and revellers in the city. It also gives us a fantastic platform to showcase the UK as a leader in the design and engineering of autonomous technology."
Dr Fairchild added that the guided busway is segregated from general traffic and offers a unique opportunity to safely test autonomous vehicles around businesses and places of residence.
"Based on our Pod Zero concept, the shuttle will be the first time we will have built a vehicle that can seat 10 to 15 people," he said. "We are hoping this will change people's thinking and prove the viability of autonomous vehicles for moving groups of passengers over short distances."
The first shuttle will be engineered and ready for prototype testing by April 2019, with the first passengers set to step on board in Summer 2020. If successful, self-driving vehicles could then be rolled-out elsewhere round Greater Cambridge.
Cllr Francis Burkitt, chair of the Greater Cambridge Partnership, said: "One of the GCP's core missions is to develop and bring cutting-edge transport technology to Greater Cambridge, within the scope of the Mayor and Combined Authority's overall transport strategy and vision, so our region can lead the way in creating a set of 21st Century public transport options for our residents to use, and to help our businesses grow.
"Mid-sized self-driving shuttles running over relatively short distances could be a key part of that, especially as they could whizz back and forwards in the early mornings, late evenings, throughout the night and at weekends, when other forms of public transport are less active."
Aurrigo's autonomous shuttles will be designed and built to accommodate wheelchairs, mobility scooters and bicycles. They will run at 30-40 mph and can operate for up to 100 miles on a single charge.