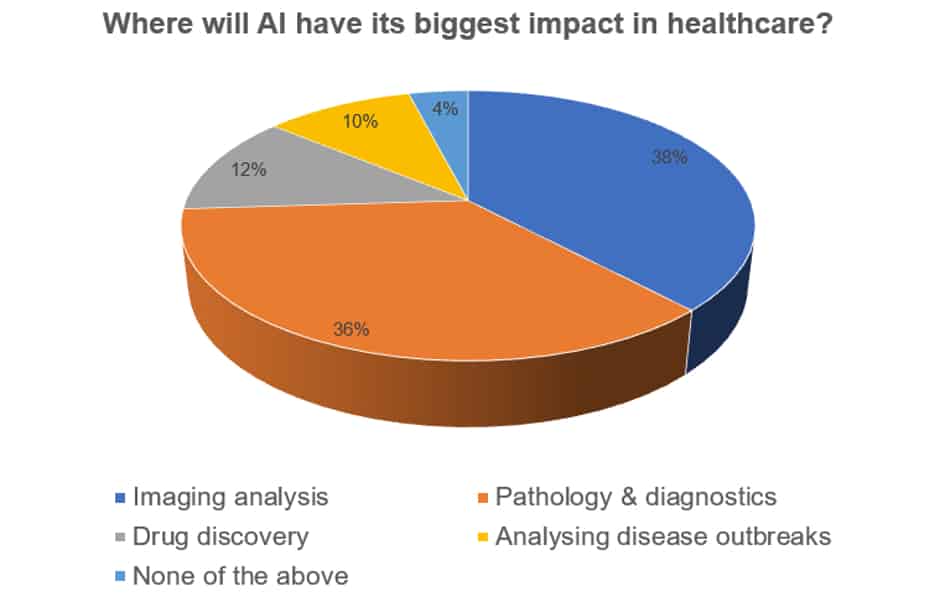 Precisely what branch of healthcare, however, will be most impacted by this digital revolution?
That question was put to our readers in last week's poll and the results were close with 38 per cent opting for imaging analysis and 36 per cent choosing pathology and diagnosis. Further down the results, 12 per cent went for drug discovery and 10 per cent saw disease analysis as the main beneficiary of AI in healthcare. The remaining 4 four cent chose none of the above.
In the comments followed, Another Steve said: "AI undoubtedly has many benefits, however it should only ever have the status of a useful tool. The danger is that, with all the hype and politicians jumping on the bandwagon, it is seen as a replacement or substitute for 'expensive' trained professionals. I believe it's important that any diagnosis made by AI should be validated by a trained human expert. It's also important to remember that as the intelligence is artificial (i.e. man made) the truism that 'Garbage In equals Garbage Out' still applies."
Mohammed Amin Abdullah added: "Depends how you quantify the impact. AI will impact health-care in two main ways 1) Doing something humans can already do, but cheaper, faster or better. 2) Doing things humans can't do. Diagnosis falls into the first category, drug discovery in the second. It will also impact health in other ways: e.g., controlling large, complex and inefficient health-care systems like the NHS, and providing companionship for people who are lonely."
What do you think? Keep the debate alive using Comments below but remember to stay on topic.