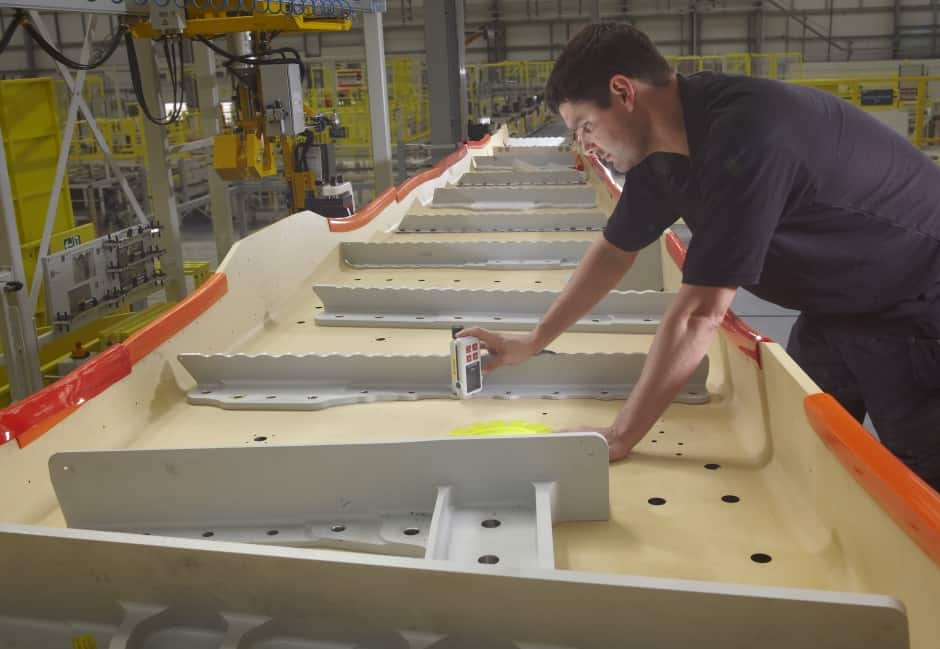 Clark's letter to Melrose chief executive Simon Peckham sets out a series of commitments that would be binding in order to make the bid for GKN successful. These include maintaining GKN's operation as a UK business, with share listing and headquarters staying in the UK; maintaining its UK workforce and respecting its existing employment rights; remaining within certain R&D programs, such as eDrive and Wing of the Future; invest in training and development of workforce, including apprenticeships; guaranteeing prompt payment for suppliers; and making satisfactory arrangements for current and future pensioners.
Melrose chairman Christopher Miller hailed the deal as one that would "create a manufacturing and engineering powerhouse", adding that his company has put forward "a number of legally binding commitments on matters including pensions, research and development, and ownership periods as a part of our commitment to realising that ambition."
Melrose's commitments have been welcomed by George McFarlane, CBI director of sectors, who said: "It's encouraging that Melrose have made commitments on skills, R&D and people here in the UK.
"All eyes will now be on their vision for how to extend the rich 260 year history of one of Britain's great engineering brands."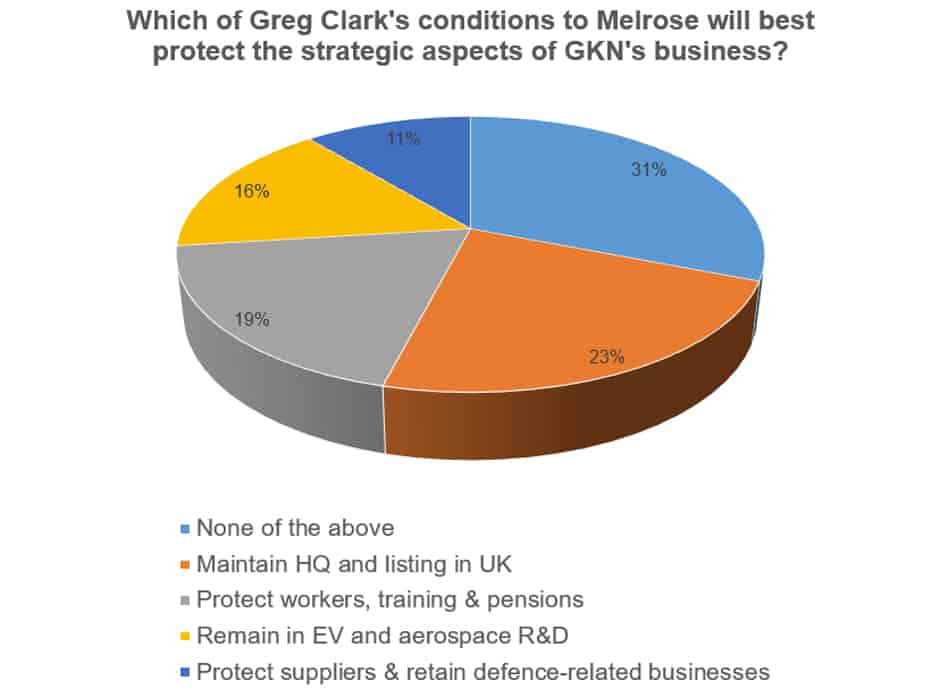 Given Clark's involvement, we asked which of his caveats would best protect the strategic elements of GKN's business and just under a quarter (23%) said it was to maintain an HQ and listing in the UK. Just under a fifth (19%) of respondents thought GKN's strategic assets would be best served by protecting workers, training and pensions, followed by the 16% that thought GKN should remain in EV and aerospace R&D. A total of 11% went for the option of protect suppliers and retain defence-related businesses. The remaining 31% went for none of the above.
The poll stirred a good deal of ongoing debate, with some questioning whether its government's place to involve itself in the sale of a listed company.
"I chose "Remain in EV and aerospace R&D" as I think this is the crux of long-term value creation," said Mohammed Amin Abdullah. "That said, I don't think the government should interfere at all. The ownership of the company is with the shareholders and they should be free to green-light the deal should they choose."
Patrick Savage added: "If this company is as important to UK PLC as is claimed, then pehaps UK PLC should buy a sufficient stake in it to help deter hostile takeover bids like this by Melrose."
With Melrose living by the mantra of 'buy, improve, sell', one reader questioned whether that's such a bad thing.
Michael Kenward wrote in to say: "The Financial Times published an interesting letter early this month from a CEO who had been on the receiving end of a Melrose takeover. His view was:
"Melrose invested more than £50m in the business, as we built a new factory in Newcastle (£30m), an R&D technology centre in Doncaster (£6m) and improved our other nine facilities. …. Melrose also supported the recruitment and development of technical staff."
"The company in question was Bridon, where, according to the letter "we never had a capex or R&D request refused, which was in stark contrast to the previous owners, and was appreciated by everyone from the shop floor to senior management".
"Not, then quite as black and white as many of the reports suggest."
CLICK HERE FOR MORE ENGINEERING NEWS