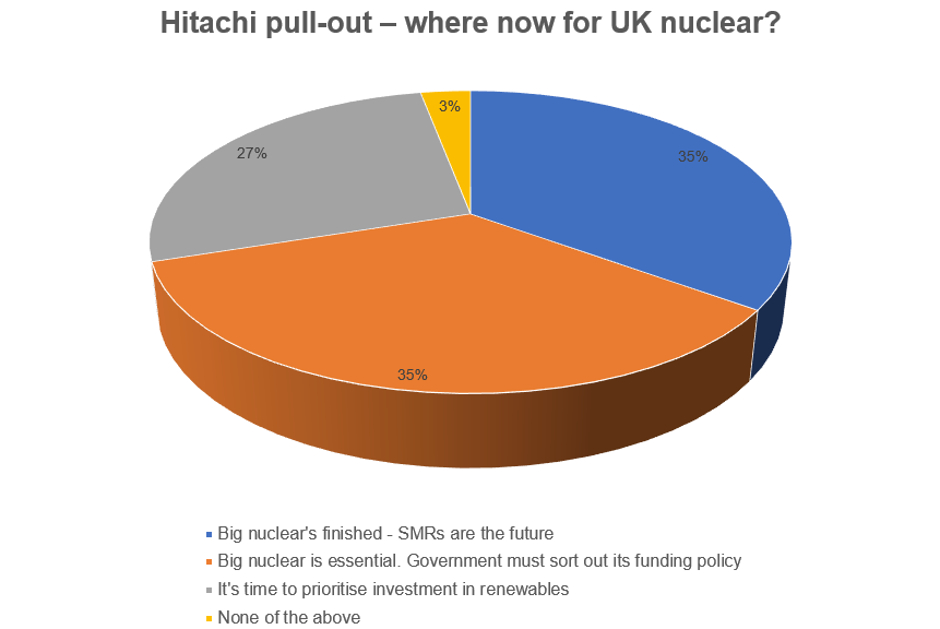 Plans to develop the UK's next generation of nuclear power stations are in disarray with one project scrapped and two suspended.
On January 17, 2019, Hitachi announced it was suspending projects in Anglesey and Gloucestershire after failing to negotiate a deal with the government on financing projects at Wylfa and Oldbury.
Whilst these projects have the potential to be revived, another project in Cumbria came to a halt in November 2018 when Toshiba wound up NuGen, the company set up to build up to 3.6GW on land in Moorside, West Cumbria at a cost of around £10bn.
Of the eight UK sites identified for nuclear new build in 2011, only EDF's Hinkley Point C in Somerset is under construction, prompting us to ask if big nuclear has a future in Britain.
Of the 654 respondents, 70 per cent were split equally between those who think big nuclear is essential (and that government should modify its funding policy); and those who see SMRs as the future for new nuclear.
Just over a quarter of respondents (27 per cent) think it's time to forget nuclear and prioritise investments in renewables, and the remaining three per cent opted for 'none of the above'.
From the numerous comments that followed, Philip Whitley said: "Considering the fact that nuclear in the UK, when all the stations are fully operational and generating flat out (which hardly ever happens) can only meet 24 per cent of peak load, to say it is essential is rubbish."
"[Nuclear is] extremely expensive, extremely dangerous, as recent events have shown, and produces waste products we simply don't know what to do with," added Ron Shilton.
"Renewables are essential but even the London Array only generates 600MW or so and that's the biggest offshore installation in the world," cautioned John Logson.
From the SMR camp, a certain Itchy Bootmore said: "I would love it if the UK were to develop [SMRs] – but there's a lot of work to be done on those. Let's not be fooled, it's not just a case of up-scaling boat reactors and using the existing supply chain – there are a myriad of issues that need careful strategic preparation & planning prior to going into the procurement & build phase, let alone GDA and licensing considerations."
What do you think? Keep the energy debate alive in Comments below, but please take a moment to familiarise yourself with our code of conduct before posting.