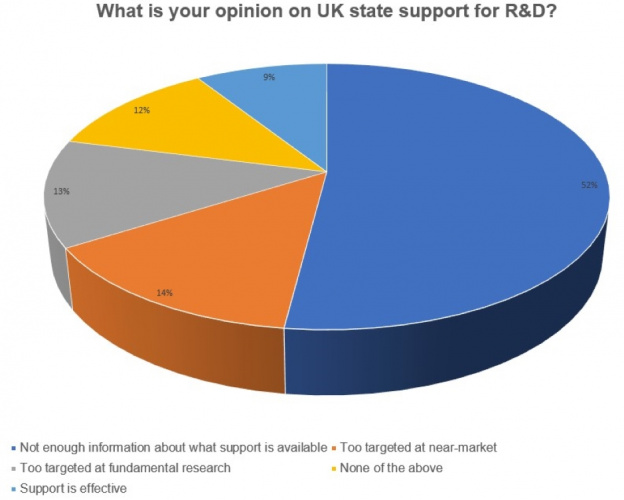 A report published by ONS in June states that government expenditure on R&D in science, engineering and technology grew by 6.4 per cent to £12.2bn in 2017.
According to ONS, UK research councils contributed the most to expenditure on SET in 2017 at £3.8bn.
The same report highlights the aim of the government's Industrial Strategy to raise investment in R&D to 2.4 per cent of GDP by 2027.
But are current levels of state support focussed correctly, and are challenges around accessibility to funding stifling innovation and growth for smaller entities?
_____________________________________________________________
Further reading
_____________________________________________________________
Should government funding be allocated to R&D that could be more properly funded by the company which hopes to profit from it, and is the balance between fundamental and industrially focused research weighted fairly?
We put this to Engineer readers in last week's poll, with 52 per cent of respondents agreeing that not enough information is available about what support can be accessed.
A close split in remaining votes saw 14 per cent agreeing that state support for R&D is too focussed 'near market', and 13 per cent thinking that it is too concentrated on fundamental research. Only nine per cent think current levels of support are effective, and the remaining 12 per cent opted for 'none of the above'.
In the comments that followed, Another Steve said: "Personally, I believe the best way to access state R&D funds is through a system of formal bids for funding with large commercial organisations being obliged to match the state funding 50:50. Also, we need a system that ensures that state funded R&D is suitably controlled such that big organisations are not able at some point in the future to buy up patents and IPR and hold the state to ransom when productising the research."
Highlighting accessibility issues for individual inventors and smaller companies, John Patrick Ettridge said: "Most of all R&D funding goes to Universities or very large corporations, who can afford the costs associated in receiving these grants or funds. Innovative ideas are ignored or lost to the country due to lack of funding, as most private funds only want to invest in commercialised ideas."
What do you think? Let us know in Comments below, but take a look at The Engineer's Comment guidelines for readers before making a contribution.