High cost of energy
Green taxes out of line with the rest of Europe
Failure to tackle the influx of cheaper Chinese steel imports
High cost of business rates
The current high value of sterling
None of the above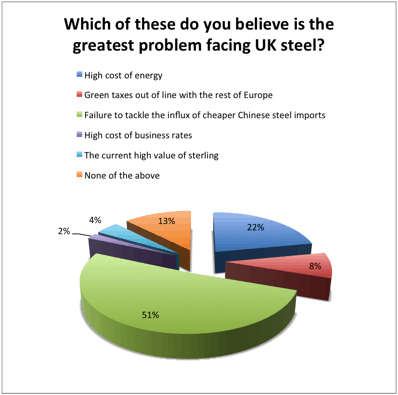 There seems to be little doubt among the 575 respondents to last week's poll: the biggest threat to the UK steel sector is cheap Chinese imports. A small majority, 51per cent, f respondents said that failure to tackle these imports was the biggest problem facing the beleagured sector, with the next biggest group being less than half the size: 22 per cent thought the cost of energy was a bigger factor. Green taxes attracted the attention of 8 per cent, while the value of sterling was the favoured choice of 4 per cent. Just 2 per cent thought business rates were the biggest factor, and 13 per cent declined to pick an option. Some commenters thought that domestic demand was a concern, while others identified IP issues as the root cause of the sector's problems.
Please continue to send us your opinions on this subject.