The question was raised following the publication of a report by the Green Finance Institute's Coalition for the Decarbonisation of Road Transport (CDRT). One of the report's conclusions was that the UK is in danger of missing out on the global supply chain market for EV batteries, which is projected to be worth $116 to $278bn by 2030.
The UK currently produces around 2GWh of battery capacity per annum but will need to ramp up to over 90GWh a year by 2030 to maintain a car industry at its current size, according to the Advanced Propulsion Centre (APC). APC's Ian Constance said delivering growth on this scale requires a healthy appetite to invest significant capital, and CDRT's report points out that the right balance of policy and support is essential to secure investor confidence in the UK EV sector.
These options - government support and investor incentives - were included in the poll but only received 26 and 37 votes respectively. Just under a quarter of the vote (24 per cent) opted for more cross sector collaboration. For 44 of the poll's 168 participants, the way to supercharge the UK's battery supply chain is to conduct mineral exploration, an endeavour underway in Cornwall where the aptly named Cornish Lithium is engaged in 'environmentally sustainable extraction of lithium'.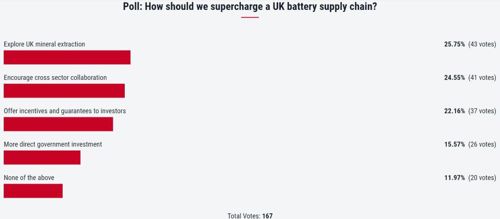 What do you think? Let us know by leaving a comment. All comments are moderated.