Often known as Grätzel cells, these low-cost photovoltaics are being developed for use in Africa and India by Welsh company G24 Innovations.
The Millennium Prize, awarded every other year by the Technology Academy Finland, recognises 'innovations that promote well-being and sustainable development.' Grätzel's first prize, worth €800,000 (£660,000) will fund further research at the Ecole Polytechnique Fédérale de Lausanne, where he is the director of the laboratory of photonics and interfaces.
The two other shortlisted nominees, plastic-electronics pioneer Prof Sir Richard Friend of Cambridge University and Prof Stephen Furber of Manchester University, developer of the Reduced Instruction Set Computing compact microprocessor, won €150,000 (£124,000) each.
Grätzel first developed his cells at Lausanne in 1988, while looking for ways to mimic the way that plants convert sunlight into the energy that powers their metabolisms.
They use an organic dye to absorb solar energy, releasing an electron into nanoscale crystals of titanium dioxide, which is conducted to the cells' electrodes by an iodide-containing electrolyte. The components are cheap and non-toxic, and the cells can be made using a roll-to-roll printing process.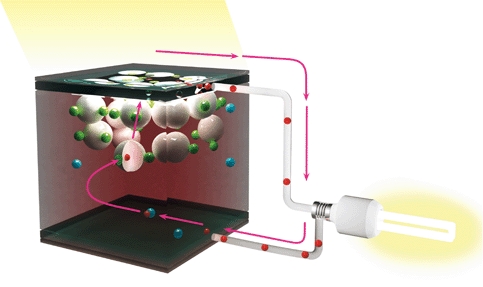 Cardiff-based G24 has already manufactured the first commercial product based on Grätzel cells: a range of rucksacks containing a flexible solar panel for recharging electronic devices.
According to Grätzel, such technology will soon be helping people in Africa to connect to the internet. 'I was in Tanzania last year and everyone has a mobile phone; but there's no grid to charge them,' he said.
In Africa, mobiles are the primary way to connect to the internet for information such as where to obtain the best price for crops.
'G24 Innovations is proposing to make lightweight chargers and give them away for free in a business model where they'd recoup the cost through call charges. We need incentives like this.'
Grätzel also said that the cells could be used to power fridges, to preserve food and pharmaceuticals, and to drive ozone-generating water purifiers.