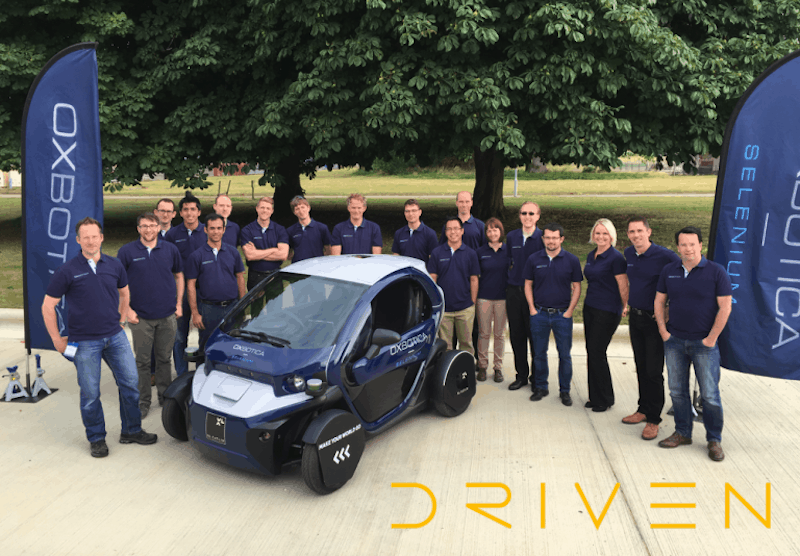 Led by Oxbotica, the DRIVEN consortium will deploy a fleet of fully autonomous vehicles in urban areas and on motorways, culminating in an end-to-end journey from London to Oxford.
With Level 4 autonomy the vehicles will be capable of performing all safety-critical driving functions and monitoring of road conditions for an entire trip with no passenger occupancy.
According to the DRIVEN consortium, no connected and autonomous vehicle trial at this level of complexity and integration has ever been attempted anywhere in the world.
The project aims to remove the fundamental barriers to real-world commercial deployment of autonomous vehicles. Key challenges the consortium will address include: communication and data sharing between connected vehicles; Connected and Autonomous Vehicles insurance modelling; risk profiling and the new cybersecurity challenges that this amount of data sharing will bring.
Part of the consortium's work includes the use of a fleet of six inter-communicating vehicles equipped with Selenium, Oxbotica's vehicle manufacturer (OEM) agnostic software. In use, Selenium provides vehicles with an awareness of where they are, what surrounds them, and how they should move to complete a task.
A key challenge will be how to insure autonomous fleets of vehicles – and the consortium plans to develop a system that automatically takes into account data from the vehicle and external sources that surround it, such as traffic control systems.
The project will also address data protection and cyber-security concerns raised by international policymakers and law enforcement agencies around the world by defining common security and privacy policies related to connected and autonomous vehicles.
Prof Paul Newman, head of the Oxford Robotics Institute at the Oxford University, and one of Oxbotica's founders, said: "DRIVEN is the first of its kind and brings a host of new questions surrounding the way these vehicles will communicate with each other.
"We're moving from the singleton autonomous vehicle, to fleets of autonomous vehicles – and what's interesting to us at the Oxford Robotics Institute is what data the vehicles share with one another, when, and why."
Besides Oxbotica, other partners involved in the UK project include Oxford Robotics Institute, re/insurer XL Catlin, Nominet, Telefonica O2 UK, Transport Research Laboratory, the UK Atomic Energy Authority's RACE, Oxfordshire County Council, Transport for London and Westbourne Communications.