Right now, there are an extraordinary number of job opportunities available across the UK, and hundreds of thousands of people who need a fresh start in work after a turbulent couple of years.
This is an excellent problem to have, and our challenge – my challenge – is to help these people find the right role for them, ensuring they can live up to their full potential.
There are a significant group of people who are out of work whose story is not often told – those who left careers to care for others and now want to find their way back to work but aren't sure where to start.
People like Tatia, who is an experienced clinical embryologist who took time out of work for health reasons as well as to have children, but found it hard to find employment after significant time away from the workplace.
This is a considerable issue right across the UK, and we know that 9 in 10 of those carers struggling to find new opportunities are women. This Women in Engineering Day, I want to draw attention to people like Tatia who are trying to re-enter work after care leave, whose skills and experience are needed.
Many of them have been looking after children, elderly relatives, or vulnerable adults, and now want to come back to work but struggle to find their way. We call these people 'returners'.
We know that there is a skills, and personnel, shortage in science, technology, engineering and maths careers - and likewise there are people like Tatia who could fill that gap.
But it's not that simple. Returners face multiple barriers when trying to return to work, ranging from a lack of jobs which fit around their caring responsibilities, to being overlooked by employers and recruitment agencies because of gaps in their CV.
Many of these people are vastly experienced and highly qualified yet find themselves struggling to access the workplace. They need support.
So far, the government has funded 25 programmes that support returners. This includes providing a £1.5 million grant fund to support projects in the private sector, as well as targeting key professions in the public sector, such as social workers and health professionals. We have also developed guidance for employers on how to support returners and a toolkit for those on their return to work journey.
After taking part in one of our schemes for returners, Tatia returned to work as a part-time science technician. This helped her to build the skills and confidence she needed: last November she went back to being an embryologist, and in May this year became a Laboratory Deputy.
On International Women's Day, I announced that we would be delivering a new returners scheme specifically for people in STEM.
Along with the obvious benefits to individuals of having a job, there are also clear benefits for those employers who give returners a chance.
Tatia is just one of those who make up the huge pool of talented individuals currently looking to return to the world of work. We want to break down barriers so that people can restart their career. With hundreds of thousands of people ready to go, it's our task now to get them back into the workplace.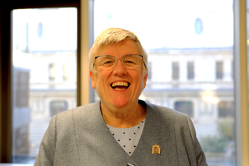 Baroness Stedman-Scott, Minister for Women and Equalities of the United Kingdom