Year on year, there is no lack of stories in the media touching on the parts of the world and the global industries in which gender equality is still lagging behind. One of these sectors, is STEM.
STEM is a broad term, encompassing anything related to science, technology, engineering and manufacturing. As such, it is a hugely important sector, whose leading role in global and societal development has become incredibly clear in recent years.
As of February 2021, only 31% the total UK technology workforce is made up of women, who, what's more, hold just 10% of leadership positions in the industry. These inequalities are particularly worrying when you consider the role science and technology play in shaping modern life.
To generate solutions and products which are suited to as many people as possible, it is crucial the STEM sector reflects wider society, with its diversity of thought, experience and backgrounds. The pivotal role played by women in the scientific response to the unprecedented situation we have faced for the past two years, like Sarah Gilbert and Azra Ghani, gives a sense of how much more we could achieve if women were to make up more than a quarter of the overall STEM workforce.
Getting women into tech careers has never been more important. Equally crucial, is supporting those who enter STEM careers. With figures as recent as February 2021 showing that only 10% of STEM leadership positions are currently held by women in the UK, clearly, there are issues in progression which need to be addressed. Unless this is done, young women will continue to be put off from entering STEM industries, and so the cycle will continue.
This puts a significant onus on STEM employers, to ensure female employees are supported at work and given what they need to thrive and progress. So how can this be done?
Throughout my career, equality in STEM has been a popular topic amongst my female colleagues. It has undoubtedly hindered career progression for many and it is important that we consider many women often feel part of a minority, whether that is in GCSE maths classes, or within engineering teams in the workplace. This alone, can impact your self-assurance at work.
With this in mind, the first thing employers need to address is their talent pipeline. Foreign Secretary Liz Truss recently announced the formation of a new taskforce to boost the representation of women in STEM jobs, potentially, by introducing targets[iii]. Businesses shouldn't need to wait for this to be implemented before addressing their own recruitment processes, which should be blind and free from gender bias.
Secondly, tech firms should keep three important things in mind to signal their support for female employees:
Challenging them with work which requires them to learn and practice new skills.
Connecting them with mentors and who will provide feedback and support.
Investing in them by offering leadership development opportunities and additional training suited to their needs.
Finally, firms need to ensure the working environment they create is welcoming to all. This means adopting flexible working practises, to accommodate working mothers, offering healthcare packages which include support for women's health issues and above all, ensuring there are policies in place around equal renumeration and against issues such as sexual harassment.
Additionally, tech firms should rigorously review and update their diversity and inclusion initiatives to ensure they're focussed on equity. These initiatives should be focussed on educating the business about unconscious bias – practices and behaviours that appear to be neutral, but which actually harm marginalised groups — and have the tough conversations about evolving their organisational culture so it's more oriented towards equity, diversity, and inclusion.
At SharkNinja, we aim to address each of these areas through progressive initiatives, from our talent pipeline, where we engage with student organisations, career and networking events to attract female talent, right through to our working environment. Our internal Women's Affinity Group hosts internal networking events and panel discussions which focus on topics such as negotiation, imposter syndrome and building your career. The Group also runs a global mentoring and buddy programme, to ensure women at all levels feel wholly supported in their careers. More broadly, we promote external events and workshops to promote and support professional development and make intentional efforts to hire and support women speakers, business owners and leaders to come in and talk to our staff.
Ultimately, the responsibility to improve gender imbalance in STEM lies with businesses, as much as it does with educators and governments. Only by designing truly inclusive working environments can tech companies build on the advancements made to date, to ensure the tech renaissance of the 21st century is beneficial to us all.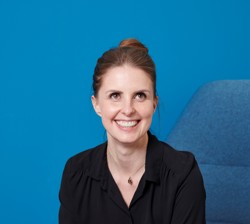 Lauren McMullan, Vice President & General Manager, SharkNinja