You've probably seen the adverts where the actor/comedian Sir Lenny Henry finds himself getting a good night's sleep regardless of where his bed happens to be.
From memory, he seems to have enjoyed an undisturbed night on the concourse at Kings Cross Station, such is the guaranteed level of comfort offered by the hotel chain he is paid to advertise.
Yours truly was due on a flight to Berlin at 0705 this Wednesday just gone and my employers agreed that it would be a good idea to stay in a hotel near Heathrow's Terminal 5 in order to make the flight.
Being a company man and all-round team player, I booked the cheapest room available but by 2230 on Tuesday evening it felt like the room was actually located on one of Heathrow's busy runways, such was the din from the evening arrivals.
Ironically, the purpose of my trip to Germany was – amongst other things – to be brought up to speed with noise-cancelling technology that is being deployed in the all-new Ford Vignale.
The Vignale marks the company's entry into Europe's luxury vehicle market and noise cancelling is clearly part of the marketing drive.
They say: "Active Noise Control uses three microphones, strategically placed in the cabin, to detect undesirable noises from the engine and transmission. The system counteracts those noises with opposing sound waves from the audio system – without affecting volume levels of music and conversation. Driver and vehicle behaviour is recorded and anticipated, for example when a driver is accelerating in a lower gear."
Further measures to cut out noise include windows and windscreens embedded with an acoustic layer to reduce the sound of wind, and foam rather than fibreglass to insulate the engine bay, which reduces the noise from the powertrain by up to 2 decibels.
Ford add: 'Sound‑proofing within the underbody shields, wheel arch liners and front and rear doors block tyre noise, and the new integral link rear suspension also contributes to a reduction in road noise experienced of up to 3 decibels."
By cutting out outside noise, Ford believe they're giving customers a more relaxing driving experience, as explained in the following video:
Dr Ralf Heinrichs, who you just saw in the video, told me that the technology itself is over 20 years old but advances in integration have brought it into the automotive market with Honda, amongst others, introducing the concept in 2013's Accord. He added that the vehicle's laminated glass makes it difficult for sound waves in the range of 2,000 to 3,500kHz to travel through, providing gains of up to 3, 4 and even 5db.
What Ford eliminates with one hand, Sony gives back with the other in the form of its advanced DAB audio system with 12 hi-fidelity speakers.
The day's agenda included a whizz around a Sony store located near the company's offices in Potsdamer Platz and it soon became apparent that Sony is somewhat adept at HD, be it audio or visual. If you haven 't done so, visit an electrical store stocking their 4K displays and be prepared to be stunned by the clarity of the images you see.
Back inside the car, Sony has configured an audio array that includes a DSP amplifier with 10 independent channels that isn't a major drain on the car's battery. Instead, in the words of Ian Hubbard, global automotive entertainment director, Sony Europe the HD audio solution immerses customers in a "world class luxury audio experience" and he's right, although admittedly I've no baseline with which to make comparisons.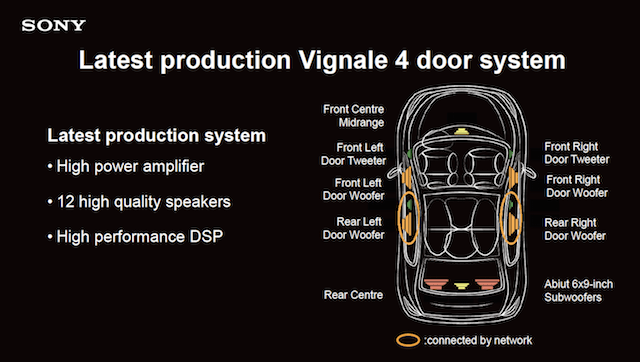 Ford's customers will no doubt welcome the Vignale's quiet interior and marvel at the clarity of their music selections via Sony's HD audio system but I must confess to spending the day wondering when the next shot of adrenaline would shoot through my system to keep me awake.
It's customary on these occasions to think about how the information delivered can be translated into news, but I spent the day speculating on whether noise cancellation in this form could be deployed in a certain hotel near Heathrow airport, given the cyclical nature of flight. And if it could be, where else could this engineered solution be deployed, and for how much? Once again, it became apparent that the skills of engineers step in once more to at once provide a solution to a problem, while potentially delivering profit at the same time.