Concerned corporate energy giant, GE, has decided that Santa's sleigh is in need of a redesign. Responding to this critical issue, its engineers have come up with a high-tech sleigh of the future which they claim will streamline Santa's flight whilst reducing emissions.
Mark Little, senior vice president and director of GE Global Research said: 'In the spirit of the holiday season, we thought it would be fun to imagine what our scientists and engineers could do if we put our technology achievements together to design and build a concept 'Sleigh of the Future' for Santa Claus.'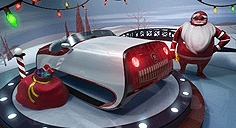 Highlights include ceramic matrix composites (CMCs) used within the sleigh blades to enable efficient flight, GE's Trip Optimiser on the dashboard to improved navigation, icephobic coatings to prevent ice build up and self-powered OLED lighting for illumination at 30,000 feet.
The design even includes a wireless medical sensor to ensure that Santa doesn't collapse on Christmas Eve and a 500GB holographic disk for him to store his lists. Significantly, however GE seems to have forgotten to include enough space in the boot for Santa to carry his gifts.
All the technologies displayed on the sleigh are currently under development at GE labs, and while Santa may not take on the new design, we could see these systems incorporate their way into our own vehicles in the near future.
And if this has put you in a seasonal mood, go and have a look at the littlest snowman ever.
Ellie Zolfagharifard
Reporter