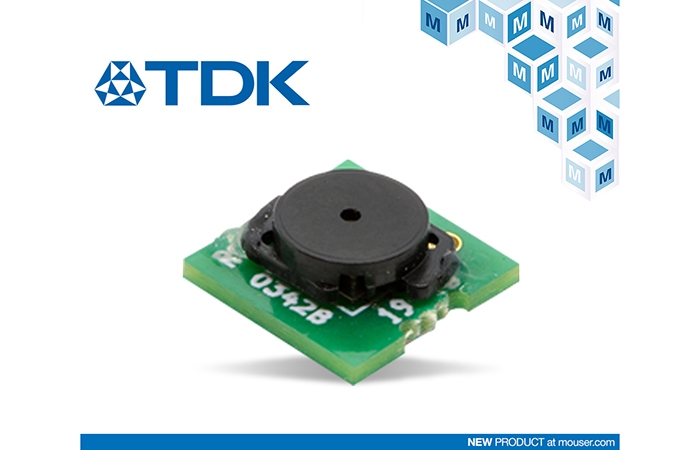 December 10, 2019 – Mouser Electronics, Inc., the authorized global distributor with the newest semiconductors and electronic components, is now stocking the MOD_CH101 ultrasonic time-of-flight (ToF) sensor module and DK-CH101 SmartSonic™ platform from InvenSense, a TDK Group company. The ToF solutions offer fast and accurate range measurement with ultra-low power consumption, and are capable of detecting objects of any size, color, and transparency. The highly accurate devices are suitable for a range of applications including Internet of Things (IoT) devices, augmented reality, drones, and mobile devices.
The InvenSense MOD_CH101 ultrasonic ToF sensor module enables rapid integration of the Chirp CH-101 sensor. The CH-101 is a highly integrated system-in-package featuring an ultra-low-power system-on-chip (SoC) together with a piezoelectric micro-machined ultrasonic transducer. Built using patented MEMS technology from Chirp, the CH-101 operates advanced ultrasonic DSP algorithms and provides accurate range measurements to targets at distances up to 1.2 m. The MOD_CH101 module includes an acoustic housing that allows engineers to customize the sensor's field of view (FoV) up to 180 degrees and allows for simultaneous range measurements to multiple objects within the FoV. The device is also immune to ambient noise.
The InvenSense DK-CH101 SmartSonic platform, now available to order from Mouser Electronics, includes an on-board CH-101 sensor and a Microchip SAM G55 microcontroller with an Arm® Cortex®-M4 core. The robust development board is capable of connecting up to four external MOD-CH101 sensor modules via flat-flex cables. Featuring an onboard embedded debugger, the platform can debug the SAM G55 without requiring external solutions. The DK-CH101 SmartSonic platform includes a comprehensive set of software tools, including embedded drivers, a GUI-based development tool, and SonicLink™ (available for download to registered developers).
As an authorized distributor, Mouser Electronics is focused on the rapid introduction of new products and technologies, giving customers an edge and helping speed time to market. Over 800 semiconductor and electronic component manufacturers count on Mouser to help them introduce their products into the global marketplace. Mouser's customers can expect 100% certified, genuine products that are fully traceable from each manufacturer.
For more information on the MOD_CH101 module, go to https://www.mouser.com/new/invensense/tdk-invensense-mod-ch101-sensor-modules/.
To learn more about the DK-CH101 SmartSonic platform, visit https://www.mouser.com/new/invensense/tdk-invensense-dk-101-smartsonic-platform/.
With its broad product line and unsurpassed customer service, Mouser strives to empower innovation among design engineers and buyers by delivering advanced technologies. Mouser stocks the world's widest selection of the latest semiconductors and electronic components for the newest design projects. Mouser Electronics' website is continually updated and offers advanced search methods to help customers quickly locate inventory. Mouser.com also houses data sheets, supplier-specific reference designs, application notes, technical design information, and engineering tools.
About Mouser Electronics
Mouser Electronics, a Berkshire Hathaway company, is an award-winning, authorized semiconductor and electronic component distributor focused on rapid New Product Introductions from its manufacturing partners for electronic design engineers and buyers. The global distributor's website, Mouser.com, is available in multiple languages and currencies and features more than 5 million products from over 800 manufacturers. Mouser offers 27 support locations around the world to provide best-in-class customer service and ships globally to over 630,000 customers in 223 countries/territories from its 750,000 sq. ft. state-of-the-art facility south of Dallas, Texas. For more information, visit www.mouser.com.
About InvenSense
InvenSense, Inc., a TDK Group company, is a world leading provider of MEMS sensor platforms. InvenSense's vision of Sensing Everything® targets the consumer electronics and industrial areas with integrated motion and sound solutions. InvenSense's solutions combine MEMS (micro electrical mechanical systems) sensors, such as accelerometers, gyroscopes, compasses, and microphones with proprietary algorithms and firmware that intelligently process, synthesize, and calibrate the output of sensors, maximizing performance and accuracy. InvenSense's motion tracking, audio and location platforms, and services can be found in mobile, wearables, smart home, industrial, automotive, and IoT products. In May of 2017, InvenSense became part of the MEMS Sensors Business Group within the newly formed Sensor Systems Business Company of TDK Corporation. InvenSense is headquartered in San Jose, California, and has offices worldwide.
Trademarks
Mouser and Mouser Electronics are registered trademarks of Mouser Electronics, Inc. All other products, logos, and company names mentioned herein may be trademarks of their respective owners.