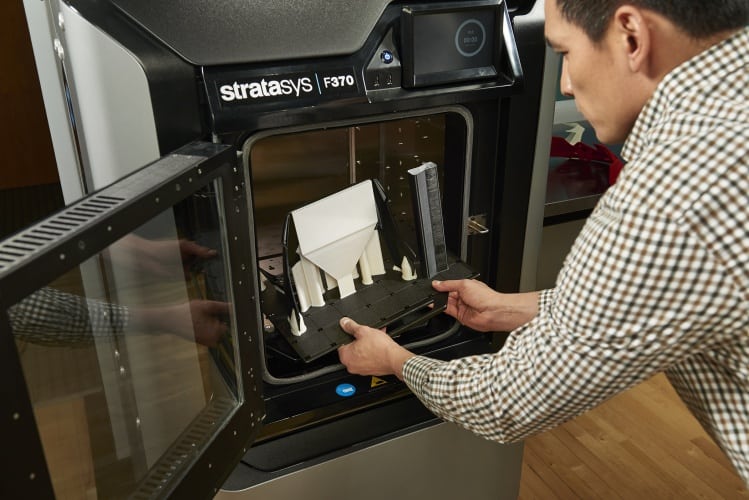 According to the Minneapolis-based company, the global prototyping market is worth $10-15bn, with additive manufacturing accounting for around 23 per cent of that figure. The new range of fused deposition modelling (FDM) machines is aimed squarely at designers and manufacturers looking to develop fast, accurate prototypes using a variety of thermoplastic materials.
"Today there is a vast market opportunity in product prototyping that we feel is not being addressed by current 3D printing systems," said Zehavit Reisin, head of Rapid Prototyping Solutions at Stratasys.    
"The launch of the Stratasys F123 Series targets these product design workgroups, industrial designers, engineers, students and educators who demand a professional quality rapid prototyping solution that's simple to use, produces reliable, engineering-quality results, integrates perfectly within an office or lab setting, and is affordable to own and operate."
The F123 Series is comprised of three models (F170, F270 and F370) with build sizes ranging from 25.4cm to 35.56cm. Up to four materials in 10 colours are supported, with Stratasys claiming that materials can be swapped out in under a minute. The range also features a Fast Draft Mode that uses PLA (PolyLactic Acid) bioplastics for low-cost rapid prototyping.
"We have 15 new patents pending just for this system alone," Rich Garrity, president of Stratasys Americas, told press at the launch event at Solidworks World 17 in Los Angeles. "We're also leveraging 43 existing patents that we have." 
According to Garrity, the printers are also quiet enough to operate in the centre of a workspace and have endured over 90,000 hours of testing to ensure reliability.     
"This is the most reliable, economical and intelligent 3D solution for the entire office," he said. "The system is built to be used by work groups in office settings and education settings."
Starting from under $20,000, the F123 Series is available for order now and is expected to start shipping in March.