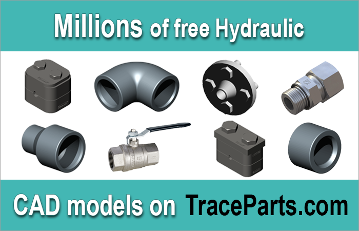 Accumulators, Oil supply, Hydraulic cylinders, Hydraulic fittings, Hydraulic motors, Hydraulic pumps, Hydraulic units, compressors, Hydraulic control valves, Hydraulic valves, Hydraulic flanges, Hydraulic security components, and more.
TraceParts offers hundreds of millions of technical data ready to download in 2D & 3D. 100% FREE.
As a Designer or Engineer, you can really speed up your design projects using TraceParts CAD-content platform.
All leading part suppliers for mechanical, electrical, electronic and mechatronic components: SKF, Schaeffler INA/FAG, Schneider Electric, Siemens, Parker Legris, RS Components,

118+ Million CAD files compatible with all the most popular native CAD software like SOLIDWORKS, CATIA, Pro/ENGINEER & Creo, Inventor, AutoCAD, Solid Edge.

Quick visual evaluation before you download

Request a quotation directly from the supplier

Save precious design time and stop redrawing purchased parts
Statistical Report on designers who download CAD models of Hydraulic Components
If you are a manufacturer or a distributor of Hydraulic Components and you would like to know who is downloading product information for the type of component you sell (in other words which hydraulic components are the most in demand and by whom), you can check this statistical report with detailed information about the profile of design engineers who downloaded CAD models per product family, country, type of industry, job title, department and size of their company.
Discover Design Activity Reports according the product category about registered designers and engineers on TraceParts.com