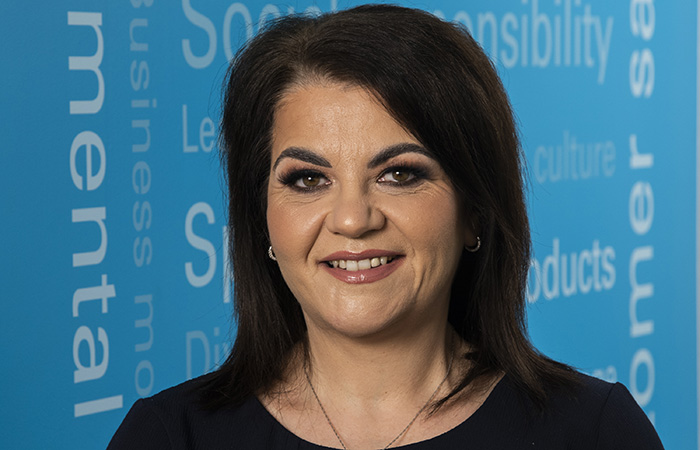 Atlas Copco has appointed Lyndsay Quinn as Business Line Manager for Operations within its Compressor Technique Service (CTS) division in the UK. As of February 1st 2022, Lyndsay is a key member of the Management Team of Atlas Copco Compressors UK and will be a driving force for the Company's operational performance, as well as upholding the reputation of a leading service operations team in a demanding competitive environment.As Business Line Manager, Quinn has total responsibility to lead and run an efficient, customer focused service organisation, including field service operations, process, planning, technical support and business intelligence teams, with a focus on profitable growth.
Quinn's role is to assure positive business development by meeting yearly goals on recognised revenue, operating profit, and operational efficiency, as well as cooperation with the service sales and marketing function and equipment business lines to support the growth of revenues from service plans and advanced services. She will also ensure the highest standards of customer care are provided throughout the CTS operation, including giving attention to customer feedback through a Net Promoter Score system.
"Health, safety and the environment continue to be at the centre of Atlas Copco's service operations and, as well as ensuring that our own organisation adheres to all measures, we provide guidance to our customers on the latest health, safety and environmental matters when it comes to compressed air," says Quinn.
On her priorities, Quinn continues: "One of my first priorities in the new role is to ensure that our team is there to support customers with their equipment uptime as the manufacturing industry returns to growth in the post-pandemic environment and invests more in capital equipment. A second, and more personal priority, is to help increase diversity in the field of compressor operations. I am a Diversity & Inclusion ambassador and promote our mission to attract the best talent and to have a good balance of role models in our organisation. I would like the industry to know that Atlas Copco believes in the power and potential of diverse teams, that we offer equal opportunities, that we invest in apprenticeship programmes and offer a strong framework for training and competence development of all of our employees."
With a BA Management degree from Glasgow Caledonian University, accomplished whilst working and raising a young family simultaneously, Quinn has been a role model to many colleagues within Atlas Copco, progressing through several jobs in the Compressor Technique Service division for the past 18 years, from service administrator, planning team leader, national team leader and process manager. During her career, she has been a key contributor to the design and content of a global operations dashboard, which is now the company's standard tool for monitoring and reporting service operational performance. In 2018 Quinn relocated to the USA on a global assignment to deliver training to end-users in accordance with a defined training plan for the CTS business stream. This assignment involved engagement and interaction with all Atlas Copco Compressor Technique customer centres within the USA, Canada, and Mexico. Additionally, Quinn was chosen to follow Atlas Copco's 'CTS Masterclass' - a development course for potential leaders - which covers all aspects of management and leadership in partnership with the Vlerick Business School in Belgium.
Commenting on Lyndsay Quinn's appointment and broad experience in service operations and management, Alexander Pavlov, General Manager of Atlas Copco Compressors UK & Ireland said: "Lyndsay's track record with the company clearly demonstrates her leadership qualities, her versatility and her capability to deliver business results, as proven by the UK customer centre repeatedly being recognised for its outstanding operational excellence."
Prior to working at Atlas Copco Quinn worked in the Civil Service and served in the Royal Air Force. In her leisure time at home in Motherwell, Scotland, she has developed a keen interest in health and wellbeing, mindfulness and yoga that helps her to sharpen focus on the major tasks in hand. Lyndsay is married with three adult children.
For more information please contact:
Joanna Canton Long, Marketing Communications Manager, Atlas Copco Compressors
+44 (0)1442 222240 or  joanna.canton.long@atlascopco.com