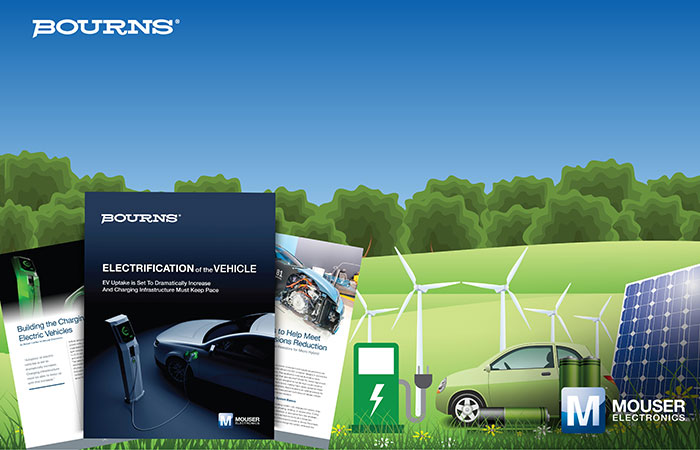 December 6, 2019 – Mouser Electronics, Inc., the New Product Introduction (NPI) leader empowering innovation, announces a new eBook in collaboration with Bourns, exploring new components, technologies, and strategies for the design and development of electric vehicles. In Electrification of the Vehicle, subject matter experts from Mouser and Bourns provide detailed explanations of concepts and products including shunt resistors, inductor designs for on-board chargers, and the use of inductors and current sense resistors to reduce automotive emissions.
Citing industry surveys and industry projections, Electrification of the Vehicle predicts growing adoption of electric vehicles throughout the United States. To keep pace with increasing numbers of electric vehicles, significant strides must be made in the development of charging infrastructure. The eBook highlights some of the most pressing challenges relating to electric vehicles and charging stations, providing in-depth guides to potential technical solutions and useful products.
The new eBook from Mouser and Bourns incorporates detailed information on products such as the Bourns Model CSM2F Series of shunt resistors. Available in three footprint sizes, the CSM2F series delivers accurate current sense measurements in high-energy storage applications. Bourns' useful guide highlights the key elements of each transistor in the series.
The eBook also includes key features and ordering information for more than a dozen products from Bourns, including BMS signal transformers and SRN automotive semi-shielded power inductors. Bourns' complete range of products for electric vehicles, available from Mouser, includes encoders, magnetics, position sensors, and other automotive solutions.
To learn more about Bourns, visit https://www.mouser.com/manufacturer/bourns/. To read the new e-book, go to https://www.mouser.com/news/bourns-ev-ebook/mobile/index.html.
With its broad product line and unsurpassed customer service, Mouser strives to empower innovation among design engineers and buyers by delivering advanced technologies. Mouser stocks the world's widest selection of the latest semiconductors and electronic components for the newest design projects. Mouser Electronics' website is continually updated and offers advanced search methods to help customers quickly locate inventory. Mouser.com also houses data sheets, supplier-specific reference designs, application notes, technical design information, and engineering tools.
About Mouser Electronics
Mouser Electronics, a Berkshire Hathaway company, is an award-winning, authorized semiconductor and electronic component distributor focused on rapid New Product Introductions from its manufacturing partners for electronic design engineers and buyers. The global distributor's website, Mouser.com, is available in multiple languages and currencies and features more than 5 million products from over 800 manufacturers. Mouser offers 27 support locations around the world to provide best-in-class customer service and ships globally to over 630,000 customers in 223 countries/territories from its 750,000 sq. ft. state-of-the-art facility south of Dallas, Texas. For more information, visit www.mouser.com.
About Bourns
Bourns is a leading manufacturer and supplier of automotive sensors, circuit protection solutions, magnetic products, microelectronic modules, trimming and precision potentiometers, panel controls, encoders, and resistive products. Headquartered in Riverside, CA, Bourns serves a broad range of markets, including telecommunications, computer, industrial, instrumentation, automotive, consumer, non-critical life support medical, audio, and various other market segments. Bourns products are manufactured according to ISO-9000 standards under Six Sigma quality programs. Bourns automotive products are manufactured in accordance with the TS16949 standard.
Trademarks
Mouser and Mouser Electronics are registered trademarks of Mouser Electronics, Inc. All other products, logos, and company names mentioned herein may be trademarks of their respective owners.