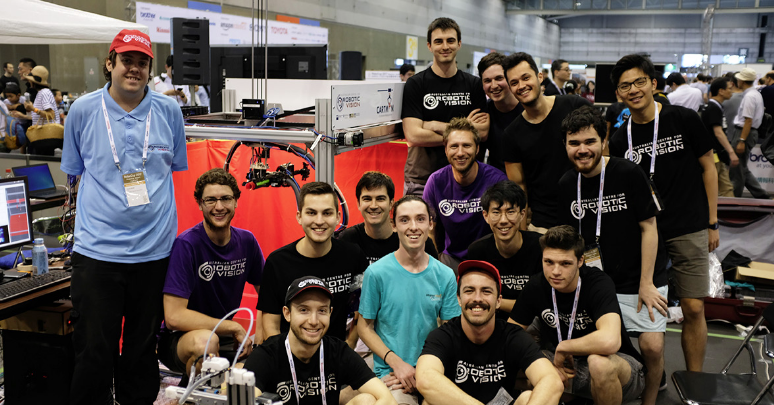 Made up of researchers from Queensland University of Technology (QUT), the University of Adelaide and the Australian National University, the ACRV team will receive a prize of $80,000. Its 'Cartman' robot came out ahead of 15 other teams from around the world, in a competition that tested a range of warehouse picking skills.
"It was a tense few hours," said the ACRV's COO Dr Sue Keay.
"Our team top scored early with 272 points on the final combined stowing and picking task but we then had to wait on the results for five other teams, many of whom had outperformed us in the (other) rounds, before it became clear that we had won."
Cartman was the only Cartesian robot in the event. Moving along three axes like a gantry crane, it featured a rotating gripper that was able to pick up items with suction or a two-finger grip.
"We learnt from our experience last year when we used an off-the-shelf robot," said team leader Dr Juxi Leitner, from QUT.
"With six degrees of articulation and both a claw and suction gripper, Cartman gives us more flexibility to complete the tasks than most robots can offer. Cartman is robust and tackles the task in an innovative way and is also cost effective."
The challenge combined object recognition, pose recognition, grasp planning, compliant manipulation, motion planning, task planning, task execution, and error detection and recovery. Robots were scored by how many items they successfully picked and stowed in a fixed amount of time. In preparation for the event, the team invested more than 15,000 hours into the project.
"One of the most important factors contributing to the team's success was the seamless integration of world-leading robotics and vision," said University of Adelaide team member Dr Trung Pham.
"Our robot uses deep learning to see robustly and acts reliably due to smart design. The competition was a fantastic chance for us to truly test our state-of-the-art algorithms as well as opening up new real-world challenges that go beyond academic research."