Team Bath Drone Marine (TBDM) has been awarded the Best Rookie prize at the Emergency Robotics Challenge, a pan-European student event.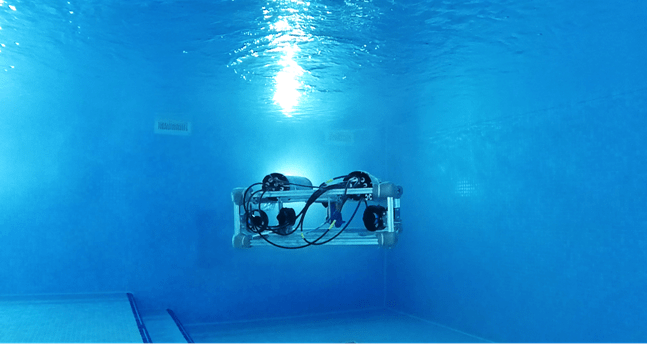 Run by the European Robotics League (ERL), the competition challenged teams to design and build drones to carry out untethered, autonomous missions on land and underwater. The Bath University students were the sole UK representatives and competed against a number of other international teams from France, Germany, Italy, Spain, and Poland.
Each mission related to an emergency-response theme – such as a nuclear disaster - and some missions required collaboration between drones in different domains, for example detecting a leaking underwater pipeline and closing the appropriate valve on land. Points were awarded for goals completed successfully and the team with the highest score at the end was the winner.
The TBDM underwater robot had been developed over several years - beginning from a group design and business project, followed by implementation within a number of final year projects, and then many more hours of extracurricular effort. Though the Bath team failed to place at this year's event, it was awarded the Best Rookie prize on its competition debut.
"Participating in the ERL Emergency Robotics Challenge has been a huge step forward for TBDM and an excellent learning experience for the students. The bar has been set for next year's team," said Dr Alan Hunter, academic lead and lecturer at Bath's Department of Mechanical Engineering.
"We are extremely grateful to the support we have received, especially the funding provided by the Department of Mechanical Engineering and Bath Alumni fund, as well as in-kind support from Blueprint Subsea and the University of Bath Sports Training Village. Lastly, we wouldn't have been able to get and stay there without the support of ERL who generously funded our travel and accommodation."