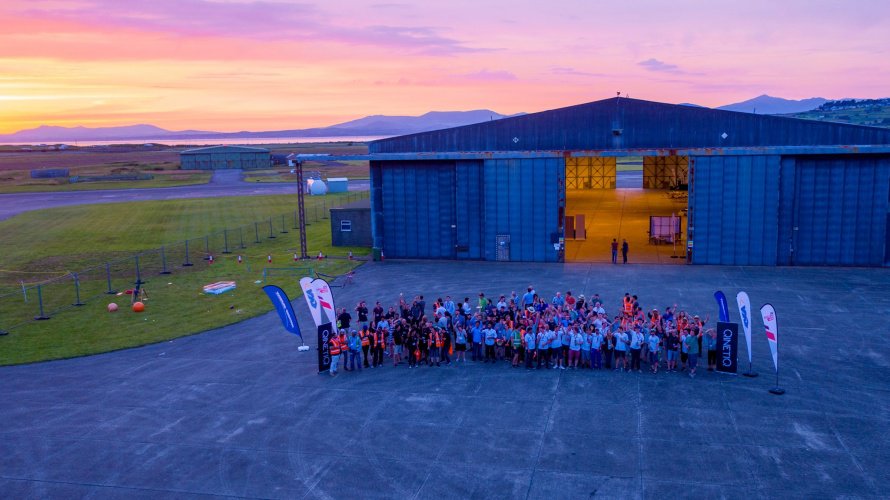 Teams gathering at Snowdonia Aerospace Centre for UAS Challenge 2017 (Credit: IMechE)
Now in its fourth year, the annual competition has been growing steadily, more than doubling in the number of teams that took part in the inaugural event. This year, the young engineers will be challenged to design, build and operate a UAS for a humanitarian aid mission. Alongside participants from the UK - including returning champions Bath University - the competition will also feature entrants from Pakistan, Turkey and Sri Lanka.
"Taking part in the UAS challenge provides students with an excellent opportunity to bridge the gap between education and industry," said Peter Finegold, head of Education at IMechE.
"Students are involved in an engineering project which brings theoretical knowledge to life and encourages authentic work experiences such as working in teams, to deadlines and solving real problems as they arise."
The challenge is a year-long project with phased stages of completion that require strict adherence to certain standards in order to qualify. The drones must complete a series of tasks, such as way-point navigation (following a route towards a specific mark), location search and accurate delivery of an aid package.
A steering group, comprising of specialist professionals in aerospace engineering and flight safety at leading aerospace and defence organisations, will support the teams throughout the project. Alongside technical judging, teams will be required to lay out the commercial viability of their projects with a Dragons' Den style pitch to a panel of judges, which will include representatives from sponsors Qinetiq and GKN Aerospace.
"Last year was GKNs first year of sponsoring the UAS Challenge, and we were impressed by both the professionalism of the contest and the quality of the entrants' submissions," said Malcolm Foster, chief engineer of Advanced Projects at GKN.
"We had a great time participating in the fly off activities and judging, and we had no hesitation about extending our sponsorship and look forward to another exciting year."