Alongside the 400 graduates it employs in the UK, Cambridge Consultants also currently has 19 students that are part of its Tech Scholar Programme. Tech Scholars join straight out of school and spend a year working before starting at university. During their studies they receive financial support from the company and return each summer for additional paid work. In the first of a series of interviews with current Tech Scholars, The Student Engineer caught up with Russell Maguire to hear more about the programme.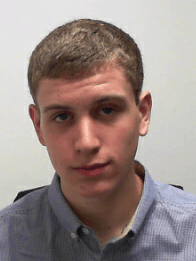 How did you hear about the Technology Scholarship programme?
I was lucky enough to get a summer placement at Cambridge Consultants before starting my final year of A-levels through a scheme co-ordinated by the Arkwright Scholarship Trust. It was during this placement I found out about the Technology Scholarship programme, although I had no prior plans to take a year out before university. However, having enjoyed the experience and learned so much over the four-week period, I decided to apply for the Technology Scholarship Programme.
What was the application process like?   
As mentioned, I didn't follow the same application process as some of the other Tech Scholars – I was offered the position following the summer I spent at Cambridge Consultants as an Arkwright Scholar. I sent in my CV then had a telephone interview with my line manager later in the year to confirm I was suitable for the role and the role was still suitable for me.
What are the benefits of a year at Cambridge Consultants before you start your studies?
The experience you gain working in industry gives you a good head start at university. Particularly with deadlines and workflows, I have become much better at managing my time and organising the work I produce. The skills and knowledge I learnt at Cambridge Consultants also gave me a head start on my peers. I work in the digital signal processing group, which involves a lot of low-level programming, so I found my electronics modules very easy and programming coursework a lot less challenging after working on some of the Cambridge Consultants codebases.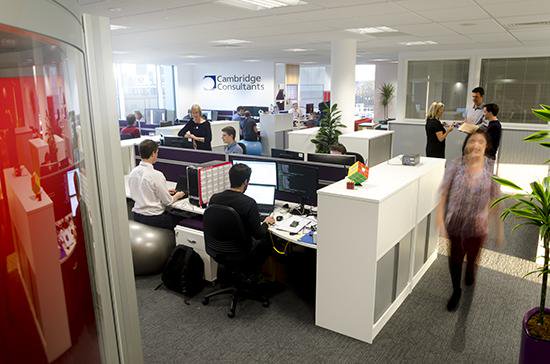 Cambridge Consultants is a particularly good place to work because, in my year out, there were another 13 Tech Scholars on the same scheme. We all got to know each other well and, as we were able to share in the same experience, it made settling in much easier.
What did you study/are you studying at university following your initial stint at Cambridge Consultants?
I am starting my second year of the general engineering course at Durham University, with the intention to specialise in electronic engineering in my third year.
Can you tell us about some of the projects you've worked on at Cambridge Consultants as part of the Technology Scholarship scheme?
The highlight of the year was working on one of the Tech Scholar projects. After a brief settling-in period, Cambridge Consultants allows Tech Scholars in small groups to run internal projects – and ours was to develop a gripper for the delicate task of picking fruit. In agriculture, fruit picking and sorting is still done by hand due to the varied geometry of fruit and its susceptibility to bruising – existing pick-and-place systems operate on objects for which the system will know the full geometry of the object, and grippers can take advantage of this. Our solution was to develop a vacuum-based gripper where each of the fingertips of the gripper could move independently to conform to the complex surfaces of organic fruit and veg.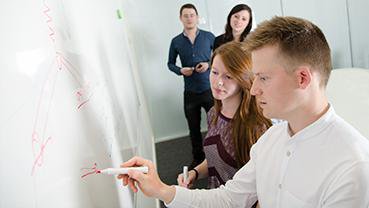 Working on Tech Scholar projects with a lot of responsibility really helps you learn quickly. Guided by colleagues, I learnt to design and write the embedded control software which monitored the pressure in the vacuum lines connected to the gripper. The smart control system allowed us to tune the pressure in each fingertip to avoid bruising delicate peaches or wasting vacuum power in unconnected fingertips when picking up smaller targets.
What advice would you give to someone looking to get involved with Cambridge Consultants either with the latest Technology Scholarship programme or the Student Internships?
Cambridge Consultants operates across a range of markets and employs engineers in a range of disciplines, so look into what area you would be interested in working in.
The application process – and particularly the interviews – are renowned for being challenging, so be sure to prepare well. Most Tech Scholars would agree that the interview process is a positive experience, especially if you enjoy problem solving.
Finally, if you are lucky enough to get a place on the scheme, enjoy yourself! This company is a fantastic place to work between the exciting projects, social events and people you are surrounded by. I have made some great friends through Cambridge Consultants and the placement has given me the best start in my career.