Should the UK government step into to ensure that the sale of Arm Holdings to US chip giant Nvidia doesn't impact UK jobs?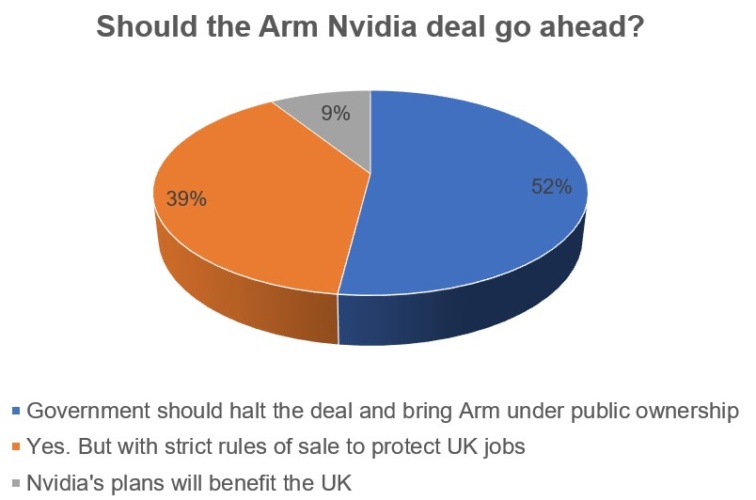 The news that UK-based tech giant ARM Holdings is to be sold by its current owner – Japan's SoftBank Group – to US graphics chip giant Nvidia for $40bn has been described by the company's founder as a disaster that threatens jobs and damages the UK's ambitions to grow its tech centre.
The organisation – which was originally spun-out out of UK computer company Acorn in 1990 – is best known as the designer of the ubiquitous computer chips that are at the heart of most of the world's leading smartphones.
It was sold to its current owner for $32bn four years ago – in a deal part-brokered by then Prime Minister Theresa May – which saw SoftBank agree to keep the HQ in the UK until at least September 2021.
In a statement, Nvidia chief executive Jensen Huang has pledged to honour the terms of this deal, to keep the company's HQ in Cambridge and even to expand the site to build a "worldclass" AI research facility.
However, talking on BBC Radio Four's Today program, Arm co-founder Hermann Hauser warned that any such pledges are meaningless unless they are made legally enforceable by the government, and that the deal – which will effectively mean that many of ARM's clients become dependent on a competitor – threatens the firm's business model.
There are also concerns over the implications of putting a company that is famed for its global reach under the ownership of US firm at a time when the US is engaged in a growing trade war with China.
Arm was once that rarest of things – a bona fide UK based global tech giant. Exactly the kind of organisation that the current UK government claims it would like to see more of. Sadly – whilst much of the expertise has remained in the UK – Arm has instead come to be seen as a classic example of the UK's famed inability to tap into the economic potential of its most innovative technological advances.