In the wake of nationwide flooding caused by Storms Ciara and Dennis, it was announced that the UK will spend £1.2bn on a new supercomputer to aid forecasting. We asked our readers whether the money represented a good investment.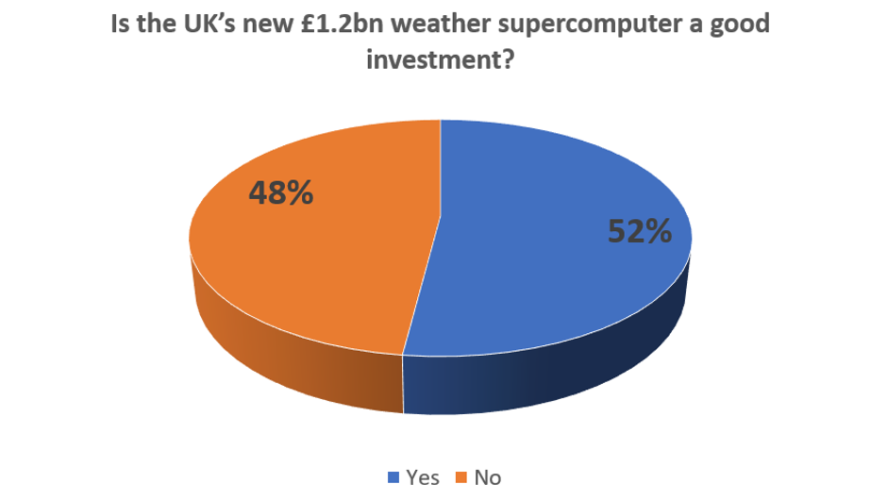 In a split that echoes another divisive vote of recent years, 52 per cent of respondents said the supercomputer was a good investment, while 48 per cent disagreed.
Advances in computing power have greatly improved weather forecasting, appearing to discern some form of order from what are inherently chaotic systems. According to the Met Office, which will manage the new supercomputer, data from the device will be used to help more accurately predict storms, as well as identify the best locations for flood defences and predict changes to the global climate.
But at a time when much of the country is recovering from severe flooding, some see the outlay of £1.2bn on a supercomputer as an indulgence, believing the money would be better spent on improving flood defences or supporting the recovery of the affected communities.
"It seems to me that the forecasting for BOTH recent storms were spot on so why on earth do we need to spend £1.2 billion (which will probably end up being double that estimate) when that money could be used to enhance our poor flood defences," commented Ron Shilton. "The hundreds of families whose homes have been wrecked by these two storms will get no comfort from hearing this announcement!"
Norman Wilson pointed out that computer models and predictions are well and good, but action is a key ingredient that too often is missing.
"Knowing where the rain and subsequent run-off is going to cause trouble will help pinpoint the area that needs to be prepared, but that only works if the powers that be spend the money to control, direct, divert and absorb the excess water," he said.
Other readers noted the wider weather and climate implications.
"I think that we should remember it is not just about the forecast for next week or month," said Steve Bee. "As I understand it, it would be used for climate modelling as well. At a time when our world is faced with >1.5C rise in global average temperature, we need to have as accurate a model of the climate as possible to predict with greater accuracy where we are heading. This will hopefully enable future Governments to spend money on the most appropriate means to combat Climate Change. So in that respect, £1.2b is money well spent compared to the HS2 vanity project."
The comments section will remain open. Let us know whether or not you think the £1.2bn is a worthwhile investment, or if the money would be better spent mitigating flooding rather than predicting it. As ever, all comments will be moderated.