An end-to-end manufacturing service allows inventors and engineers to rapidly transform their CAD designs into tangible products
The American venture capitalist John Doerr has a saying: ideas are easy, execution is everything. As a qualified electrical engineer and backer of some of the world's most successful tech companies, Doerr knows all too well that ideas are ten a penny. Forging an idea into something of value is where the real alchemy is.
Plethora is a San Francisco-based start-up that aims to make that path from idea to execution a whole lot easier. Its end-to-end manufacturing service allows inventors and engineers to rapidly transform their CAD designs into tangible products with as little friction as possible. Using software that works in tandem with SolidWorks, users are able to upload their designs, get instant feedback on price and feasibility, and choose their shipping date. It's a manufacturing solution designed for the iPhone generation.
"A lot of times people don't really care about how things are done in the backroom," Jeremy Herrman, Plethora's founder and CTO, told The Engineer.  "They care about what actually drives the whole product development lifecycle faster. We're here to make it as easy as possible for companies to make their parts and get that quick prototype work done really, really fast."

According to Herrman, Plethora helps avoid the prolonged dialogue that often takes place between designers and manufacturers. Communication between the two can bounce back and forth multiple times before anything is achieved, with discussions over price, quantity, materials, and shipping all necessary. With Plethora, a user knows immediately if the company can fulfill a design, how much it will cost, and when it will be delivered.
"We have a piece of software that lives inside SolidWorks, and it's basically able to analyse your designs," said Herrman. "You download our software, click one button to analyse the part, and it will tell you if our factory is able to make it and give you helpful feedback.
"Our software knows everything about our factory. It knows every tool that we have, every material, every piece of stock that we have, as well as all of our capacity to know if we're going to be able to make it. We think that the ability to have instant feedback in the workflow is a huge deal. It's a really big value-add, because as you're designing – even from the first sketch and extrude – you can see if we're able to make that."
Perhaps unsurprisingly, Plethora's model is widely used for prototyping and short-run manufacturing. The company's 3-axis and 5-axis CNC milling machines can help turn orders around in as little as three days, with a coordinate measuring machine (CMM) used for quality control on all finished parts.

But not all production is short-run, and not all customers are operating out of garden sheds. Alongside the inventors and hobbyists, Plethora also counts major industry players among its fans.
"We also work with some of the Bay Area's biggest companies," Herrmann explained. "We have people that are making anything from flying cars to lab equipment. We definitely help a lot of folks across both big and small companies."
Having an eclectic mix of customers is clearly something that Herrman enjoys. Plethora's website states that part of the company's vision is to make manufacturing accessible to all, removing some of the high barriers to entry that currently exist. Someone with a new idea for a product or a part could easily be discouraged by the complexities of the manufacturing supply chain, and providing these particular people with an outlet to bring their designs to fruition is a big part of Plethora's remit.
But enabling the little guy is only half the story. Herrman points out that many of the big companies in the Bay Area who started in software have begun branching into hardware. While lots of them have their own job shops, they can often get backed up with work. Plethora's manufacturing model means it is well positioned to pick up that slack.
"We've found that even companies that have their own machine shops in-house, if they're backed up on capacity we can solve that instantly," said Herrman. "They also want to deal with as little red tape as possible. That's what our model allows. Some of these guys, they need something yesterday, and they're able to very quickly see if we can make it or not."
While the factory floor currently only hosts CNC milling machines, beta testing is under way for turning. The company has plans to add additional types of tooling processes further down the line, all incorporated into its highly automated manufacturing system. It's this holistic, 'full-stack' approach that distinguishes Plethora from its competitors, according to Herrman.
"Because we've automated a lot of the backend factory processes of turning a 3D design into instructions for machines – everything from toolpath and how we're going to hold it, to operations and process planning – we're able to crank out parts very quickly," he said. "And that's a lot of our special sauce."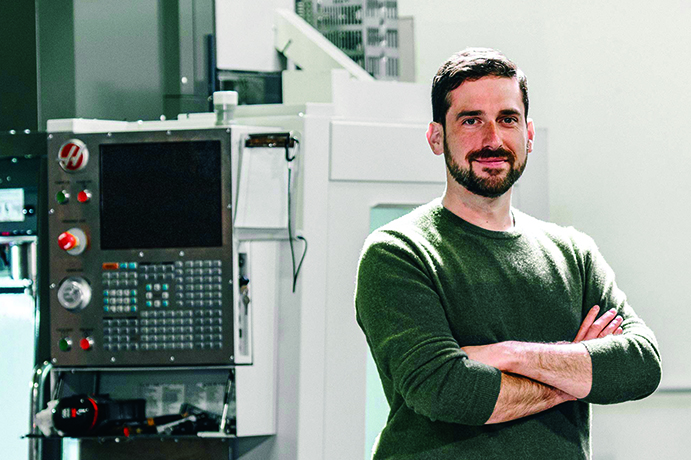 Those parts can currently be manufactured in 24 materials, including a number of aluminium and copper alloys, various steels and stainless steels, and a wide range of plastics. All of these can be selected via the front-end interface, which also features a calendar that gives customers scaled pricing for the coming days and weeks. For rapid prototyping, a user might pay a premium for a three-day turnaround. Conversely, a hobbyist with time on their hands might prefer to pay
a lower price for a later shipping date.
"We want to be flexible for our customers," Herrman said. "If you don't need your design in a couple of days, if you want to push that out, that lets us be more flexible with our capacity and we'll give you discounts for that."
Due to the sensitive nature of much of the work carried out by the factory, Herrman is reluctant to name names when it comes to customers. However, he does throw The Engineer a bone by saying Plethora has done work for a very large electric car company. Whether or not that company is Tesla, one suspects that Elon Musk would approve of the novel approach Herrman
and his colleagues are bringing to manufacturing.
The company currently employs 45 people, including everyone from software engineers, to computational geometry scientists and factory foremen. That number is almost certainly set to rise over the coming years, as Plethora expands into different materials, tooling techniques, and perhaps even different markets. It's a model that has the potential to work virtually anywhere, and Herrman said that setting up additional shops was a possibility Plethora was looking at. For now though, everything is still manufactured in San Francisco, but the destinations of the parts extend much further afield.
"We have a lot of customers in the Bay Area, but we've shipped parts all across the US," said Herrman. "We've even shipped to the UK and to China, believe it or not. You maybe wouldn't expect to see a lot of activity there, but they need parts too!"