A consortium including the Advanced Forming Research Centre at Strathclyde University is investigating a method that could reduce the price of titanium for aerospace components to less than a third of the current cost. Producing the metal from a readily-available mineral, the method could help cement the UK's position as a leading centre for the aerospace industry.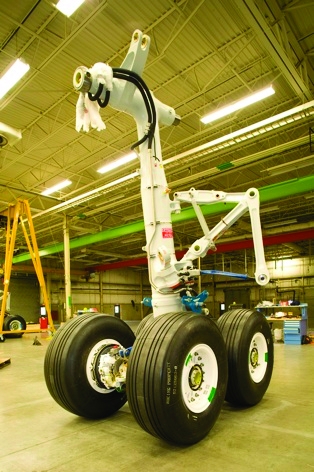 The FASTforge project includes Safran landing gear, metal powder specialist Metalysis, and Sheffield University. The project aims to develop a three-step process to make titanium metal from rutile sand, a mineral composed mainly of titanium dioxide, which is found in Australia, South Africa and India. The goal is to develop a process for forging titanium aerospace components, establish it within the UK supply chain, and prove its capability for landing-gear applications.
Each of the partners has a defined role within the project. Safran will act as project manager, provide specifications for the test component, test it and determine where else the material could be used in its product; the AFRC and Sheffield University will model the manufacturing process steps and optimise the pre-form and forging die designs to minimise material usage; the AFRC will also model and optimise the forging parameters and forge the component itself; Metalysis will produce the titanium alloy powder from the rutile sand. The project is projected to be completed by mid-2018.
Reducing the cost of titanium would allow it to be more widely used in aircraft manufacture, which could reduce the overall weight of aircraft and therefore help improve fuel economy, with knock-on effects for emissions reduction and the cost of flying.
"Cheaper titanium from the FAST-forge process will protect the UK's position as the second-largest global aerospace manufacturer, with potential to grow our share of the market as the sector grows over the next 20 years," said AFRC chief executive Michael Ward. "It will mean the supply chain staying and expanding in the UK with more high-value jobs as a result."
"This project has the potential to diversify the supply chain of titanium, allowing its use to continue in current products, as well as allowing its introduction into areas where it has not previously been feasible," added Sam Evans of Safran.