In the months of May and June 1940, 338,226 service personnel of the British Expeditionary Force were evacuated from Dunkirk in northern France, having retreated there on the order of General John Vereker, 6th Viscount Gort.
Surrounded by marshes and possessing a suitably long stretch of beach, Dunkirk presented a tangible temporary staging post from which the Second World War's Operation 'Dynamo' could be carried out. The evacuation saw 900 naval and civilian vessels cross the English Channel to rescue the stranded troops. The 'Little Ships', crewed mainly by Royal Navy reservists, formed a significant part of what wartime Prime Minister Winston Churchill described as the "miracle of deliverance".
Among the Little Ships' crews, however, observations had been made that would lead to the development of a material that, towards the end of the war, would save thousands of lives and tons of steel. The material was plastic armour and, in August 1945, Dr JP Lawrie of the Royal Naval Scientific Service penned an article for The Engineer that summarised the material's development and its quick evolution for use during the D-Day landings of 1944.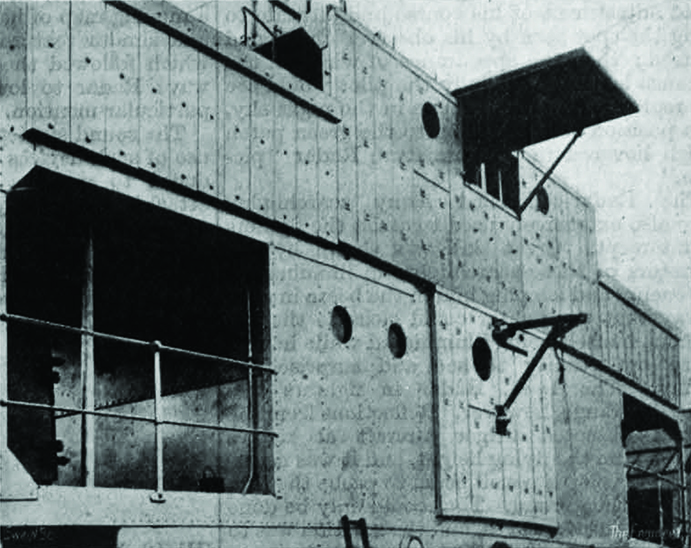 "In the grim days of Dunkirk, it was observed on some of the 'little ships' with bituminous flooring that bullets from attacking aircraft failed to penetrate, but were retained in the deck composition," wrote Dr Lawrie. "Examination showed that, although these stopped bullets were probably almost spent, or had arrived at an angle, the composition of the deck sheathing tended to prevent penetration, and an investigation of the possibilities of developing a 'plastic armour' was begun."
Wartime necessitated austerity, which spurred innovation. Attempts to protect merchant vessels saw the introduction of concrete to safeguard wheelhouses and gun positions, but this was ineffective due to potentially fatal fragments that flew off the concrete when hit by bullets.
Lawrie noted that deck sheathing on a number of Little Ships was "a form of mastic asphalt consisting primarily of bitumen and limestone powder, to which is added some grit". To overcome the problem with ballistic concrete, the Admiralty asked the Road Research Laboratory of the Department of Scientific & Industrial Research to investigate "whether a bituminous mixture… could be produced to provide protection against aerial attack to sand-cement concrete slabs in use in merchant ships".
Lawrie noted: "Their research on concrete led the laboratory to the belief that the use of larger particles of stone would improve the resistance of plastic armour. Trials showed that, using a larger stone in the ration of 50 per cent to the asphalt, 0.303 armour-piercing (AP) bullets were stopped by a protection weighing only 38.5lb per sq ft, compared with 50lb per sq ft for concrete. As the weight of solid mild steel to give protection against 0.303 AP bullets is 36Ib per sq ft, it was apparent that, in view of the acute shortage of steel and armour plate then prevailing, a stone-filled mastic asphalt offered good possibilities as a protective armour.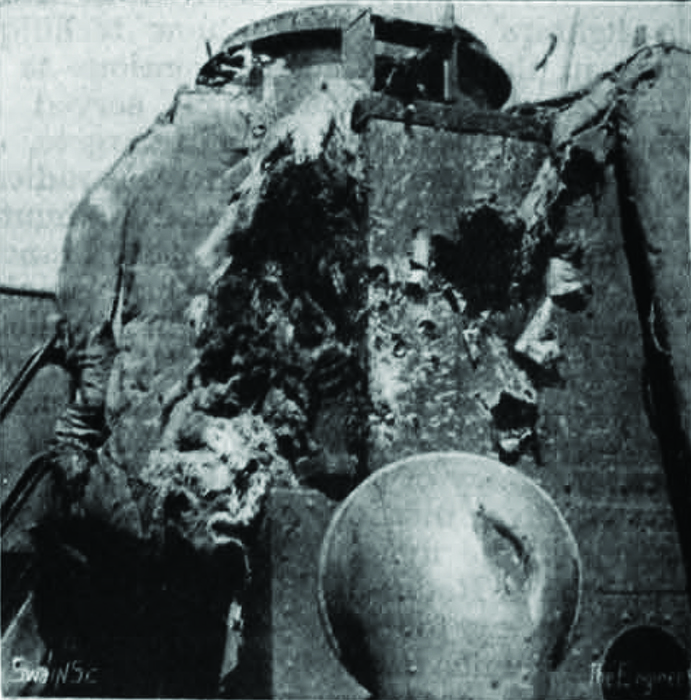 "Satisfactory results were obtained, a working specification was drawn up and, under the joint supervision of the Admiralty and the laboratory exactly one month after the research had begun, work was commenced on the armouring of vital parts of a merchant ship."
By October 1940 a more detailed investigation of the principles of plastic armour design had begun, with the first tests concentrated on stopping AP shot, followed by bomb and shell splinters and 20mm high-explosive shells. Experimental targets of plastic armour were made first with 50 types of stone. The results of tests using 0.303 bullets showed that certain flint and quartzite gravels gave the best protection. The granite then in use was immediately superseded by these new materials, said Lawrie.
Plastic protective plating (PPP) followed – a lighter, more efficient material made of pitch, fine sawdust and lime that was enclosed in metal and suitable for mass production. By the end of 1942 most gun positions were protected by PPP instead of in-situ plastic armour; later, PPP was installed on ships "in enormous quantities" in preparation for D-Day.
"Special plates were made for use on bulldozers and flamethrowers to give protection to their drivers," said Lawrie. "It has been found that the protection offered is in excess of that anticipated."