January 1946: and with the technological forge of warfare dominating The Engineer's agenda, the magazine took a look back at an aeronautical innovation that didn't get a chance to influence the outcome of World War II.

'Had hostilities lasted a little longer,' it wrote, 'we would undoubtedly have seen the introduction by all the belligerents of some striking developments in the design of military aircraft, notably a rapidly increasing employment of jet propulsion for both bombers and fighter.'
Instead, the article  - which can be read in its entirety here - reports on the "unusual spectacle" of a host of new designs, developed off the back of six years of war experience, poised to enter service at the moment peace breaks out.
The main focus of the article is the advances in jet propulsion made by both Britain and Germany.  'The year may be said to be chiefly notable as marking the fulfilment of the prolonged efforts to apply the jet propulsion systems successfully to military aircraft. In this country chief public interest was focussed on the Gloster "Meteor" and the de Havilland "Vampire".' The Meteor had set a new world speed record of 606mph the previous November.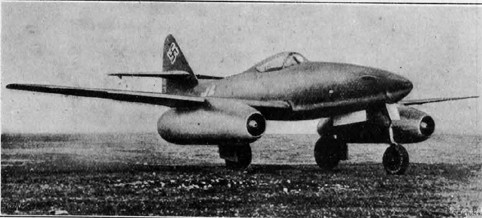 Meanwhile, German progress was also impressive. Indeed, Germany had been experimenting with a number of experimental jets very early on in the war. 'The first machine to be flown,' recalls the reporter, 'was a small single seater Heinkel, the Je 178, which made its first flight on August 27th 1939, four days before the Germans marched into Poland.'
The article also mentions the development by Messerchmitt of a single-seater fighter, the ME 262, which reportedly had a top speed of 525mph and a project to develop the fastest bomber in the world: a jet-propelled Arado that The Engineer says was close to entering service "when the enemy collapsed"
It's impossible to know what impact any of these developments would have had on the war's outcome had they entered service. And indeed, in the aftermath of the atomic bomb, The Engineer speculated whether there would ever actually be a need for such advanced military aircraft. 'If the efforts now being made to restrict the use of that terrible missile should fail.' it wrote, 'the consequences for humanity will be dire, and the whole future of military aircraft design will be greatly affected.'