The one-man helicopter, which was originally built for the United States Marine Corps, was demonstrated on various occasions during its visit to the UK, including a Royal Marine exercise at Eastney. 'It is intended that, if the machine is put into production, it would be built by a European firm, but the original engine, an air-cooled, two-stroke Nelson flat-four of 43 h.p., would be retained,' wrote The Engineer.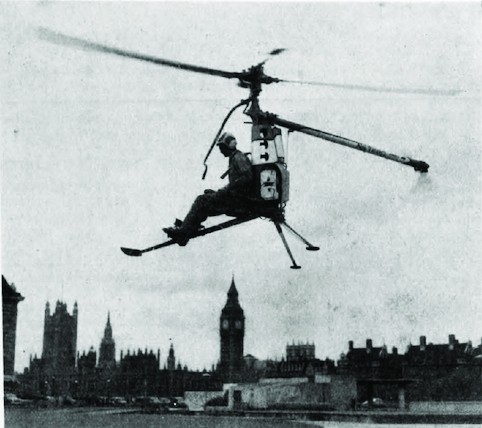 The prototype aircraft had an unladen weight of 300 Ib, a maximum rate of climb of 1160ft per minute, and a top speed of 70mph.
The machine was designed to be not only portable but air-droppable, and a special trolley had been developed to support it during and after folding. 'The machine can be stowed and folded without even draining the fuel tank, while there is, of course no engine sump. Assembly involves only the fitting of fourteen self-locking "Pip" pins, and can be performed in about four minutes,' explained the article.
Commenting on its control system The Engineer wrote that 'the small machine illustrates more clearly than the larger examples the Hiller "Rotor-matic" control system, in which the power to effect cyclic pitch changes is derived mainly from a pair of small blades at right angles to the main blades.'
In the close-up illustration on this page it can be seen that the auxiliary rotor is free to flap while remaining straight, i.e. one end up, the other down and that this motion is communicated by ballcranks to the main blades as a change of incidence.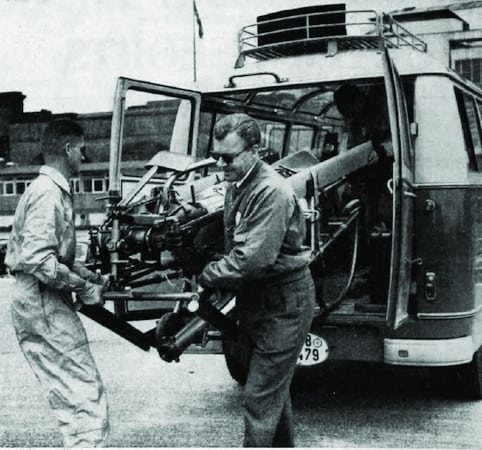 The article continues: 'the incidence of the auxiliary blades is altered by a cyclic pitch change mechanism of the accepted design, but the bell-cranks project downward instead of forward in order to maintain the correct phase angle between stick movement and disc response.
The control column can be seen passing behind the head of the man nearest the camera; the short handle projecting upward below it is the rotor brake. Another interesting mechanical detail visible is on the left-hand door of the Mercedes van; until the door is bolted the right-hand door cannot be closed.'
Originally developed by Hiller helicopters for the US Navy only 12 rotorcyles were ever built and this curious aircraft never actually entered military service.