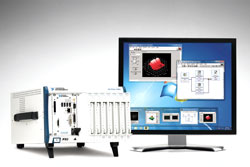 May 26, 2010 – National Instruments (Nasdaq: NATI) has announced the company's first data acquisition (DAQ) modules with integrated signal conditioning for scalable, high-performance measurements on PXI Express. The newNI SC Express family delivers increased accuracy, high data throughput and best-in-class synchronisation for measuring strain gauges, bridge-based transducers, thermocouples and high-voltage analogue inputs. PXI Express provides 250 MB/s of dedicated bandwidth for each SC Express module in the chassis, which helps engineers increase channel count without compromising sampling rates or data throughput. With a smaller footprint, simplified cable management and new software features for automatic synchronisation, the SC Express modules make it easy for engineers to set up and program high-channel-count sensor measurement systems.

The NI PXIe-4330 24-bit simultaneous bridge input module offers 0.02 percent accuracy and 25 kS/s per channel sample rate for high-performance strain, load, force and torque measurements. The bridge input module achieves high accuracy with a ratiometric design where the ADC references the excitation voltage. This approach removes the measurement's dependence on the stability and accuracy of the excitation voltage. In addition, unique delta-sigma ADCs provide both excellent AC performance as well as DC accuracy, while traditional delta-sigma ADCs only offer AC performance.

The NI PXIe-4330 bridge input module can perform quarter, half and full bridge-based measurements with automatic synchronisation features. The included driver software ensures tight synchronisation across multiple modules and chassis with inter-channel skews as low as 5 ppb. The 8-channel bridge input module can scale to a 136-channel system in a single chassis and thousands of channels when synchronising across multiple chassis. The high-accuracy, simultaneity and synchronisation features make the NI PXIe-4330 module ideal for high-channel-count structural test applications, such as wind tunnels, bridge monitoring and crash tests.

With theNI PXIe-4353 thermocouple module, engineers can measure temperatures with 0.30 °C accuracy on 32 channels. The isothermal terminal block minimises error with a unique design that optimises thermal conductivity, making it possible for the nearby cold-junction compensation (CJC) thermistors to accurately measure at the thermocouple junctions. The 32-channel thermocouple module can scale to a 544-channel system in a single chassis and thousands of channels when synchronising across multiple chassis. The increased accuracy and scalable platform make the NI PXIe-4353 module well-suited for precision measurements from a single channel to large systems for applications such as fuel cell testing and monitoring thermal chambers.

The NI PXIe-4300 high-voltage isolated analogue input module is the first analogue input module from National Instruments that can measure up to 300 V with simultaneous sampling. With a 16-bit ADC per channel and a 250 kS/s per channel sampling rate, the NI PXIe-4300 module can stream 4 MB/s per module and 68 MB/s in a single chassis. This 8-channel analogue input module can scale to a 136-channel system in a single chassis and thousands of channels when synchronising across multiple chassis. The ability to measure 300 V with CAT II channel-to-channel isolation makes the NI PXIe-4300 module ideal for automotive testing, such as fuel cell and battery tests.

The new SC Express modules include NI-DAQmx driver software and support for multi-device tasks, a new feature of NI-DAQmx that helps engineers easily synchronise multiple modules. The same code that acquires data from one module can synchronise up to 17 modules in a chassis. The modules work with a variety of NI hardware includingNI X Series, dynamic signal acquisition (DSA) and NI SCXI products, and more than 1,500 types of I/O available on the PXI platform. The new modules also integrate with NI software including NI LabVIEWand theLabVIEW Real-Time Module, NI-Syncand NI DIAdem.

Readers can visit www.ni.com/lp/sc-express.htmto learn more about achieving higher measurement performance with the SC Express family.
About PXI
PCI eXtensions for Instrumentation (PXI) is an open specification governed by the PXI Systems Alliance (www.pxisa.org) that defines a rugged, CompactPCI-based platform optimised for test, measurement and control. Founded in 1997, the PXI specification is supported by more than 70 vendors offering more than 1,500 PXI products. PXI products are compatible with the CompactPCI and CompactPCI Express industrial computer standards and offer additional features such as environmental specifications, standardised software and built-in timing and synchronisation.

About National Instruments
National Instruments (www.ni.com) is transforming the way engineers and scientists design, prototype and deploy systems for measurement, automation and embedded applications. NI empowers customers with off-the-shelf software such as NI LabVIEW and modular cost-effective hardware, and sells to a broad base of more than 30,000 different companies worldwide, with no one customer representing more than 3 percent of revenue and no one industry representing more than 15 percent of revenue. Headquartered in Austin, Texas, NI has more than 5,000 employees and direct operations in more than 40 countries. For the past 11 years, FORTUNE magazine has named NI one of the 100 best companies to work for in America. Readers can obtain investment information from the company's investor relations department by calling (512) 683-5090, e-mailing nati@ni.com or visiting www.ni.com/nati.

Pricing and Contact Information
NI PXIe-4330
Priced* from £2,249; €2,699
Measurement House, Newbury Business Park, Newbury, Berkshire RG14 2PS
NI PXIe-4353
Priced* from £1,549; €1,849
Tel: (01635) 523545, Fax: (01635) 523154
NI PXIe-4300
Priced* from £1,549; €1,849
E-mail: info.uk@ni.com;

info.ie@ni.com

Web:

www.ni.com/lp/sc-express.htm


*Prices are subject to change without notice.


DIAdem, LabVIEW, National Instruments, NI, ni.com, and SCXI are trademarks of National Instruments. Other product and company names listed are trademarks or trade names of their respective companies.