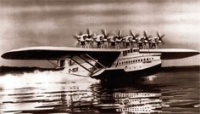 The giant Dornier Do X was the most ambitious flying boat of its time. Dreamt up by Dr Claudius Dornier, it took seven years to design and, when complete, was the largest, heaviest and most powerful aircraft in the world.
In 1930, the Do X took off on a year-long demonstration tour through Europe, to the west coast of Africa and then onto North America. The Engineer reported on a sighting of the famous German flying boat in June 1931 as it passed through Natal in Brazil.
'It has been delayed frequently owing to a variety of mishaps,' the article said. 'On 4 June, the machine was reported by a ship to have fallen into the sea, and considerable anxiety was aroused. Although fitted with a wireless installation, the machine was unable to deny the report for some hours, owing to interference from the transmitters on ships.'
"The municipal authorities went to the river to meet the 13 airmen"
Built in the Swiss portion of Altenrhein to avoid the Allied Commission, the 12-engined flying boat could seat up to 66 passengers and was split into three decks. The success of the design owed a lot to Dornier's emphasis on only using proven materials and construction techniques such as the tandem arrangement of engines, the stable hull with floats attached and the semicantilever monoplane design.
The article continued: 'A welcome was provided at Natal by a crowd of some thousands, and the municipal authorities went down to the river to meet the 13 airmen. It is reported that the machine will probably continue its flight later to the US across the Caribbean sea.'
The return flight from New York to Lake Müggelsee by Berlin took place between in May 1932. Two years after its return, Do-X was given to the Museum of Aviation in Berlin and was destroyed during air raids in 1945.