The number of people living in cities isn't getting any smaller. In 2014, 54 per cent of the world's population resided in urban areas, a figure that is expected to grow to 66 per cent by 2050.
According to the United Nations, continued urbanisation coupled with global population growth could add 2.5 billion people to urban populations by 2050, with almost 90 per cent of that figure concentrated in Asia and Africa.
People living in cities will need transport in order to go about their lives and if their particular metropolis is anything like London – with its largest population since WWII – it will find itself having to undergo considerable investment into transport infrastructure to relieve existing services and accommodate those commuting to and from the city.
One such project is Crossrail, which is expected to facilitate quicker travel times across London whilst absorbing more passengers. With services set to start in 2018, the £15bn investment in rail services will increase central London's rail capacity by 10 per cent and an bring an extra 1.5 million people to within 45 minutes of central London.
In terms of open land, London isn't in a position to start major projects from a blank of sheet of paper but it has shown with Crossrail that it is capable of harnessing the services of engineers to solve a problem with minimum disruption.
This remarkable feat of engineering – which covers a route of over 100km, including 42km of new rail tunnels – more than deserves the plaudits it receives but rail is only part of the transport equation and a glance at many urban and suburban streets (and SMMT stats) reveal that the love affair with the car is far from over.
As you'd expect, this is the case in Geneva right now where the annual motor show has entered its second week with its usual array of all that's wild, whacky and often superb from the automotive world.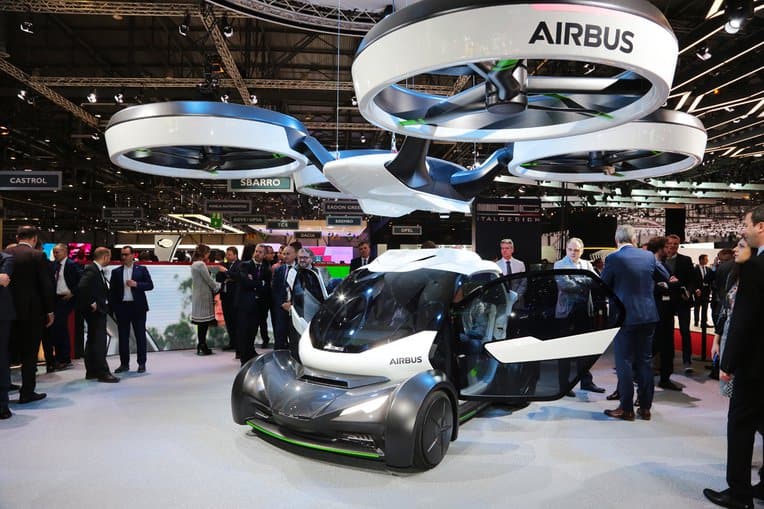 A concept that combines dual modes of transport can be found in Pop.Up, a project partnership between Airbus and Italdesign that reveals a glimpse of a future where shared services start to  reach for the skies.
In January 2017, The Engineer reported on Airbus CEO Tom Enders' prediction that a prototype single-passenger demonstrator – developed as a solution to the growing problem of traffic congestion in urban areas – will undergo flight tests within the next 12 months.
To that end A³, Airbus' advanced projects and partnerships presence in Silicon Valley, is working on Vahana. Designed to make urban air travel a reality, Vahana is intended to be the first electric, self-piloted vertical take-off and landing (VTOL) passenger aircraft.
In Dubai, driverless passenger drones could be criss-crossing the skies as early as July this year as part of city's bid to offer autonomous human flight over short-to-medium distances.
Of course, we could all sit down and imagine a transport concepts as fantastic as the ones presented above. However, the concept of shared services is already with us and ideas around networked modes of transport won't seem as unattainable when solutions such as AI become more robust and trusted.
Looking many years into the future, London's transport planners might find themselves thinking seriously about introducing such solutions. Current thinking precludes expanding the capital beyond the M25 but even if the city does undergo physical expansion, the people within it will still need to get around, be it on road, rail or air or a version of all three.