It was an unseasonably warm early spring day on the southern tip of the Isle of Man. Seagulls were wheeling overhead; the sun was glinting off the Irish Sea and an American motorcycle racer was making some very strange noises.
'When you're riding a gasoline bike, it's all RRRrrrrrrRRRR change down! Rrrrrrrrr change down, change down! Rrrrwoooo round the corner and slam the gas on, RRRRRRRRR!!!' Mark Miller said, leaning forward across the table and miming his changing grip on a pair of phantom handlebars. 'But when you're on an electric bike, it's just eeeeeeeeeeee… all the way around. It's what I'd imagine being on a magic carpet would be like. It's like flying. I've never experienced anything like it.'
Miller, a cheerful, lanky Californian, is one of very few people to have experienced an electric motorcycle at speed; he's also among the fastest. Last year, he was the winner of the TTZero race, a time-trial event for electric bikes around the Isle of Man's famous Tourist Trophy mountain course 38 miles of narrow, twisting, bumpy public roads threading their way through fields and villages, and between hedges and stone walls.
Riding a motorcycle developed and built by Portland, Oregon-based motorsport specialist MotoCzysz, Miller finished the course more than two minutes ahead of his nearest competitor, clocking up maximum speeds of about 140mph and achieving an average of slightly more than 96mph. For comparison, conventional petrol-fuelled bikes top out at slightly more than 200mph and average up to 136mph. And the gap is narrowing.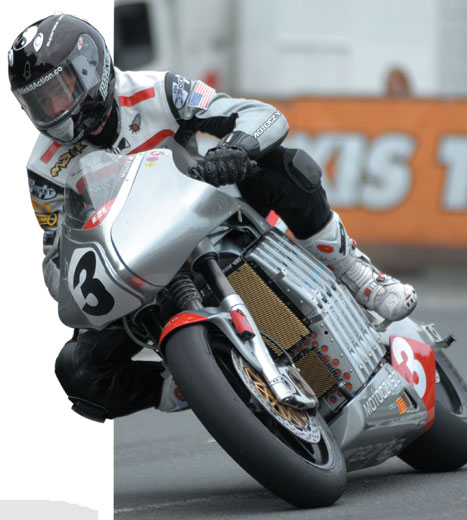 So why are electric motorbikes not becoming a common sight on our roads in the way that electric and hybrid-electric cars are? With the TTZero and the circuit-based electric-bike racing series TTxGP demonstrating that the technology is reliable enough for a high-speed duty, why are similar machines not tackling the supposedly far less arduous duty of country roads and motorways?
Miller provided an important insight. 'Riding a gasoline bike, you throw it around the course. You go as fast as you can, depending on the road; on a straight, you open the throttle right up. But on an electric bike, it's very different.'
The biggest bugbear of the electric-vehicle sector, range anxiety, makes its presence felt even more when the vehicle has two wheels. 'You have to think all the time about how much charge you've got,' Miller explained. 'I had to watch the charge meter very carefully and I was constantly balancing the speed I was doing against the reading on that meter. It's really important to do that, otherwise you'll run out of charge part way around the course and you won't finish.'
The issue here is very simple: motorbikes are smaller than cars and very sensitive to weight. The energy density of the power source is crucial. As any automotive engineer knows, liquid-hydrocarbon fuels have a very high energy density. The comparatively small fuel tank of a large motorbike will take the vehicle a long distance (or a relatively short distance very fast). But for an electric bike, you have to rely on batteries and they can only manage a fraction of the energy density of petrol or diesel. Even though electric motors are far smaller, lighter and more efficient than the huge steel lumps of internal combustion engine that conventional bikes lug around, cramming enough batteries onto a bike frame to give it the performance needed for a race or for a decent journey on conventional roads is a taxing engineering problem.
Many of the machines on the TTxGP grid and TTZero starting line are based on existing motorcycles, stripped down to the basic components, rebuilt with electric motors and batteries, and adapted to take account of the differences in loading and handling that electric power brings. This, most participants agree, is a time when motorsport is truly the R&D department of an automotive sector. There are many differences between the various bikes. Many have multiple motors to give the required power; some have regenerative braking systems to feed charge back into the batteries. There are marked differences between control systems, software and firmware. All, at the moment, are direct drive, with no gearing system which, according to Miller, is the biggest difference in the riding experience.
'You control the bike entirely through the throttle and the brake,' he said. 'It's weird, we're used to braking the bike with the engine, changing down through the gears as you approach the corner. But with these bikes you don't have that option.'
Miller's ride, the MotoCzysz E1pc, is one of the few designed from scratch rather than based on a donor bike. 'Ultimately, it's a huge compromise to take an existing bike,' explained MotoCzysz director Michael Czysz. 'It is an advantage in a sense, because you've got reasonable geometry and a reasonably light bike for great strength, but there has to be a compromise. We want to look beyond the gasoline motorcycle and build the best electric bike we can, and the best way to do that is from the ground up.'
The MotoCzysz racing company produces bikes for the MotoGP superbike championship and Czysz is himself an avid motorbiker and racer, both on conventional and electric bikes. 'Apart from my family, the biggest thing in my life is motorcycles,' he said. Czysz's great grandparents were bikers; his grandfather was a legendary racing motorbike tuner and rider (Czysz bikes have been racing since the 1940s); and his father is one of the race mechanics for the E1pc. 'I think the one thing that separates us from other commercial companies developing electric bikes is that we understand the motorcycle,' Czysz said. 'Motorcycles have certain traits that draw people to them. We're interested not in moving away from that, but expanding on it.'
The biggest bugbear of the EV sector, range anxiety, is even more prevalent when the vehicle has two wheels
Apart from a few parts, everything on the E1pc is designed specifically for the bike. Its distinctive look showcases the technology two rows of five batteries take the place of a conventional bike's engine, resembling a ribcage. The batteries, containing lithium-polymer cells and each storing 12.5kWh, plug directly into the frame. 'Last year, everyone was talking about making the races two-lap, with longer laps and mandatory pitstops, so making the batteries hot-swappable was a big priority for me,' Czysz said. 'On this year's bike, the batteries will still be swappable but it'll take about half an hour rather than two minutes.' That change will allow Czysz to make fewer compromises with the construction and saves weight.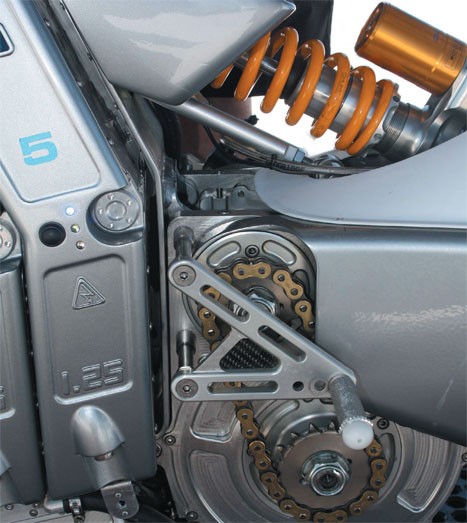 The E1pc runs on a single motor, again custom built but using a commercial rotor and stator. The inverter-controller and oil-cooling system are developed by Czysz. Last year's model has a continuous power output of 60kW and torque of 600-850Nm, operating at 4,300rpm. It weighs 59kg and measures 490 x 330 x 370mm. 'This year's model will be almost twice as powerful. It'll develop the equivalent of 200bhp and will be about 20kg lighter than last year's 238kg,' said Czysz.
Dubbed the D1g1tal Dr1ve, the motor is likely to be the big money spinner from E1pc, rather than the bike itself. Even Czysz sees electric biking as more of a motorsport pursuit than a commercial one.
'This may surprise you, but I don't believe there is any significant market for electric bikes at present and I say that as a fourth-generation motorcyclist. Look at the type of gasoline motorcycle you can currently purchase; its reliability and cost frankly, electric motorbikes just don't come close.'
So why do it? For Miller, it's for the magic carpet ride; for Czysz, it's motorsport at its purest. 'I'm completely addicted to racing,' he said.
"This may surprise you, but I don't believe there's a significant market for electric bikes at present"

Michael Czysz, MotoCzysz
'What we're doing right now feels like I think it did when privateers had a huge influence on racing. It's the most open rules of any motor racing there is. If you have an idea, you have more opportunity to showcase it in electric racing than even in MotoGP.'
Despite this, Czysz said that the E1pc would be fully capable as a commercial product. 'Mark does 37 miles at 100mph on a full charge,' he explained. 'The amount of air pressure he sees and that the bike has to overcome is probably about three times as much as someone averaging half that speed, which you would on a normal motorcycle journey. We've probably got a solid 150-mile range and that's not bad at all. But a battery pack is so expensive, you'd have trouble justifying our bike over a simple Japanese motorcycle that costs a fraction of the price.'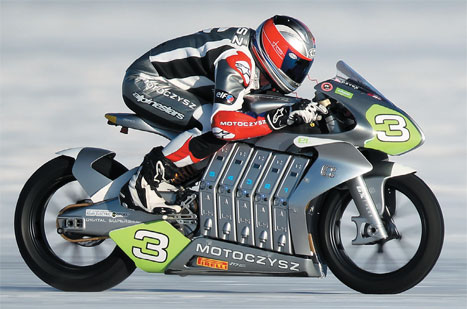 What it does do, however, is prove the robustness of the electric drive train. The area of the rear tyre of a motorbike in contact with the road is the size of the palm of your hand, Czysz said. 'We can control 200bhp and that huge torque through that contact patch better than we can with an internal combustion engine, and we can fit it all into a motorcycle with 95 per cent efficiency. That's a good testament to the technology.
You could not show our ideas on a better platform than a motorcycle on the Isle of Man TT course.' Just to prove it, MotoCzysz is about to deliver its first contracts for the D1g1talDr1ve one for a 'very substantial vehicle' for the US Department of Defense, the other for a commuter vehicle. Neither are bikes, Czysz said; but without the bike, neither would exist.
back story - recycled cycles
An engineering team from Imperial College London is using donor bikes for its entry to the TTZero race
Several of the TTZero teams are from university departments, underlining the R&D status of electric bikes. For Andrew O'Dell Vnukov, leader of the team at London's Imperial College, the project represents another strand in the green-motorsport sector.
'Imperial already has several motorsport projects, such as Racing Green Endurance, which took an electric car down the Pan-American Highway, and Formula Student, which develops single-seat circuit-racing cars,' Vnukov said.
The Imperial team, from the mechanical engineering department, is taking the donor bike route, starting off with a Suzuki Hayabusa superbike. 'We started off by looking at the size of battery we would need and looked for a bike with a frame that would be suitable. The Hayabusa was the best fit for that,' Vnukov explained.
The bike has two 32kW motors mounted on the swing arm, with direct drive to the rear wheel. The batteries are at the front.
'Packaging is the main issue we're facing; just getting all of them onto the bike is a massive challenge, even with a bike as big as the Hayabusa,' Vnukov said. 'We've designed a new battery frame and mount for the motors, and the bodywork.'
Last year, the team failed to get the bike to the Isle of Man; this year, it is hoping to complete testing and fine-tuning, and get to the starting line. 'And next year, we plan to build a bike from scratch.'