The brewing of beer is arguably one of the oldest industrial processes in the world in terms of its roots. There is compelling evidence to suggest that the ancient Sumerians were fermenting processed barley at reasonable scale in what is now modern-day Iran, around 3,500 BC.
Its popularity among many divergent cultures – from indigenous African tribes to German beer halls – is largely owing to the simplicity of its m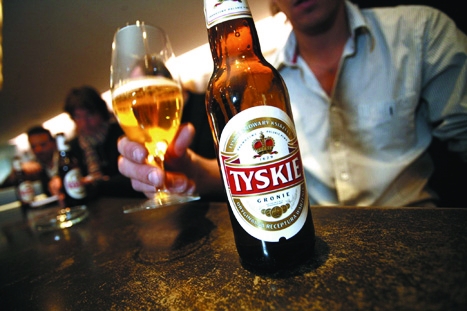 ethod.
Barley is milled and mashed, boiled with hops to make wort, then pitched with yeast and left to ferment.
For this reason, the basic process has not altered a great deal. Of course it's been scaled up considerably to meet insatiable, largely Western, demand and altered to reflect changing tastes over time, but it's remained much the same.
'There are pilot plants located around different countries, but they tend to be quite static in design – just a very basic brewery usually designed for making new products or as a teaching facility – not necessarily ideal for testing new process innovations and technologies,' said James Van Der Watt, a research consultant at international brewer and bottler SABMiller, whose headquarters are in London.
Like all manufacturers, SABMiller faces increasing pressure to decrease the amount of water and energy it uses to make its beer.
It takes around six litres of water to make every litre of beer at a cost of approximately 137g in carbon emissions from energy usage.
SABMiller aims to reduce its water consumption to an average of 3.5 litres per litre of beer by 2012 and carbon emissions down to 68.5g per litre by 2020.
Part of the drive to achieve this has involved commissioning a £3m Brewing Science Research and Innovation Centre housed within Nottingham University's School of Biosciences.
It takes around six litres of water to make every litre of beer at a cost of about 137g in carbon emissions
Brewing Science at the university was founded in 2005 with the appointment of Prof Katherine Smart to the SABMiller Chair in Brewing Science and now comprises 30 academic and research staff with multiple degrees and vocational courses on offer.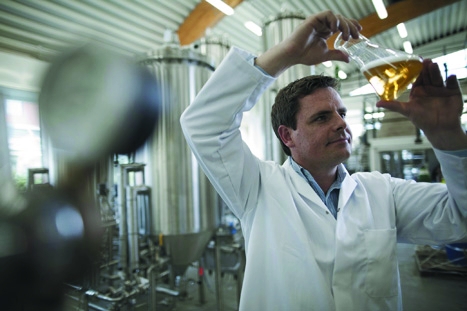 'The whole process has literally been broken down to understand what the inputs and outputs are and what is actually required; there's been a lot of traditions in brewing around the way things should be done, but not necessarily the best way to do it now with the new technologies that are available,' said Van Der Watt.
'We're also looking beyond the brewing industry and seeing how the pharmaceutical industry is doing it, how the fuel industry goes about it and if we could take any learnings from them,' he added.
The new facility will house a 1,000-litre brewery, built and operated by SABMiller and managed day to day by Van Der Watt, as well as a 30-litre research nano-brewery run by the university under Smart.
'[Smart] and her team have been doing the deeper core science research for SABMiller previously, so there's obviously a need for a scale-up facility to test some of those things out, so it makes sense to have some kind of facility based here,' said Van Der Watt.
'At Nottingham, they might have a student or post doc do some basic lab work. We would then take that technology and get it scaled up to suitable size to use at the pilot plant here. We can do up to 1,000 litres of beer – it's not massive but it's big enough to get a proof of concept.'
One of the brewing stages Van Der Watt believes is ripe for energy and resource reduction is the boiling and pressurisation phase. Here, hops and flavourings are added to the grain sugar and water mixture, called wort, which is then boiled. This helps to kill bacteria in order to eliminate competition for the yeast and break down complex carbohydrates into smaller, simple sugars that are fermentable.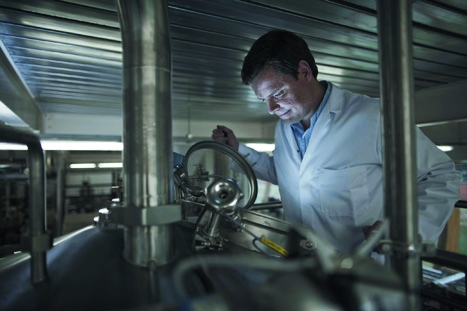 'Traditionally, you've had to have quite a large evaporation rate to strip a lot of unwanted flavour volatiles [compounds that give beer aroma such as esters] from the process,' he said. 'There are technologies available now where you can have a much lower evaporation rate and use other technologies to remove those unwanted flavours, so a one to two per cent drop in that evaporation rate can be quite significant in energy saving.'
Following some test runs to establish a suitable research beer to work with, the team will start carrying out projects to address specific questions at the end of January.
One of the brewing stages that Van Der Watt believes is ripe for energy reduction is boiling and pressurisation
'From a design point of view, we've kind of gone for a plug-and-play type of scenario based around our best knowledge and best practices that we currently use. Each of the bits of equipment are mounted onto a skid [a metal frame that holds the brewing vessels, pumps and ancillary equipment], which is removable, so we have a central network of pipes that deliver the services – steam, gases and water – and each of these various skid modules slot in and connect up to the main neural network,' said Van Der Watt.
'It's only semi-automated; we have the ability to control temperatures and flow rates, so the actual transfers of the wort or beer to the vessels is done using manual pumps, which enable us to move beer or wort that would normally go to one vessel to send it to a completely different vessel and put it through a new piece of equipment that we can test in line or parallel to see what the effects of that can do.'
Meanwhile, Nottingham University has particular expertise in fermentation where the all-important alcohol enters into the equation. Its work is intended to shorten fermentation times, increasing capacity in current breweries, and to deliver more consistent fermentation profiles and optimal product quality. Very high gravity fermentation will increase beer yield for the same energy and water inputs, delivering significant financial and environmental gains.
'The fermentation has often been seen as a black box – the wort goes in there, you throw some yeast in and two weeks later there's some beer,' said Van Der Watt. 'There's a lot of science gone into understanding exactly what happens during that process, what the yeast is doing and how it does it.'
The new technologies will also be transferrable to other sectors, including biofuel production, which also relies on microbial processes.
'At the end of the day, you can have as many checks and balances and analyses, and you come up with a great brewers' beer but not necessarily a great consumers' beer, so the flavour quality is the ultimate parameter, and whatever changes we make to the process we're going to make sure it doesn't alter the flavour profile of the consumers' preferred brand,' he added.
what's new
process control
For hundreds more stories like these visit source.theengineer.co.uk» In the mix
A method for increasing solubility in pharmaceutical, cosmetic and agriculture processes has been developed by a graduate student at the Hebrew University of Jerusalem's Casali Institute of Applied Chemistry. The method – developed by PhD student Katy Margulis-Goshen – produces a rapid conversion of oil-in-water microemulsions, containing an insoluble substance, into a dry powder composed of nanoparticles that can be dissolved in water or other biological fluids. The process leads to an increase in the solubility and dissolution properties of almost any active ingredient, without a high energy investment. Good solubility is vital in pharmaceuticals, where nearly 50 per cent of newly discovered drugs cannot be administered or are poorly absorbed.
Hielscher Ultrasonics has developed devices that can be used in the processing of honey to remove unwanted components such as crystals and yeast cells. Micro-organisms such as temperature-resistant yeast can destroy honey during storage. Yeast activity can be slowed down through a reduction in liquid content, but this increases the probability of crystallisation. Using thermal treatment – in which honey is heated to liquefy the crystals, destroy the yeast and reduce the water content – can cause browning and a reduction of enzyme activity. However, according to the company, ultrasound can destroy these components while retaining product quality as a minimum amount of heating is used.
Researchers at the Fraunhofer Institute for High Frequency Physics and Radar Techniques (FHR) in Wachtberg have developed a millimetre-wave sensor for inspecting assembly-line goods such as food. The standalone millimetre-wave imager – SAMMI – operates at a frequency of 78GHz and is non-ionising. It can pick out small differences in materials that are invisible to X-rays. 'The system detects wooden splinters lurking in diapers, air pockets in plastic, breaks in bars of marzipan and foreign bodies in foodstuffs,' said Helmut Essen of FHR. The researchers aim to adapt SAMMI for industrial assembly lines to enable the fast, automatic inspection of goods. They envision mounting a line of sensors over the conveyor belt so products can be scanned at up to 6m/sec.
CAD Schroer has introduced a fast and flexible 3D factory planning tool for the food processing sector. The 3D factory walk-throughs delivered directly in the MPDS4 design tool provide an effective way to examine maintenance or safety issues and to plan factory changes, especially where machinery operates on multiple levels. The tool's integrated interference checker automatically flags up breaches of safety clearance zones. 'Our factory modelling service greatly interested owners/operators who say that keeping track of their inventory and ever-changing layouts is very time consuming and expensive without the right tools,' said Pierre Crabbe of CAD Schroer France.
Design essentials
The key facts to take away from this article
SABMiller aims to reduce its water consumption and carbon emissions
It has commissioned a brewing research facility at Nottingham University
The university seeks to shorten fermentation times and boost capacity
Despite changes to the process, flavour is the ultimate parameter