Collaborate To Innovate 2017
Category: Young innovator engagement
Winner: SmashfestUK Survival Village and Young Explainer Programme
Partners: SmashfestUK; Middlesex University; University of Greenwich;
The Refinery
Category Sponsor: Renishaw

Earlier this year, residents of Deptford in South East London – one of the UK's most deprived communities – faced up to a terrifying, and, thankfully, fictional, scenario: the impending eruption of a super-volcano that threatened the very survival of humanity.
With the clock ticking, a group of young people and their families worked alongside visiting engineers, scientists and artists to plot a strategy for survival; to figure out how they might help rebuild society after this catastrophe; and to explore the role that engineering would play in this effort.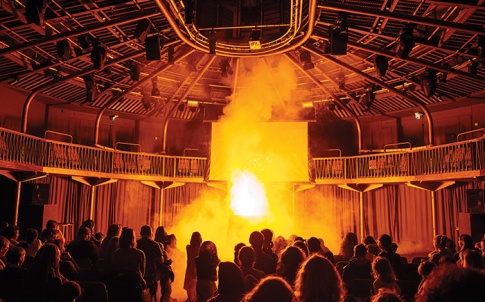 This remarkable event was the centrepiece of SmashFestUK, a week-long STEM and arts festival hung around the concept of an impending disaster designed to show young people and their families how engineering, science and the arts underpin everything that we take for granted.
The initiative, which is now in its third year, is the brainchild of Middlesex University product design course leader Wyn Griffiths and Dr Lindsay Keith, a science broadcast specialist and research fellow at the University of Greenwich who, frustrated by talk of "hard-to-reach" groups, set about developing a new method of engagement that would resonate with groups and communities left in the cold by existing initiatives. "We wanted to approach things in a way that shows people aren't 'hard to reach'," said Griffiths. "You just need to go to them and connect them with things that mean something in their lives – and suddenly there's no 'hard-to-reach' issues at all."
The storyline framework is key to achieving this. Every year the festival is framed around a 'disaster-movie' scenario (2018's version will have as its backdrop a huge flood that threatens London) and it's a format that enables the initiative to connect with people in a way that more traditional events cannot. "This contextual framework helps break through the idea that it's a science festival or it's an engineering festival, because right from that point some people will say that's not for me and self-select out," said Griffiths. "Instead, right from the start it's a disaster-movie festival and that opens things up in terms of public perception."
This also helps avoid what Griffiths scathingly terms the "jumble-sale approach" of some other initiatives. "You'll see lots of events and there'll be an explosion here and an explosion there, and you'll go from explosion to explosion. That's great. They'll be really cool explosions. But it doesn't connect in any way to your background or your life." The narrative approach, he said, immediately gets people asking questions such as: how can we prepare? How can we survive? How can we rebuild if we do survive? What is meaningful in our lives?"
Another key element is location. It's vital, said Griffiths, that activities are easily accessible to the local community, and that potential participants aren't put off by the "invisible barriers" unintentionally erected by other more mainstream initiatives. "Large institutions such as the Science Museum can do something quite amazing sometimes," he said, "but the people who access the Science Museum are people who have already got the drive and interest to go to South Kensington. There's a big gap with communities outside; those without science capital don't have access to those kind of experiences."
Deptford has proved phenomenally successful and the team has since applied the same principles to a number of smaller one-day events. A recent event in Colindale, North London, provides an example of how the most effective locations are identified. Scouting for a venue, the team was repeatedly warned to steer clear of the area's Graham Park Estate, a deprived area with a high crime rate. "We knew that was exactly where we needed to go, so we did it there," said Griffiths.   
Putting the event at the heart of the local community also increases the chances of multiple family members taking part, a key factor if the enthusiasm triggered by Smashfest is to have a good chance of triggering a sustained interest. "You can build science capital in kids in schools but if they go home and the understanding of what's inspiring them and the directions they might go in isn't supported by the family you can end up with accidental discouragement."
It's perhaps too early to gauge its longer-term impact but so far the statistics paint a hugely positive picture. According to Griffths, in 2017 Smashfest reached a direct audience of 9,500 young people and their families, 72 per cent of whom were BME and 62 per cent female.
The group already has a number of key relationships,with Middlesex University, The Refinery (a science and engineering film company) and the University of Greenwich, and is now looking for more partnerships and funding to help it replicate the Smashfest model across the UK.
READ ABOUT ALL OF THE C2I 2017 WINNERS HERE
Shortlisted – Young innovator engagement
Project name: 
I'm an engineer get me out of here
Partners:
Mangorolla CIC, teachers at 301 schools, engineers at 161 companies and organisations
While nearly 80 per cent of children think STEM subjects are interesting at school, a much lower proportion aspire to become engineers. In particular, only 28 per cent of girls consider a career in engineering, compared to 46 per cent of boys. What's more, with Engineering UK's 2016 report finding that many parents and teachers feel unprepared to discuss routes into the field; and engineers themselves reporting that they find it difficult to take time off to do as much outreach as they would like, there are clear limitations to existing approaches to STEM outreach. I'm an engineer get me out of here, which has been running every year since 2012, uses the power of the internet to overcome some of these limitations. Activity centres on a website (imanengineer.org.uk), where school students meet and interact with engineers. Pupils ask questions, do live chats and, at the end of a two-week process, vote for their favourite engineers. Winners receive £500 to fund their own engineering outreach.
The aim of the initiative is to enable pupils to see that engineers are normal people, often people like them, and to stress how science and technologies relate to real life. To date, the project has connected more than 200 engineers with over 17,000 school pupils. It's organised into events three times a year in March, June and November. In each event different 'zones' run on the I'm an engineer site, each made up of 400 pupils engaging with a group of six engineers.
Demand to take part has grown every year. More engineers and teachers want to take part than can be accommodated by the current level of funding from the Royal Academy of Engineering and Wellcome Trust. The group behind the project is now looking for an industry partner to support the project and help it to meet this growing demand
Project name: 
Engineers Like Me Primary Module
Partners:
Cardiff University, Radnor Primary School
It's now widely accepted that if we're to create a pipeline of future talent for the engineering industry, it's critical to engage with children as early as possible in their education. Indeed, the often quoted Aspires report, published back in 2013 by researchers at King's College London, argues that most young people's views of science are formed during the primary years and have solidified by the age of 14, by which point the idea of science as 'not for me' becomes very difficult to change".
In a great example of an effort aimed at addressing this, Radnor Primary School, a state-run school for four to 11 year olds in Cardiff joined forces with Cardiff University's School of Engineering on a project that brought real-life engineers into the primary classroom. The Engineers Like Me initiative takes a project-based approach to teaching the relevance of engineering. For instance, in one module focused on tidal-power engineering, pupils planned a turbine farm in the waters by Penarth: a small local town where some of the children live. To bring it to life the class did a virtual visit using virtual reality headsets and studied actual tide data.
According to the project team, the hands-on nature of the activities allows it to encourage engineering thinking and practise key skills. For instance, the group was particularly keen to encourage the children to view failure as a way to learn and improve. Fear of failure has been shown to be a key barrier to progression in school. The project has also gone to great pains to portray engineering in a gender-inclusive way, by choosing themes perceived to be gender neutral, and ensuring a diverse group of role models. So far, 14 students, researchers and lecturers have visited the school and participated in the project – including civil, mechanical, environmental, electrical and chemical engineers.
The headline sponsors for C2I 2017 were Frazer-Nash Consultancy and Yamazaki Mazak
For information on sponsoring or supporting C2I2018 contact The Engineer's commercial director Sonal Dalgliesh  sonal.dalgliesh@centaurmedia.com