With impressive growth figures and world-leading innovation, the UK aerospace sector has a lot to offer engineers
At a time when many UK industries are still finding their place on the international stage, the £31bn aerospace sector is a genuine British success story. In the last seven years, productivity in the industry has grown by 19 per cent, compared with just three per cent in the rest of the economy. Now, aerospace companies are looking to recruit talented engineers to sustain that growth.
The latest figures from ADS Group, the trade organisation that represents aerospace companies, paint an encouraging picture of the future for any engineers hoping to start a career in the sector. Today, the UK aerospace industry is the second biggest in the world. The industry is growing, with UK aerospace output increasing by 39 per cent since 2011 and annual turnover reaching nearly £32bn. It achieved exports of nearly £28bn in 2016 and is looking to build on success in overseas markets to help drive further sales.
A large part of that success is down to international demand for products in Europe and North America. Around 90 per cent of final demand in aerospace comes from exports, and strong order books means nearly two thirds of UK aerospace companies are expecting growth greater than 10 per cent in the coming years. The current global civil aerospace backlog is worth up to £220bn and there is currently nine years work in hand for the UK.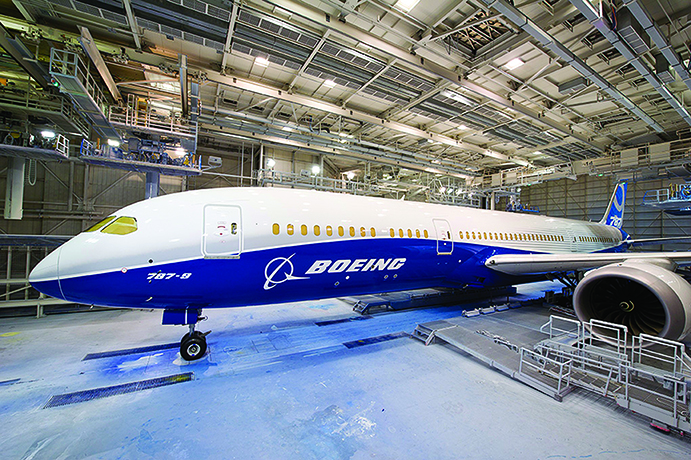 Opportunities for talented engineers are vast as the industry looks to build on recent strong figures.
With an ageing workforce and a growing skills gap, the industry is ramping up its recruitment efforts. A spokesperson for Airbus, one of the largest recruiters in the sector, said that the company is currently focusing on hiring network and IT systems engineers, software engineers, digital developers, electronics engineers and data scientists. Rival Boeing is also increasing its recruitment efforts in the sector. It is planning to double its workforce again in the coming years, having grown from 1,000 people in 2011.
Boeing currently employs 2,000 people in the UK, hiring, on average, a new employee every day. Its spending with the UK supply chain is estimated to be around £1.8bn with 12,700 additional jobs supported in the process. Conrad Ball, who leads Boeing enterprise engineering workforce training and development efforts, said technical skills in areas such as aerospace engineering, electrical engineering, structural engineering are all in demand.
"It is increasingly important that all are well prepared as systems thinkers," said Ball. "There's an emphasis on continuity from innovation to design to development, production, and support as a single conceptual thread. Each engineer needs a really clear understanding of how the decisions that they make contribute to the complete life cycle value of products and services. Along those lines, familiarity with model-based systems engineering is becoming more and more important for engineers in all skill areas."
Alongside this, Ball said there are exciting opportunities in the areas of artificial intelligence, autonomy and analytics. "And many may not realise how important areas such as software engineering and computer programming are for aerospace," he added. "The performance and safety of our complex products and production systems rely on world-class coders, analysts, and modellers."
The UK aerospace industry sector directly employs 120,000 people in the UK and supports a further 118,000 jobs indirectly. The industry, however, faces huge technical challenges that require skilled workers to solve, such as a move towards lowering CO2 emissions and noise,
and incorporating technologies such as augmented reality systems.
Engineers from parallel industries such as automotive can also transfer their expertise across. "We share our focus on technical excellence with a lot of industries," said Ball. "What differentiates Boeing is the complexity of the systems combined with the profound impact that our commercial, defence, space products and services have on billions of people around the world. We seek people to join our team who are ready to take on that responsibility and challenge."
"The pace of change in the industry is so fast especially in terms of industrialising and revolutionising production, that we are increasingly asked to recruit from other industries, primarily automotive," said Ben Birch, department manager of aerospace at engineering recruitment firm, Matchtech. "Automotive is an industry that has already gone through that transition, and its engineers have been using the relevant toolsets for years.
As the sector gets serious about automation, engineers from the fast-moving consumer goods, oil and gas, and automotive sectors will be on the wishlist of aerospace employers who need people to help take them on that 'lessons-learned' journey."
Despite UK aerospace boasting strong growth, there are some big challenges ahead and aerospace recruiters know they can't afford to be complacent. Both big companies and the supply chain must meet demand for more advanced and efficient aircraft at competitive prices. They also have to address the growing competition from overseas rivals. Alongside this, uncertainties associated with the UK's exit from the European Union have increased pressure for strong order books.
Birch said potential recruits must understand the aerospace business they will be joining will be going through change. This is exciting, as it offers opportunities for engineers to grow and learn, to shoulder responsibilities, to innovate and to ultimately see their hard work impact on the success of the business. But it is also not without its challenges. "They will have to work at pace, spin many plates and deal with pressure from OEMs to deliver," said Birch.
"If engineers are up for the challenge, the aerospace industry will reward them with significant opportunities to innovate and transform the future of aerospace."