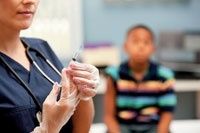 The system also has advantages when a new product is launched or a recipe changed. Previously, this would have meant a period of shutdown while new operator stations were installed; now, the mobile ones can simply be wheeled to different areas to keep an eye on the important process steps. 'Because of the wireless network, we do not need to systematically invest in new control stations, even if the production of new products requires a change to the plant equipment or layout,' said Novartis automation expert Patrick Borschert.
The new systems have also helped Novartis to diversify production at Huningue. As well as the single-chain Xolair molecule, it is now able to produce more complex, multi-chain molecules, such as monoclonal antibodies and immunosuppressives.
Keeping operators in touch with the process is vital, wherever their workstations are, and the key to this is workable human-machine interfaces (HMIs); these are standard in larger facilities, but still not widespread in smaller operations. This was recently a problem for Nicholl Food Packaging, which makes foil containers and disposable packaging for the catering industry. Based in Cannock, Staffordshire, the company found that the HMIs on its electrically controlled presses were failing, probably because of the machinery's vibration.
'We spent a long time trying to rectify the problem but were eventually left with no alternative but to look for replacements,' said engineering manager Joe Taylor. However, the PLC system to which the HMIs were interfaced did not need to be replaced, so the new HMIs had to be fully compatible to allow Nicholl's operators to continue monitoring the processes and keep them running.
"Some managers are unaware how simple it is to incorporate HMIs into the plant's automation"
To provide the solution, Taylor turned to Schneider Electric and its Magelis HMI range, which has an open connectivity function that allows it to work with legacy control systems. 'HMIs are fast becoming an essential part of plant management,' commented Schneider Electric's Dave Collier.
'They are now commonplace in most large production lines, but new compact terminals are making them ideal for smaller applications too. However, some managers, despite being keen to utilise the benefits of this technology, are unaware of how simple it is to incorporate the system into the plant's existing automation,' he added.
For Nicholl, the key ability of the Schneider HMIs was to mimic the way that its previous systems had worked. 'Our previous HMIs had physical function buttons, whereas the Schneider Electric products have touch screens,' explained Taylor. 'However, we were able to configure the screen to match exactly the layout that our operatives were familiar with, which meant that we did not have the time or inconvenience of retraining to the new models. That made it a very smooth transition for us.'
Production Essentials
The key facts to take away from this article
Novartis's Huningue plant uses 10 Wi-Fi access points, 17 mobile operator stations and 100 DeltaV controllers
These are spread across two systems connected by a DeltaV ZONE system
Magelis HMIs, used by Nicholl Food Packaging, have open connectivity to let them work with legacy control systems
What's New Process Control
In Stitches
Endress and Hauser has supplied a Promass 83A Coriolis flowmeter to Tyco Healthcare to measure the flow rate of dripping acetone at its Gosport, Hampshire plant, which makes surgical stitches. The meter can measure slow flow-rates, so is suited to Tyco's 0.75-2.1ml/min acetone flow rate. www.uk.endress.com
Pizza Picker
Italian pizza producer Panidea has installed a Cognex machine-vision system for its frozen-pizza production line. Working in conjuction with an ABB FlexPicker robot, the system spots pizzas, which are distributed randomly on the conveyor belt, so the robot can pick them up and move them to the packing locations. www.cognex.com
Blood Tank
Burkert has provided a tank-bottom valve system to the Red Cross's blood-fractionation unit, which produces plasma and plasma derivatives. The hygienic system allows the tank to be drained as required, but is compact and easily cleaned. www.burkert.com
What's New
Process Control
For hundred's more stories like these visit www.engineeringtalk.com
Pump action
Cider producer Bulmers has installed a Helios progressing cavity pump from NOV Mono to improve the efficiency of the cider-making process at its Hereford cider mill. The previous pump took four hours to unload concentrated apple juice from a tanker and could not empty the tanker completely; the Helios is twice as fast and can handle cold, viscous concentrate with low vibration. www.mono-pumps.com
Kleen seal
Baldor is introducing two new products for automation and machine building in the food, drink and pharma sectors, at the TOTAL 2010 show at the NEC in May. The Ultra Kleen range of mounted ball bearings has a new sealing system, with a triple-lip seal and a rubberised flinger, as well as a two-part ball-retaining cage that keeps the balls lubricated and prevents them from being dislodged during cleaning and in moist environments. The company is also launching smart drives for single-axis automation. www.baldor.com
Crest contract
Crest Solutions will sell Eisai Machinery's pharmaceutical processing equipment in Ireland. Eisai's range includes inspection systems that detect foreign matter and defects in pharmaceutical packaging, such as syringes and vials. www.crestsolutions.ie