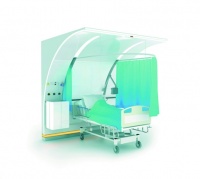 'At the moment you either get moved around in a bed or a portering chair,' he said. 'The problem is that a portering chair is the lowest common denominator of comfort. The other extreme is that people are being put in a bed when they don't really need to be. Our design is a hybrid between the two. It allows you to recline at a 110° angle or lie in a neutral position, which according to recent research, significantly improves patient recovery time.'
PearsonLloyd has also developed a bay screen based on kite technology. The 1.5m divider is made up of fabric stretched over a series of lightweight carbon-fibre rods. Each screen is placed at a 45° angle so that patients are unable to see the beds opposite them when sitting or lying, but can still see and talk to the passing staff.
Lloyd explained that the idea behind the technology was to remove the need for curtains, as they remove both a patient's connection with the hospital environment and control over privacy.
'The bay screen is a reaction against healthcare environments that are heavily engineered in a good way in terms of performance, but not always in a good way in the perception of the environment from a patient's point of view,' he added. 'Even though a kite is a beautifully engineered thing, it's also a lightweight piece of engineering. It has a positive outlook, people smile when they see it, it doesn't look like healthcare and in that sense there is a great advantage to it.'
Taking up the issue of privacy ownership, manufacturer SAS International has worked alongside design firms Billings Jackson and Nightingale Associates on a Bed Pod concept that aims to rapidly convert free hospital space into a single bed area. The idea was born out of difficulties reported in children's wards, where the different age categories and personalities of patients meant that an open-plan design did not provide the required levels of privacy.
To address this, the Bed Pod features its own curved ceiling. This redirects sound waves down on to the bed rather than across the room, reducing the volume of conversation between clinician and patient by around 20db. Patients also have their own 'modesty screens' inside the outer shell of the Bed Pod that they can open and close electronically. Eoin Billings, co-founder of Billings Jackson, said an entire Bed Pod module can be put up within a day.
He added: 'We were very excited about this project. As soon as we found out we had been selected by the Design Council, we immediately went forward by holding a workshop at 6.00am to put together a range of ideas. A lot of these were rejected, but there was one strong concept that ran all the way through and that was this notion that it had to be modular, pre-fabricated and speedily constructed.'
Avanti Architects and industry partner Panaloc Worldwide Manufacturing designed a similar pod concept. The design, known as the Washroom Pod, turns a bathroom into a modular product that can be set up inside a ward or attached outside the building. The pods can be stacked on top of each other to reach upper levels of a building and it is hoped their availability in wards will mean that patients going to the bathroom won't have to pass through areas containing the opposite sex.
Common to all the designs in the project is their easy retrofit and installation. 'There is somewhere in the region of 9,000 hospital wards that exist today,' explained Mike Hutter, managing director of Panaloc. 'The facilities range from new to 60 years old and it is not possible, practical or likely for these to be rebuilt. Retrofitting is a reality and it requires a completely different set of skills than building from new. Breaking things down using technology, innovative design and modular systems is the way forward.'
While projects such as this one have highlighted the importance of patient dignity, particularly for the elderly, the design teams on the project are keen to stress there is a lot more that needs to be done to make the NHS accessible to outside innovation.
'In healthcare it is good to have people coming in from the outside to fire things up,' continued Billings. 'I believe we have the naivety and confidence to bring another facet to the brief. We feel that we have overcome all of the tangible and practical challenges. It is the intangible that presents a challenge and going forward that is the procurement system of the NHS.'
Lloyd finished by saying: 'Hopefully a hospital of the future will look more human. We need to simplify the problem – there has been a tendency for the government to rely too much on science in the past. But patient dignity is just as important as medical treatment and I believe now is the time for engineers and designers to go back to the drawing board.'
Indepth banishing bugs
How another Design Council initiative could benefit the NHS
The Design for Patient Dignity project follows the Design Bugs Out initiative, in which the Design Council and the Department of Health brought together teams of designers and engineers to develop new hospital furniture and equipment to help reduce the risk of infection.
Among the designs were a porter's chair that featured fewer touchpoints where infection could spread; an 'intelligent' mattress that changed colour when in contact with body fluids; and a patient chair with a system of magnetised, removable cushions. The products, which were unveiled last year, are expected to enter NHS hospitals early this summer.