According to Andrew Watts, CEO of engineering technology firm Newtecnic, this trend is part of a new era of digital construction where robots and drones will become commonplace on site. Digitalisation has penetrated virtually every aspect of design and engineering, but in many ways physical construction itself has remained a stubbornly analogue process, centuries of accumulated human expertise resisting the allure of ones and zeroes, and human hands still doing much of the heavy lifting. Newtecnic's Construction Labs concept is aiming to change that, merging modular building with on-site construction to deliver perfect finishes on major public buildings.      
"We're using Construction Labs to realise complex projects," Watts told The Engineer. "Its specific use is in the construction of facades and applications and connections for primary structures."
Modular techniques enable on-site speed for flat-pack buildings where function is essentially the only consideration. But for the grandest buildings that the public really engage with, form is also paramount, and modular techniques in isolation cannot bring the required finesse. According to Watts, contractors on high-profile, complex projects share the view that greater flexibility is required, with some parts designed and fabricated locally based on specifications derived from what has already been built.
"Prefabrication is a nice idea, but it doesn't provide the flexibility needed to put things together where you have a lot of different companies and contractors working together on the same project," he said. "There's often a need to put things together in a sequence where you don't just turn up with something, install it and it's finished. You need to add sequential components later on while there are lots of other people doing work around you."
For the multifaceted projects that Newtecnic works across today, it encourages site managers to set aside workspaces where this on-site fabrication can take place. These often come in the form of shipping containers, housing a range of high-end CNC machine tools that can customise key components at short notice, with agile teams able to slot them into place on cue. Having this capability on-site allows for design tweaks and last-minute decisions to be made as the build progresses.
"An important part of contemporary construction of complex projects is to be able to accommodate numerous changes along the way during execution," said Watts. "If we aim for a design to be completely modular, it's often quite difficult to get the visual refinement that would be associated with a hand-built building. In order to avoid that clunkiness, our designs are developed with a mixture of prefabrication and site work."
Though this approach is relatively new, the Newtecnic boss believes it will become an increasingly important feature of major civil engineering projects, enabled by technology and driven by a desire for buildings to evolve even as construction progresses. The model is already being applied to some major civil projects in the US, and Newtecnic is also using it on Saudi Arabia's new King Abdullah Financial District (KAFD) Metro Hub in Riyadh. The building is the centrepiece for a major new city-wide transport system featuring six new metro lines, 85 stations and over 100 miles of track. It's been designed for a future where digital technologies play an increasingly important role.  
"The Metro Hub's envelope comprises a modular cassette system that uses adjustable steel 'spider' fixings to support high-performance concrete panels over a waterproof membrane," Watts explained. "The system has been engineered to make it suitable for future robot access, movement and operation. This means robots referencing the building's 3D cloud-hosted digital twin, in conjunction with GPS, can calculate routes and locations on the building's facade. While robots will literally do the heavy lifting, replacing and carrying away damaged components, airborne drones can be used for inspection and cleaning."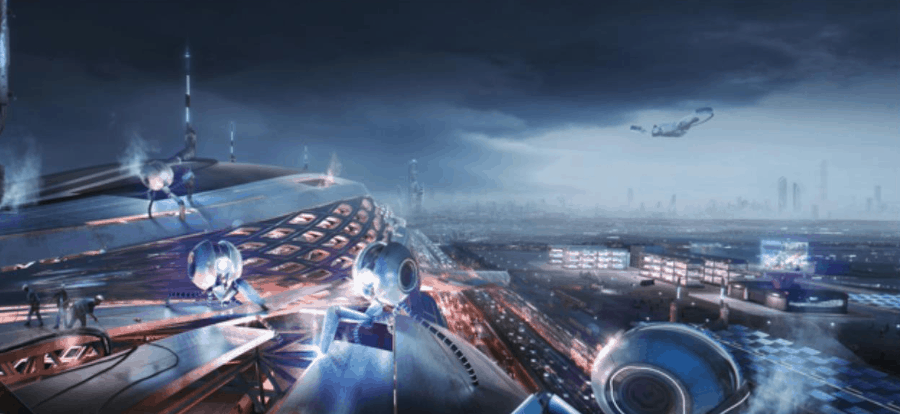 According to Watts, these drones will be equipped with Lidar and high definition cameras that feed data back to on-site Construction Labs. There, 3D printers will be able to manufacture components based on the data, producing replacement parts for the building that perfectly fit the structure.
"It goes straight from the robot taking the 3D survey information to the software that's going to make the component," said Watts.
Though this future may be a few years away, Newtecnic is already incorporating the necessary infrastructure into current buildings and paving the way for more digitised construction. Modular techniques have allowed the industry to develop a surgical approach to building, where every stage is meticulously planned and sequenced. Where organised chaos once ruled, order is now the prevailing trend.     
"You can see on contemporary building sites, they're a lot tidier than they were 20 years ago," said Watts. "You see only what's being done at the time. It's almost like a Lego kit being put together. You see very little mess."
Watts acknowledges that in many ways Newtecnic is trying to reintroduce a concept that the industry has actually been moving away from for several years, localised workshops seen as adding to site clutter. However, he believes the results speak for themselves and that with a coordinated approach, on-site fabrication can integrate seamlessly with modular builds. Prefabricated techniques may underpin choreographed, clinical construction, but it's additional on-site work that truly makes the buildings sing.
"We see it as being able to provide a higher requirement of visual quality and performance quality, as well as reducing cost and reducing waste, both of material and time," said Watts. "Coming in on time and under budget has become almost an expectation now for very high-end projects."
The digital technology that's fuelling this new era of construction is exciting in and of itself, but it's the new structural possibilities that are the real prize. Combined with advances in materials and ever-more elaborate software tools for design, digital construction will help shape the next generation of buildings. What's more, it will potentially do so at a lower cost than grandstand projects of bygone eras, where ambition would often have to kowtow to pragmatism.      
"It's already giving a lot more freedom in terms of architectural form," said Watts. "I think there's a return to the heady days of the post-war years – particularly the 1960s – when building forms for ambitious projects were often highly modelled and made out of reinforced concrete. There were certainly high costs associated with those projects, and that was one of the reasons why that approach to architecture lost favour from the 1974 oil crisis onwards. But we're returning to those days. We've now begun to see a new generation of much more visually, architecturally and technologically ambitious projects."