On 18 February, Kristan Bromley, a former BAE Systems engineer, will be hurtling down one of the fastest and most terrifying ice runs to ever feature in the Winter Olympics.

One of the challenges Fleetcroft faces during aerodynamic analysis is modelling the athlete's position within the CFD facilities. This requires the athlete to lie still for long periods while their body position is scanned into a computer. With racers battling 5 G-forces in some corners, understanding how easy it is for them to maintain a position is crucial to successful sled design. This understanding has become even more important in recent years, with the introduction of regulations governing the use of standard steel frames and banning coatings.
'Regulation changes have meant that we're pursuing aerodynamics far more aggressively,' he said. 'Developments in composites have allowed us to exploit shapes even further, but a big issue we still face is sensitivity. You see this a lot in F1 and it's the same in Skeleton. Often designs have a very small geometric window where they function — any slight change to the environment on the track and they perform much worse than you originally thought.'
To combat this sensitivity, Bromley Technologies has enlisted the help of Boeing's Advanced Manufacturing Research Centre to machine components at tight tolerances and in short lead times. The team at Bromley is also making use of Boeing's expertise in composites to develop a material that provides tight control with minimal friction on an ice run. Typically, materials research done at the centre is used on a template sleigh pan that is tested in ice conditions at Bromley's laboratory.
Unlike most of the leading skeleton teams, the UK lacks access to most of the winter tracks featuring in the Olympic and World Cup races, meaning designs have to be right first time. To compensate, Bromley has turned to the likes of F1 teams and Boeing, as well as developing his own skeleton-bobsleigh simulator, which he hopes will allow his engineers to make faster and more accurate decisions.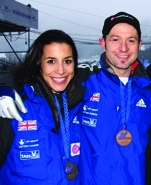 'The reason why Kristan is number one and World Cup champion despite coming from a non-winter-sport nation is technology,' stated Fleetcroft. 'It's an obsession with us, we will pursue everything we can and we've pushed harder than anyone else to make up for the gap in not having the ability to test. The benefit is that our sled is quick from first principles, whereas you will find some sliders that will be very fast on their home track, but go abroad to other venues and perhaps don't perform as well.'
We live in an environment in the UK where we don't want to take risks. As an athlete you have to take those risks and you have to push the boundaries. Engineers have to do the same.

Kristan Bromley
When it comes to technology, Bromley is just as confident in its ability to make up for track testing and attributes this to the UK's strength in engineering. However, a lack of confidence to try new ideas is something that he believes could hold Britain back at a time when electronics and rapid manufacturing are changing the face of the industry.
'I think we live in an environment in the UK where we don't want to take risks. As an athlete you have to take those risks and you have to push the boundaries,' said Bromley. 'Engineers have to do the same. Something we've noticed with our American athlete friends are differences in confidence levels in people and their engineers. Americans seem to have bags of it — we don't. We need to be out there innovating and pushing boundaries more than we have.'
Fleetcroft shares the view that skeleton could one day lead the way in technical innovation. 'The traditional view of skeleton bobsleighing is guys with woolly hats going down slopes on tea trays. It's nothing like that. It still makes me smile, because people say to me 'Why are you doing that? You've been doing racing cars' — but it's a very similar environment. You have to build a close relationship with the racer and you're using the same materials and the same tools. I think it could serve as an example to other high-performance industries.'
Back story - high performance
Technological innovations that have changed the face of sport
In 1999, Speedo created a material that featured tiny ridge features called 'deniticles' to mimic a shark's skin. At the 2000 Sydney Olympics, 83 per cent of medals won were by competitors wearing Speedo's 'Fastskin' swimsuit
Oscar Pistorius, the South African double amputee, has set the 100, 200 and 400m Paralympics world records, running in the regular Olympics using Cheetah Flex-Foot — a carbon-fibre prosthetic that has been manufactured by Icelandic company Ossur
Research on elastomeric compounds at Hertfordshire University has led to the development of D30 — a soft, flexible material that stiffens on impact. The material has been used in sporting applications such as protective headwear, gloves and footwear
The ball for the 2010 Fifa World Cup has been developed by researchers at Loughborough University. It is made up of eight thermally bonded panels that are spherically moulded for more accurate ball control