For almost 40 years, the hydrocarbon reserves of the North Sea  have been vital props for five European countries: Norway, the UK,  Denmark, Germany and the Netherlands. Since the first licences  to explore the region for oil and gas were granted in the mid-1960s, more than 40 billion barrels of oil (an equivalent figure that includes gas on the basis of value) has been extracted from the convoluted folds and fissures  of the geology of the seabed, and most estimates say extraction can continue for another 30–40 years, with some 24 billion barrels  of reserves remaining.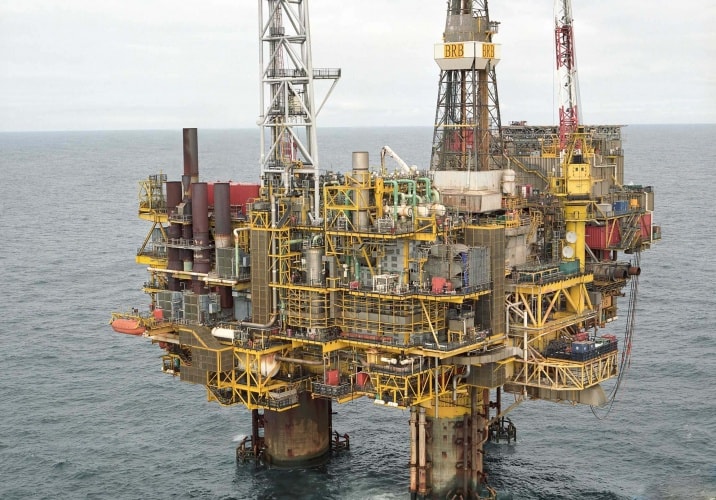 And while the industry in the North Sea can still look to the future  with hope – and exploration continues in other regions of the Northwest European Continental Shelf, such as the regions to the west of Shetland – the industry's minds are beginning to turn to what's going to happen when the hydrocarbons run out. It's clear that we're closer to the end than the beginning. So how do we bring the era of the exploitation  of the North Sea for oil and gas to an end?
There have already been several notable decommissioning activities  in the North Sea. The Shelley Field, which had two production wells,  was closed out in 2012. The Frigg field ceased production in 2004, and  all wells were plugged and abandoned. More than 85,000 tonnes of steel were removed from the field, and dismantled by contractor Aker Kvaerner in Shetland and Stord, Norway; all the steel was recycled, much of it by resmelting and rolling. North West Hutton was taken out of service by order of the UK government in 2002, with a decommissioning programme approved in 2006. The topsides were removed to Able's Hartlepool facility, although the footings and drill cuttings were left in place;  the oil pipelines were buried. Decommissioning began on Norway's  Ekofisk field in 2005 and is still under way.
According to industry body Oil & Gas UK, around £1bn was spent on decommissioning activities by UK producers last year. The organisation is keen to point out the dangers of early decommissioning, triggered by falling revenues because of low oil prices. "The [North Sea] basin needs sustained, high investment – £94bn alone to recover the 10 billion barrels oil equivalent in known reserves," said chief executive Malcolm Webb.
The starting gun for decommissioning the major North Sea oil and gas installations has already been fired, courtesy of Shell, which earlier this year announced that it is to decommission the oilfield, which in many ways formed the model for large-scale exploitation of the North Sea: Brent. Some 140m below the sea's surface about 186km north east of Lerwick in Shetland, Brent was discovered in 1971, the second of Shell's North Sea oilfields, and was one of the UK's most productive oilfields, lending its name to the generic type of crude oil sold on international markets (light Brent crude) and at its peak pumping out half a million barrels a day; Shell says the field has produced a tenth of all North Sea  oil and gas extracted to date and generated £20bn in tax revenues alone.
Brent has four oil platforms – Alpha, Bravo, Charlie and Delta –  of which only Charlie is still producing (Brent Delta ceased production  in 2011; Alpha and Bravo last November). Production from Charlie is expected to stop in the next few years. But Shell's focus is currently  on the Delta platform, for whose dismantling it launched a consultation programme last month.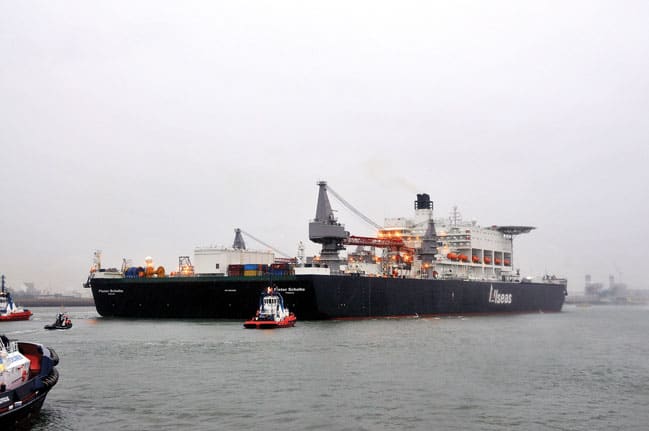 This alone is a mammoth task – one of the largest Shell has ever  tackled, according to UK chairman Eric Bonino. It is proposing that  the topside of the platform – the platform itself, which sits on three mammoth concrete legs – is to be removed next year in a single 23,000-tonne piece by the lifting vessel Pioneering Spirit, as long as five Boeing 747 aircraft, expressly built for this purpose by contractor Allseas. This will then deliver the structure to Able UK's facility in Hartlepool, Teesside, where it will be dismantled. This, Shell claims, will enable 97 per cent  of the material to be reused or recycled.
'The engineering and planning skills that led to the discovery and subsequent successful production of oil and gas over four decades are essential during decommissioning

Alistair Hope, Shell, Brent decommissioning project director
Brent decommissioning has been controversial before, notably in  1995 when Shell proposed to dispose of the oil storage buoy Brent Spar by sinking it in the North Atlantic. A Greenpeace opposition campaign saw the buoy occupied by activists, and increasing opposition led to the company backracking and mothballing the structure in a fjord, eventually cutting it into rings, cleaning it and using the material to build a quay extension for ferries in Mekjarvik, Norway. Keen to avoid a repeat of this, the company is being careful to seek options for Brent decommissioning.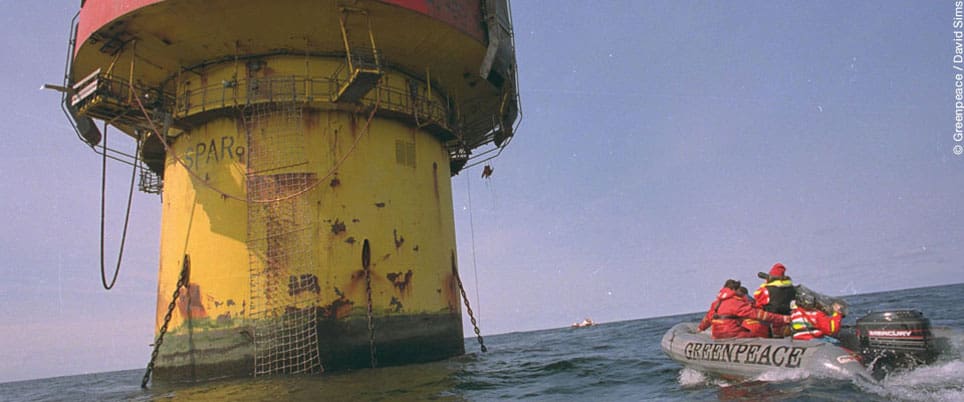 The remaining structures of Brent Delta – the legs, which sit atop clusters of 60m-tall concrete oil storage structures and are currently full of sediment with what's known as 'attic oil' sitting on top – will then be dismantled and removed gradually, with contaminated material taken ashore for treatment and disposal. There are also several piles of drill cuttings – rock fragments from the drilling process, which contain the lubricant drilling 'mud' – and under the seabed are pipelines whose removal and disposal is being assessed.
And this is only one platform. Brent also has the three other  platforms, 140 wells and 28 pipelines, all of which will need to be removed or treated, as part of the decommissioning process. "The engineering and planning skills that led to the discovery and subsequent successful production of oil and gas over four decades are essential during decommissioning, which is the natural next stage of the field's  life," said Brent decommissioning project director Alistair Hope.
And again, this is just one oilfield. According to Oil & Gas UK, between 2014 and 2023 a total of 927  oil wells on the UK continental shelf (the North and Irish seas) will come out of production, representing 58 per cent of central and northern North Sea wells and 80 per cent of southern North Sea and Irish Sea wells. There are 246 topside structures to be removed from 104 platforms, weighing a total of 281,600 tonnes. Another 134,000 tonnes of subsea structures also have  to be removed, while with 3,277km of pipelines will be decommissioned.
'Shell's decision to bring forward the submission of its decommissioning process for Brent's topside was a result of a long-term understanding that the field was nearing the end of its life and the structures will soon not be needed

Nigel Jenkins, CEO, Decom North Sea
Decom North Sea, a forum set up to link together operators and contractors in the industry, estimates that between 2010 and 2040 decommissioning will cost some £30–35bn. Commenting on Shell's  plans, Decom North Sea chief executive Nigel Jenkins said that "North Sea decommissioning is a developing business that is new to many and misinterpreted by even more". It's not about the premature closure of the North Sea and it doesn't mean the end of its industry, he stressed. "Shell's decision to bring forward the submission of its decommissioning process for Brent's topside to DECC was clearly not a knee-jerk reaction to falling oil prices, but a result of a long-term understanding that the field was nearing the end of its life and the structures will soon not be needed."
Decommissioning an oilfield is a lengthy, complex process that begins before production from the field begins to decline. There are seven main stages in the process:
Project management, which usually starts three years before the well runs dry. This involves a review of the operator's contractual obligations; engineering analysis of the field and the operator's facilities; and operational planning, which can involve a high degree of pre-planning.

Permitting and regulatory compliance can also be a lengthy process, with many different regulators needing to be informed and to issue approval for the decommissioning.

Platform preparation includes flushing and cleaning of tanks and processing equipment, disposal of hydrocarbons, removal of platform equipment and removal of marine growth around underwater structures. During this time, the platform is still considered to be 'live' because hydrocarbons are still present, and utilities, power and safety systems must be maintained.

Plugging and abandonment is one of the major costs of decommissioning and involves removal of the lining of the borehole  and plugging of all the points where hydrocarbons flow into it. This can  be done with a temporary plug, which can be removed if it's decided  to reactivate the well, but this decision must be taken before plugging commences; permanently plugged wells cannot be restarted.

Mobilisation/demobilisation and platform removal can be done in  a single lift, as with Brent Delta, or piecemeal, with units dismantled and removed in sections. This would be assessed on a case-by-case basis.

Pipeline or power cable decommissioning can be carried out in place  if they do not interfere with navigation or fishing, but otherwise they must be removed to below the seabed level.

Materials disposal and site clearance includes the dismantling and treatment of topsides, locating debris and other materials before and after removal processes, deployment of divers and ROVs to remove remaining debris and test-trawling the area to ensure that no obstructions remain.
Plugging and abandonment (P&A) is perhaps the most technically challenging part of decommissioning, as it involves intervening with the oilwell structures themselves. Increasingly, the operation is being carried out by modular rigs, designed, built and operated by specialists, which are transported to the site specifically for this task.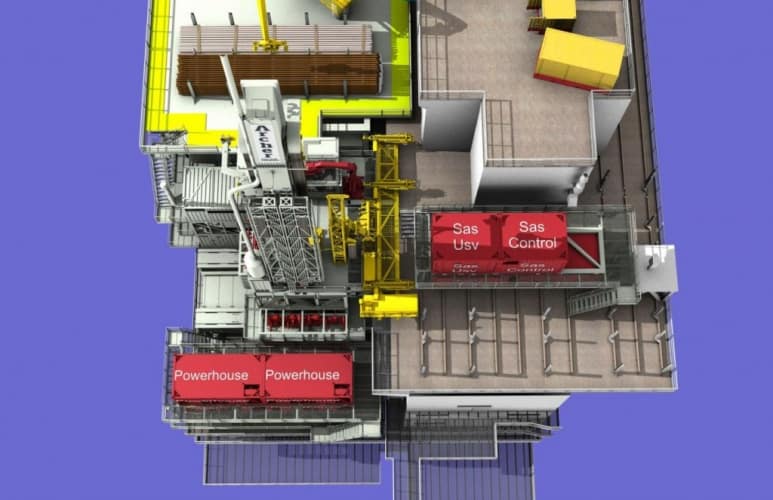 One such rig is the Topaz, operated by oilfield services company Archer, which is carrying out P&A on the Norwegian Heimdall field in the northern North Sea. The technical manager for Topaz construction, Geir Hagen, said that modular rigs present a good solution for drilling operations on older wells. "Many of these platforms have been in operation for decades as production facilities, but they haven't drilled for years. In many cases, including Heimdall, the drilling equipment has been taken away; when it's still there, it's usually old. Units such as Topaz are built to modern specifications, so they're compliant with all the current regulations. They're made so that they can be lifted onto the platform using their  own crane, and carry exactly the machinery needed to do the job.  It's a cost-effective way for the platform operators to have the  technology they need available."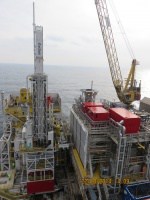 Topaz and its sister rig, Emerald, were both built by German offshore specialist Max Streicher, and designed to be as compact and mechanically efficient as possible, quick to set up and run by a small crew. They are particularly suited to the North Sea, Hagen said, and the company is planning to build more as demand for P&A activity increases. Emerald is currently operating on  a Shell rig in New Zealand, carrying out production drilling activities. "The use of modular rigs is becoming widely accepted by all the major players," Hagen added.
Drilling is often the easiest option for plugging wells, Hagen said. "The lining of the well has to be removed to below the level where hydrocarbons are produced, and they're grouted into place, so effectively we're milling or grinding them away so that we can introduce the plug to seal off the well." Temporary plugs are similar to the capping equipment used to seal wells in an emergency, while permanent ones are generally made of concrete.
Decommissioning is an industry in itself, and one where the UK  is well placed to become a centre of excellence. While drilling and production continues in the North Sea and elsewhere on the continental shelf, cleaning up the remains of the process is as much a part of the industry as pumping out the hydrocarbons, and just as important.