The more apocalyptic possible effects of climate change caused by global warming have become well known to all of us, thanks to years of headlines about melting ice caps and rising seas.
Whether global warming really does spell the end of the world as we know it is still the subject of fierce debate. What is less in dispute is that the environment is changing, and that engineers and scientists need to plan accordingly.
To this end, a group of researchers is working on mitigating one of the less apparent consequences of climate change. This is its possible effect on the nation's transport infrastructure and, more specifically, the ground on which it is built.
The UK Climate Impacts Programme was set up in April 1997 by the Department for Environment, Food & Rural Affairs (DEFRA). Based at the University of Oxford, UKCIP helps organisations prepare for the impact of climate change.
It has already funded a number of projects to investigate the possible effects that a drastically changed weather system could have on the UK's transport network. The latest, called Bionics, will look into the specific impact that climate change could have on the UK's embankments, which support everything from railway lines to bridges and motorways.
Researchers at Newcastle University will soon finish work on the key component of Bionics, a purpose-built embankment that will be used to test the effects of changing weather patterns, as well as technologies that could provide early warning of subsidence or movement.
Bionics will look at the biological and engineering impacts of climate change on slopes and, although based at Newcastle University, it will be the focus of a number of investigations by various UK universities into structural stability and monitoring technology.
Project leader Dr Stephanie Glendinning, of Newcastle's School of Civil Engineering and Geosciences, is convinced that climate change could have major consequences for the UK's transport system. 'It will undoubtedly bring us hotter, drier summers followed by periods of more intense rainfall in autumn and winter,' she said. 'This could be a significant problem for clay slopes.'
The UK's older embankments that support train lines are likely to be the most susceptible to the effects of climate change, according to Glendinning. Rain can make clay both softer and weaker, whereas hot weather makes it shrink. If the clay supporting train tracks shrinks during a particularly hot summer and then swells during the subsequent wet weather it could spell trouble for the stability of the tracks.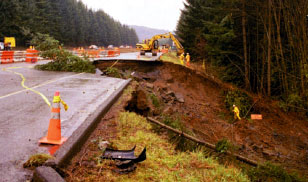 The Bionics project will, it is hoped, provide data that will enable engineers to mitigate landslides and mudslides caused by hotter, drier summers followed by wetter winters.
Standing 6m high and 90m long, the purpose-built Bionics mound of earth will play host to an array of novel technologies when it is completed within the next few months. Instrumentation will be fitted that is designed to measure pressure, movement and temperature at the surface. The climate will be controlled using an artificial weather system to mimic the effects of climate change.
The design consists of computercontrolled flexible, transparent — but infrared reflective — roofing sections that can be pulled over the embankment automatically when required, and arrays of rainfall sprinklers mounted on poles. Oscillating sprinklers with different-sized nozzles will ensure a uniform rainfall with specified droplet volumes.
An automatic weather station has also been installed to monitor wind speed, radiation, temperature, humidity and atmospheric pressure, before, during and after construction.
Some of the UK's major transport agencies (including the Highways Agency, Network Rail, British Waterways and London Underground) are supporting the project, aware of the impact its findings could have upon their industries.
Different sections of the embankment have been compacted to mimic the different compaction characteristics of both roads and railway embankments.
One of the first new technologies to use the Bionics embankment will be the Alarms system, developed by researchers at Loughborough University. Alarms is a real-time acoustic monitoring system able to detect the internal movements of embankments which could be used as an early-warning system to detect the onset of a landslide. The system measures the sound of the granules of dirt and soil as they pass over each other.
The technique originated in rock mechanics, where geologists can listen to rocks in mines as they begin to crack. According to Alarms' project leader, Prof Neil Dixon, it has been known for some time that it would be feasible to use this form of acoustic monitoring to study soil stability. However, there are two main challenges that have, until now, prevented it from being used successfully in this way.
'The actual energy given off in noise is sub-audible and produces very little energy,' said Dixon. 'When compared to the noise created by rocks cracking, the noise created by two granules of soil moving over one another is very small indeed.'
Another problem is that the energy created by particles of clay moving dissipates very quickly as it has to transfer across the gaps between the individual soil particles. There is also the considerable problem of picking out the noise of soil movement against background noise drowning it out.
The Alarms system uses a metal tube known as a 'wave guide' that is inserted into a borehole in the embankment. The area around the tube is then back-filled with a noisy soil such as gravel or sand. If the slope moves, the granules of noisy soil around the wave guide move as well.
The tiny acoustic emissions caused by the grains of sand moving against each other pass along the wave guide and are picked up by a transducer at the surface. It is then processed to find out what signals tell us about the internal movements of the soil.
This is the hardest part, according to Dixon. 'The real trick is trying to make a decision based on what you pick up,' he said.
His team has managed to calibrate the acoustic emissions to relate to a specific deformation rate, and also worked out how to relate the signals they receive to a specific location inside the embankment indicating where the movement is taking place.
Until now all work on Alarms has been confined to the laboratory, so its installation in the Bionics embankment in a few weeks' time will be the first full-scale test of the technology.
'Alarms is, we believe, far more sensitive and robust than current deformation monitoring systems,' said Dixon. 'It will be sensitive enough to pick up very minor internal deformations early enough to give crucial extra time to close roads or bridges ahead of a landslide.'
Dixon said that some US railway companies have already shown an interest in the technology, and he believes that cities such as Hong Kong, which have a lot of rain, could benefit from such an early-warning system.
Alarms is the first of what will be a number of different technologies and research projects to take place inside the Bionics embankment.
Researchers at Bristol University are developing new modelling software that will analyse information about vegetation on embankments, while a team from Dundee University has built a scale model of Bionics to investigate the effects of different rainfall patterns.
The model uses sophisticated software to create a physical model that allows researchers to extrapolate into the future about the embankment's internal mechanics.
According to Glendinning, the Bionics project is the first important step in preparing for the effects of climate change. 'It looks as though climate change could be a real problem for the nation's transport systems without proper planning. We need to build climate change into our structural planning. We need to be prepared,' she said.