Although electric cars are increasingly popular with environmentally-conscious urban commuters, their low speeds, boxy shapes and long charge times have done little to make the Jeremy Clarksons of the world ditch their 'milk float' gags and dash down to the showroom.

This could be about to change however, thanks to a number of projects, at varying stages of development, that promise a new generation of battery-powered cars with Ferrari-style performance. Also, in a gratifying thumbs-up for UK automotive engineering expertise, three of the most significant of these projects draw heavily on home-grown talent.

The closest to production is the US-developed Tesla Roadster, a $98,000 (£48,000) all-electric sports car that goes from 0-60 in four seconds, travels more than 200 miles between charges, and boasts a waiting list that reads like a Who's Who of Hollywood high society.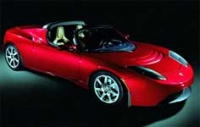 With early prototypes of the vehicle causing a stir and the first production models expected to roll out of the factory later this year, the car has a list of celebrity admirers, including Matt Damon and George Clooney.

Headed by PayPal founder Elon Musk, the small Californian company behind the vehicle, Tesla Motors, plans 800 Roadsters this year and hopes to reach peak production of 2,000 in 2008.

If the car looks somewhat familiar to UK sports car enthusiasts that's because it shares its chassis and a number of other components with the Lotus Elise. Lotus Engineering will also be in charge of assembling the vehicle at its Hethel, Norfolk, headquarters. However, any similarities to the UK-designed Elise end under the bonnet.

Powered by a bundle of 6,831 lithium-ion laptop batteries, the Tesla produces a tenth of the pollution and is said to be six times as efficient as the best sports cars. It can be charged from any wall outlet in three to four hours. It has a top speed of 130mph thanks to a powerful 185kW, three-phase, four-pole AC induction motor that can spin up to 13,000 rpm and is claimed to be up to 95 per cent efficient.

The company has so much faith in its energy storage system that it has created another division, Tesla Energy, which is licensing the technology to other manufacturers. It recently signed up its first customer, Think Nordic — a Norwegian producer of small city cars.

On board the Tesla, all of these systems are constantly supervised by an electronic control module that regulates motor torque, charging, and regenerative braking, as well as monitoring such things as the voltage delivered by the ESS, the speed of rotation of the motor, and the temperatures of the motor and power electronics.

In an intriguing hint at a future era of affordable electric motoring, Tesla says it is also developing a five-passenger sedan that will cost about $55,000 and, ultimately, a $30,000 electric car codenamed Blue Star.

But although the Tesla is by far and away the closest high-performance electric car to production, it could soon be followed by a UK pretender.

Announced in a blaze of publicity several months ago, the Lightning GT is a UK-developed electric sports car that could go into production next year.

The vehicle, which is expected to begin track testing this year, has been developed by Peterborough's Lightning Car company, a specialist manufacturer of luxury sports cars whose engineers have worked for, among others, McLaren, Lola, Ronart and Vanwall. The company claims to have resolved the problems of battery life, power density, range and acceleration that have dogged previous electric car efforts.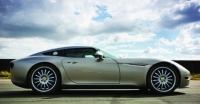 Stylistically reminiscent of classic UK marques such as Aston Martin or TVR, the car boasts similar performance characteristics to the Tesla Roadster. It has 700bhp, can do 0-60mph in less than four seconds, and has a range of 250 miles (400km). Powered by four hub-mounted electric motors, an advanced regenerative energy system recharges the batteries under braking by capturing lost friction energy. The company also claims the battery can be fully charged in just 10 minutes if a three-phase power supply is used.

With many of these systems yet to be tested on a track, and a price-tag of £150,000 making the car three times more expensive than its US cousin, Lightning's claims have been treated with a fair amount of scepticism.

But the company's technical director, Arthur Wolstenholme, believes that the car is destined for success. He said that while 10 years ago electric power was dismissed as a poor substitute for fossil fuels, the latest developments in electric motor and battery technology will enable the Lightning to outstrip the response rates, torque characteristics and drivability of some of the most exotic performance super cars.

Plus, with an exemption from road tax and congestion charging and an urban cycle energy cost estimated at 2.2p a mile, the car will, he claimed, be considerably cheaper to run than petrol-fuelled vehicles. He estimates the Lightning could be as much as £10,000 a year cheaper to run than an Audi RS4, based on an average 20,000 miles of motoring.

Three Lightning models are planned: a Grand Tourer (GT), a lightweight GT sport that will be capable of achieving 0-60 in less than four seconds, and an extended-range model capable of reaching about 250 miles on a single, 10-minute charge.

Key to the success of all-electric vehicles are the battery packs, and Lightning's engineers have embraced an interesting solution. Rather than lithium-ion batteries, the Lightning will use a series of batteries called NanoSafe, derived from a research project launched by the US firm Altairnano in 2000.

Said to be more thermally stable than other batteries, they are also claimed to be longer lasting, with a life of 12 years as opposed to three to five, and are able to retain up to 85 per cent of charge capacity after 15,000 charges. According to the manufacturer, they can also be recharged in 10 minutes rather than the hours that other rechargeable batteries require, and deliver power per unit weight and unit volume several times that of conventional lithium-ion batteries.

NanoSafe uses nano titanate materials rather than graphite in the battery electrodes. Using what it describes as a unique nanoparticle manufacturing process, Altairnano says it has optimised the nano-structured lithium titanate spinel oxide (LTO) electrode materials that replace the graphite electrode materials found in negative electrodes of lithium-ion batteries.

An electrode made with nanomaterials does not react with the electrolytes used in most lithium ion systems. No reaction means no solid electrolyte interphase (SEI) barrier is formed around the electrode, making it easier for lithium ions to reach the surface of the electrode. With a nano-structured component, there is also more surface area available to the ions — up to 100 times more than with conventional, graphite electrodes. This speeds recharging and discharging.

An SEI barrier also prevents batteries being recharged below 0ºC, but because the NanoSafe does not form the barrier it can operate down to -30ºC. The company also claims the battery is ultra-safe, passing a range of destructive tests and has operated well at 65ºC.

The car could be charged overnight via a standard, single-phase power source using the onboard charger, the company said. For a fast charge a three-phase supply is required, but Altairnano believes that with growing interest in electric-powered vehicles, more high-powered charging stations will be installed.

The second piece of technology that will be key to Lightning's performance is the hub-mounted Hi-Pa Drive electric wheelmotor developed by the UK's PML Flightlink (The Engineer, 18 June).

The company has already tested the motor on a technology demonstrator based on a BMW Mini, where, according to Newman, each motor develops 750Nm of torque, which only drops off to around 600Nm at top speed and allows good acceleration and braking. The battery is not needed for braking as the power necessary for stopping is generated by the wheels: the PML systems can regenerate down to stop.

Each motor also has built-in traction control and anti-skid. PML is due to supply the motor to a major European car manufacturer for use in a competition vehicle, and another is to be exhibited at this year's Frankfurt Motor show. That vehicle is designed for full-volume production in 2010.

Meanwhile, the Lotus Engineering connection to high-performance electric car development continues via the UK group's tie-up with ZAP, a Californian specialist in low-carbon vehicle technologies.

ZAP and Lotus are partners in the ZAP-X Crossover, a vehicle based on the lightweight aluminium design of Lotus's APX vehicle architecture.

Billed by ZAP as combining the 'enjoyment of a sports car and the practicality of an SUV,' the five-seater — like its fellow contenders in the high-performance electric stakes — is designed to be a world away from the battery-powered city runaround.

Its performance specifications include 0-60mph in a shade under five seconds, a top speed of 155mph and a claimed 350 mileage between charge.

And in a major recent development, ZAP announced plans for a smaller, lighter electric vehicle using much of the technology developed for the ZAP-X at the genuinely mass-market price-point of around $30,000.

Few details of the second car are available, but it is believed to target a maximum speed in excess of 100mph and a 100-mile range.

Most significantly, ZAP will accelerate the second car into production before the ZAP-X, suggesting it hopes to give the Tesla a run for its money.

Its involvement in both the Tesla and ZAP-X projects gives Lotus Engineering a unique insight into the state of the fledgling performance electric vehicle sector.

Lotus has carried out feasibility studies for ZAP on both the ZAP-X and the smaller, cheaper model just announced by the US company.

Although unable to comment in detail for commercial reasons, Phil Barker, executive engineer for vehicle engineering, said the conclusion was that there were 'viable technical solutions' that would allow both cars to achieve the performance targets ZAP is aiming for.

He is clear about the number one obstacle to an electric car that can match the performance characteristics of existing mass-market vehicles. 'Any route you take into this, you come back to the issue of the battery,' he said.

He explained how matching the 300-400 mile vehicle range of a conventional car could involve fitting a power pack costing up to £25,000 per vehicle — way in excess of what would be acceptable for anything but a premium niche market.

Although the trend is in the right direction thanks to relentless advances in power technology, Barker believes a crucial tipping point has yet to be reached. 'Right now we are in something of a Catch-22 situation,' he said. 'The price of batteries is prohibitive, but the battery manufacturers are looking for large orders to drive the cost down.'

Unfortunately, according to Barker, no-one in the automotive sector is willing to commit to the level of orders that would allow economies of scale to kick in. 'In my view the solution might be a number of vehicle manufacturers making a certain commitment and together achieving the volume required.'

Another major challenge identified by Barker also involves power — the recharge time needed to 'fill-up' an electric vehicle.

Several of the performance vehicle specifications talk about recharge times as low as 10 minutes, but this only applies where an industrial-style power supply is available.

'If you've got a battery that's giving the type of significant range these vehicles want to achieve, to charge that in 10 minutes requires a hell of a lot of power that a domestic supply simply won't be capable of,' said Barker. 'In domestic terms, it's an overnight charge.'

To deliver the levels needed for rapid charge would involve the creation of a network of heavy-duty recharging points at existing fuel stations or, courtesy of the electricity utilities, which might find themselves with a new customer base.

Despite these caveats, Barker and Lotus are convinced that electric vehicles are capable of making inroads into the mainstream if the various costs can be brought into line.

Not everyone shares their optimism. Prof Paul Shayler, of the school of mechanical, materials and manufacturing engineering at Nottingham University, believes the hurdles described by Lotus will ultimately prove too big a turn-off for the automotive industry.

'The motor industry is looking in other directions. Most of the effort is going into hybrids and fuel-cell powered vehicles, which represent a longer-term solution. At present only the short-range, low-speed, low-performance vehicles have proved successful,' he said.

Shayler is also sceptical about claims that many of the major technical issues have been addressed. 'It may be that new work will come to light, but I'm not aware of any significant breakthrough. Undoubtedly there are many clever people around but for every vehicle that works, there are 50 that don't.'

Nevertheless, while Shayler's criticisms could feasibly be directed at the as-yet-untested Lightning, Zap, Tesla and Lotus have already seen enough potential in the technology to believe a bright new future of high-performance affordable electric cars is, at the very least, a possibility worth considering.