A new laser welding technique is repairing power station turbine rotor blades in minutes. Called In Situ Laser Surfacing, the development is the product of a collective effort by several research institutions and power station operators.
As the name implies, In Situ Laser Surfacing allows flaws from wet steam erosion on the blades of low-pressure steam turbines to be repaired in place – without the need for the turbine to be dismantled and the blades removed.
Some power station operators have reported that current blade repair, or replacement, costs $250,000 per turbine per day in downtime – or up to $2.5 million in total per turbine. A typical low-pressure steam turbine rotor has 180 last-row blades, each about a metre long, with a replacement cost of $10,000 each if they cannot be repaired to the level of their original aerodynamic precision.
CSIRO's Dr. Nazmul Alam explains that the new method uses high-power laser energy to fuse a metal alloy powder to the turbine blade's surface.
'And the work can be done without the need to deblade the rotor. It only has to be removed from its casing,' he says. 'The laser is a portable unit that is taken to the power station, and the operation is performed by a robotic arm.'
Dr. Alam says the process is technically not welding. 'The laser supplies a high-energy stream into which a metal alloy powder is directed. The laser fuses the metal to the blade's surface,' he says.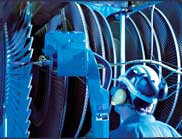 He says conventional repair methods have used TIG (Tungsten Inert Gas) welding, but the heat is difficult to regulate and blades can suffer thermal damage.
The development pulls together expertise in welding, laser and robotics technologies from the CRC for Welded Structures, CSIRO Manufacturing and Infrastructure Technology and the Industrial Research Institute Swinburne (IRIS) at Swinburne University of Technology.
There was also input from the Australian Nuclear Science and Technology Organisation (ANSTO) and engineering firm Connell Wagner. The technology has been trialled at TRUenergy's Torrens Island power station in Adelaide.
TRUenergy's Asset Strategy Manager, Ralph Villarosa, says the initial field trial last year on six blades was successful and the company has just completed a second trial on a further 17 blades. He says the technique has significant commercial application.