The use of machine vision technology is well established in the industrial arena, but machine vision systems are increasingly being used in a range of more esoteric applications. Indeed, according to German industrial association VDMA, the versatility of modern machine vision systems has driven their deployment in areas as diverse as retail, traffic management and agriculture.
One company that appears particularly keen to exploit this phenomenon is one of Europe's largest machine vision companies, Stemmer Imaging.
RVI technology was recently used to probe a 1st century burial tomb in Jerusalem
Headquartered in Germany, Stemmer Imaging has recently been trumpeting the use of its technology in a range of non-industrial settings.
In one particularly fascinating application, Stemmer engineers have been working alongside researchers at Dresden Technical University to develop road inspection systems that can carefully analyse the surface of a road while travelling at speeds of up to 130km/h.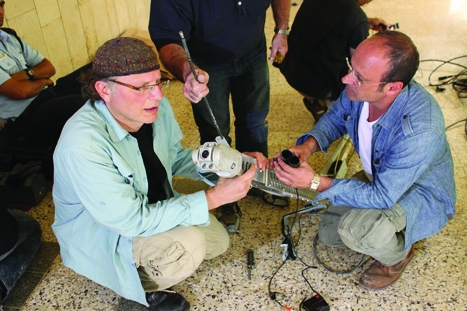 This represents an interesting challenge for the technology. Typically, in industrial applications, the objects to be inspected are moving while the imaging system itself remains static. In road inspection systems, this situation is reversed.
Over the past few years, Stemmer has worked closely with road vehicle inspection specialist Lehmann and Partner, which has used vehicle-mounted inspection systems to closely analyse hundreds of thousands of kilometres of German road.
According to Lehmann and Partner's Dirk Ebersbach, similar systems could be used for tunnels and railway tracks or even in route planning for heavy-duty vehicles.
In other applications, Stemmer's technology has been used to analyse and assess wildlife stocks. It has even been used to evaluate the effectiveness of insecticides by checking treated plants for the presence of plant louse nymphs and eggs.
But Stemmer isn't the only vision specialist exploring new, unusual application areas.
Indeed, remote visual inspection (RVI) equipment developed by GE's Measurement & Control division was recently used to probe a 1st century burial tomb in Jerusalem thought to contain the remains of early Christians.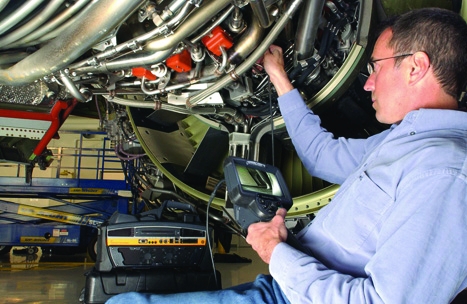 With Jewish religious authorities insisting that nobody should enter or interfere with the tomb, the archaeological team decided to develop a robotic arm fitted with RVI technology, which is more commonly used in the aerospace, energy and automotive sectors.
GE's Bill Tarant, who took part in the latest project, helped to carry out a similar exploration in 2005 and explained the problems faced. 'In 2005, we gained entry to the tomb through a soul pipe,' he said.
'With the current project, we had to drill three 8in [20cm] holes through 2m of rock into the tomb. The tomb was 1m in height but any inspection equipment needed to be able to extend over 3m to obtain the required coverage.
'We solved the problem by using a mechanical/pneumatic arm. This was fitted to a GE CA-Zoom PTZ [pan-tilt-zoom] camera, which was used to obtain the images inside the tomb. A second CA-Zoom PTZ was inserted in one of the other holes to monitor the movement of the first camera.'
Although the first images received were very good, the investigators asked if the definition could be improved to broadcast quality, so that the inscriptions on the ossuaries (caskets containing human skeletal remains) could be read not only on site but also by viewers of the film that was being made.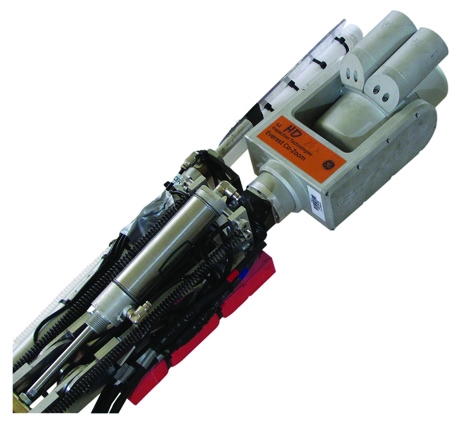 This required major development work by GE's engineers, resulting in a customised high-definition camera. To support the CA-Zoom cameras, GE also introduced its XLG3 video probe to provide images of extremely difficult-to-access areas within the tomb.
With its very high light output and its unique 360º All-Way articulation, combined with advanced digital signal processing, the XLG3 probe can be remotely manipulated into the most difficult of locations to provide sharp, high-quality images.
'I believe that this is the first time an archaeological project such as this has been carried out remotely,' said Tarant. 'Its success is due in no small part to the expertise and commitment of our custom engineering team, as well as to the functional capabilities of our range of RVI equipment.'
This equipment has provided high-definition video images of ossuaries within the tomb to enable archaeological experts to read the ossuary inscriptions and to gain some insight into their provenance.
The caskets appear to be inscribed with early Christian iconography, and there is speculation that the bones may actually belong to contemporaries or even disciples of Jesus Christ.
What's new
Machine vision
For hundreds more stories like these visit source.theengineer.co.uk
Get tough
Cognex has launched a camera that is claimed to be small, tough and smart. The In-Sight 7000 offers image capture speeds of 100 images per second, the ability to power and control a range of external lighting and enough I/O capacity for virtually any inspection scenario. Additional features include Cognex Connect, which offers a variety of built-in communication protocols that interface directly with the vision system. The compact In-Sight 7000 includes built-in Ethernet, RS-232 serial and multiple discrete I/Os.
www.cognex.com
Strong support
The latest version of Industrial Vision Systems' NeuroCheck image processing software features extended support for the 64-bit edition of Windows 7 to all the important camera and communication devices. Supported systems include all digital cameras in the NeuroCheck series, the Matrix-Vision CameraLink frame grabber of the mvHYPERION series, Hilscher fieldbus support of the CifX series, ICP DAS digital I/O of the PCI and PEX series and Meilhaus digital I/O ME-8100 and ME-8200. Due to the increased memory management, it is recommended that all NeuroCheck 6.0 systems should run under Windows 7 64-bit.
www.industrialvision.co.uk
Learning experience
Multipix Imaging can now offer universities the opportunity to invest in 3D imaging technology at a fraction of the list price. The aim of the promotion is to enable students to gain first-hand experience of 3D technology being used in industry today. The package consists of a SICK Ranger, a camera that measures object shape at excellent speed and quality while capturing other object features such as greyscale and laser scatter. The package also includes the HALCON image processing software from MVTec.
www.multipix.com
Planned with precision
Stemmer Imaging is now offering the Teledyne DALSA Piranha4, an 8k, 70kHz linescan machine vision camera that is claimed to offer excellent precision, speed and responsivity. Typical applications include flat-panel inspection, printed circuit board inspection, web inspection, solar-cell inspection, parcel sorting and high-performance document scanning.
Attention to detail
FLIR Systems has launched improved versions of its FLIR i-Series thermal-imaging cameras. The new FLIR i3, i5 and i7 are extremely rugged and can withstand a 2m drop. Dust and splash proof, the FLIR i-Series cameras are IP43 rated. The FLIR i3 produces thermal images of 60 x 60 pixels while the image quality of the FLIR i5 and FLIR i7 has been improved ― the FLIR i5 has a thermal image quality of 100 x 100 pixels and the thermal image quality of the FLIR i7 is 140 x 140 pixels. More pixels allow the user to see more detail and to detect more thermal anomalies. Every FLIR i-Series camera comes with FLIR Tools software. This enables users to export images directly to a PC for basic reporting and analysis.
www.flir.com