Transforming the UK's electricity network into a self-monitoring, internet-enabled smart grid has the potential to reduce energy usage and enable widespread use of small-scale and intermittent renewable generation. And much of the technology to do this is already available. The issue for the country's regional distribution network operators (DNOs) is working out how best to deploy that technology to meet the specific needs of its customers.
That's why the government has made available £500m through regulator Ofgem for DNOs to test out different smart-grid technologies and techniques, from ways to connect large numbers of solar panels on customers' roofs to methods of reducing consumer electricity demand. Western Power Distribution (WPD), which operates the grid in the Midlands, south Wales and south-west England, has been one of the most successful companies when it comes to winning Ofgem funding for its projects and is preparing a wide range of schemes that will help simulate what the UK's smart grid could eventually look like.
The key to many of the Low Carbon Network Fund projects is releasing the spare capacity that's already built into the distribution network using intelligent management of supply and demand. 'What we're trying to do is get more flexibility in the electricity network,' said WPD policy manager Paul Jewell. 'The low-carbon future, which includes the decarbonisation of heating and transport, will provide more electrical load, and we're trying to achieve a way of accepting that load onto the network and accepting distributed generation without having to do too much reinforcement of the network.'
What we've never done before is to take the control engineer away and allow the system to do its own analysis

Paul Jewell, Western Power Distribution
When it comes to choosing what kind of projects to propose to Ofgem, which has allocated initial funds but continues to run annual competitions for further schemes, the DNOs are looking to meet the demands of their specific regions. But another key consideration is trialling technology that can realistically be deployed across the network at the end of the project. 'Having a good idea's one thing,' said Jewell, 'but once you've got the funding from Ofgem you're duty-bound to try to turn it into a working product. So if it's a bit too off the wall, then you have to park it and wait until the development comes along.'
One of WPD's flagship projects, FALCON (Flexible and Low Carbon Optimised Networks), should provide one of the most complete models of how key elements of the smart grid will operate when it is completed in 2015. Based around a network of around 200 substations in Milton Keynes, FALCON will trial ways to manage a typical 11kV grid that includes distributed generation from customers' renewable schemes using battery storage to manage the electricity flow and by constraining generation when there is more power in the system than needed.
'It will make installing generating equipment quicker and cheaper in future,' said FALCON manager Sanna Atherton. 'This can be achieved by developing a new computer system to advise us of the best engineering and commercial solutions that makes our electricity network work harder for us and our customers, saving time and money.'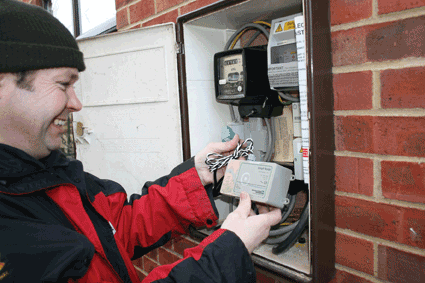 The project will also test out automation technology that will control the network using computer simulations — perhaps the most obviously 'smart' bit of the smart grid. Software will use real-time data on the demand for energy and what generation or stored power is available to turn on or off in order to model different possible network arrangements, before making a decision on the best option and using the automation technology to implement it. 'We've got a network management system that has automatic switching abilities in it,' explained Jewell. 'What we've never done before is to take the control engineer away from that and allow the system to do its own analysis and make its own decisions. It needs more monitoring as a result of that. And we will be putting in different sorts of switchgear. Rather than running our 11kV as a radial system, we'll be running it as a solid ring and moving load around that area.'
Milton Keynes is thought to be particularly suited to this kind of trial because it is home to a number of larger businesses that WPD hopes will be keen to join up and use their participation to show off their corporate responsibility. But the point of the trial is to prepare the way for a wider roll-out of the technology, not just in WPD's regions but, by sharing the lessons learnt with Ofgem and the other DNOs, across the country.
'We try and make sure that we use technology that is understandable and available, and also that can be retrofitted,' said Jewell. 'Because to turn to a low-carbon solution and provide a more dynamic network is one thing, but if it involves digging up and replacing the existing network then that isn't the greatest of ideas. We're trying to move things into business as usual by trying to plan the original projects on that basis.'
Other projects WPD is planning will examine other methods to help manage an increase in distributed generation from renewable sources. The Lincolnshire Low Carbon Hub scheme will see distribution lines in the local 33kV network reinforced so they can carry more power but will also involve the construction of a fibre-optic and microwave wireless communication network. This will also make use of several new technologies to increase the capacity of the grid in other ways, allowing enough renewable generation to power 40,000 homes to be added. The company will be able to monitor the temperature and voltage of the distribution lines and use weather reports to know when the wind will be able to keep them cool, increasing the amount of power they can safely carry. This is doubly useful because the windier it is, the more electricity the network will need to carry from wind farms.
Project BRISTOL (Buildings, Renewables and Integrated Storage with Tariffs to Overcome Network Limitations), meanwhile, will look at distributed generation on the smaller scale, exploring the merits of connecting roof-mounted solar panels to a DC network within the home that includes battery storage. This will allow solar energy to be captured during the day and saved for peak usage times, avoiding the need to transport large amounts of electricity away from residential areas as more and more people buy arrays for their homes. 'The project looks at how we can work together with customers to manage electricity generation and provision,' said BRISTOL project manager Philip Bale. 'This addresses a real problem and looks at clever ways of connecting solar panels that reduces the impact on the network and saves money and energy.'
Another project, LV (Low Voltage) Templates, will collect data on how people in south Wales are using low-carbon technology such as solar panels to enable WPD to work out what effect it will have on the network. '[So far] we're using up capacity that's built into the network because of the probabilistic way we've designed it, but we need to understand how much more is left,' said Jewell. 'What is the real voltage effect of having three quarters of properties with photovoltaics all generating at the same time? Can we accommodate the voltage increases that brings?'
WPD's projects, like all those under the Low Carbon Network Fund, are largely still in the design stages, and we're unlikely to see the impact of smart-grid technology outside the test areas until after 2015. But the rolling nature of Ofgem's competition funding means the DNOs already have their eyes on the innovations that will come next, meaning trials of things such as hydrogen infrastructure may soon make an appearance in the UK.
In depth
Several EV trials are focusing on how to reduce or manage the greater loads likely to hit the network
All of Britain's distribution network operators have received Ofgem funds to trial smart-grid technology, with each trying to find its own niche, whether it be large-scale wind generation in Scotland or electric vehicle (EV) use in London. Several are focusing in particular on how to reduce or manage the greater loads expected to hit the network.
UK Power Networks' Low Carbon London project aims to find ways to accommodate the increased demand for energy from EV charging and heat pumps that decarbonisation will bring.
'Techniques deployed will include energy efficiency, demand side management and demand response, with participating consumers being rewarded through lower electricity bills or, in the case of major businesses, being paid for providing ancillary services,' said Dave Openshaw, the company's head of future networks.
Electricity North West, meanwhile, is preparing for the installation of EV charging in public sites such as supermarket car parks.
Its Capacity to Customers project will offer contracts to its commercial customers that include an acceptance of limited annual outages in return for a smaller grid connection fee, as well as using intelligent software to automate the network.
Northern Powergrid's Customer-Led Network Revolution will focus on demand management by trialling time-of-use electricity tariffs, alongside smart-grid technology and behavioural studies of EV and heat pump users.