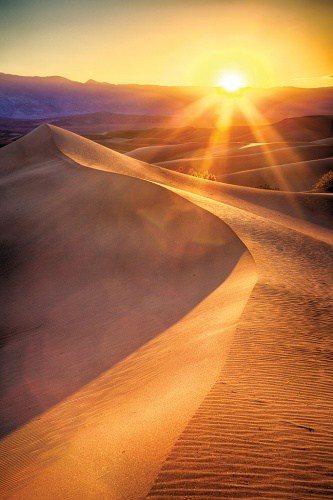 Through a combination of climate change, drought, overgrazing and other human activities, desertification across the world is on the march. It's a process defined by the UN as "land degradation in arid, semi-arid and dry sub-humid regions". Given that around 40 per cent of the Earth's land surface is occupied by drylands – home to around two billion people – the potential for desertification to impact the planet is huge. A recent report from the Economics of Land Degradation Initiative claimed that it's a problem costing the world as much as US$10.6tn every year – approximately 17 per cent of global gross domestic product.
The refugee crisis in Europe has highlighted the difficulties that arise when large numbers of people migrate. However, the numbers arriving from countries such as Syria, Lebanon and Eritrea pale in comparison to those that could be forced into exile by changing climate conditions. According to the UN's Convention to Combat Desertification (UNCCD), the process could displace as many as 50 million people over the next decade.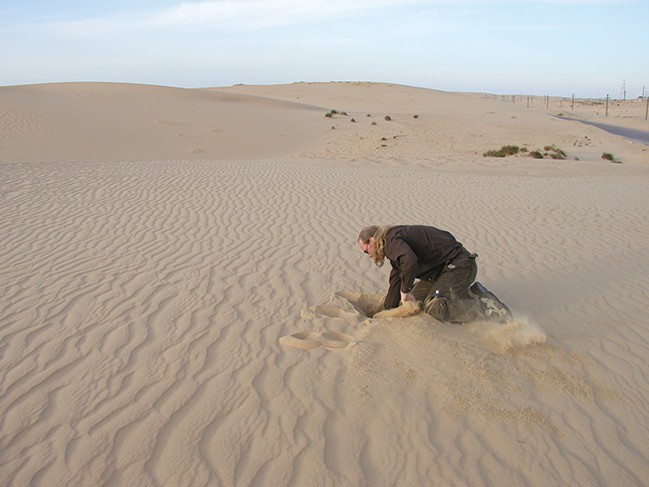 But one Norwegian start-up is developing a technology to wage a frontline battle with desertification. Desert Control is a Norwegian company set up by Kristian and Ole Morten Olesen, alongside chief operating officer Andreas Julseth. It was recently awarded first prize at ClimateLaunchpad, a clean-tech business competition that attracted more than 700 entries from 28 countries across Europe. The product that earned Desert Control top honours was Liquid NanoClay, a mixture of water and clay that is mixed in a patented process and used to transform sandy desert soils into fertile ground.
"The mixing process splits the clay particles into individual flakes and adds air bubbles on both sides of the flakes," Ole Morten Olesen, CEO of Desert Control, told The Engineer. "The mix is then spread over the land and allowed to saturate down to root level – about 40-60cm deep. This requires around 40 litres of water and 1kg of clay per square metre."
Olesen explained that his father Kristian, Desert Control's chief technical officer, has been working on the process behind Liquid NanoClay since 2008. The treatment gives sand particles a nanostructured clay coating, completely changing their physical properties and allowing them to bind water. The process, which does not involve any chemical agents, can change poor-quality sandy soils into high-yield agricultural land.
According to Desert Control, virgin desert soils treated with Liquid NanoClay produced a yield four times greater than untreated land, using the same amount of seeds and fertiliser, and less than half the amount of water. It found that Liquid NanoClay acts as a catalyst for Mycorrhizal fungi when nourishment is available, with the fungi responsible for the increased yield.
Clay is a fundamental component of productive arable land, acting as a water-holder, providing elasticity, and allowing non-clay elements to bind to the soil. In the past, adding clay to dry land
in order to improve its agricultural value has involved tilling clay into the soil. This requires large volumes of clay and substantial amounts of manual labour. The process of transforming sandy
soil into fertile land can take between seven and 15 years. By comparison, Liquid NanoClay takes just seven hours to saturate into the land.
The water and clay is mixed on site using the patented process, then traditional irrigation systems such as sprinklers or water wagons are used to spread it across the sandy soil. The individual clay flakes bind to the surface of the sand particles with a Van der Waals binding, significantly increasing the ability of the soil to hold water and nutrients.
The cost of treatment per hectare is US$4,800, and requires a 15-20 per cent retreatment after four or five years if the land is tilled. If the soil is untilled, the treatment lasts for longer. Converting a piece of desert the size of a rugby pitch into fertile land for this cost seems like a pretty good deal.
"In just seven hours the soil is totally transformed," said Ole Morten. "We use existing irrigation systems to apply the Liquid NanoClay, removing the need to till the land and use much
greater volumes of water."
"In just seven hours the soil is totally transformed

Ole Morten, Desert Control
The performance data for Liquid NanoClay is based on field tests that were conducted at the Agricultural Research Centre (ARC) in Ismailia in Egypt. White pepper was planted in test fields containing dry sandy soil. Fields treated with Liquid NanoClay gave an additional two months of harvest, compared to the fields that were untreated.
Following the initial harvest, the plants were then left without irrigation over winter and spring, when new plants were due to be sown. However, the original crops were found to be in such good condition that they could be used for another season.
"When we returned the following season, we were surprised that the pepper plants were looking so healthy," said Ole Morten. "We had expected to have to replant, as they had been left over winter and spring without irrigation. But the old plants were in good enough shape that we could use them again in the next season."
Unsurprisingly, some of the most vulnerable areas to desertification are in north and central Africa, around the edges of the Sahara. Other regions under threat include large parts of China and Mongolia, as the Gobi encroaches into the eastern parts of the Eurasian Steppe and the farmland it supports, as well as several regions in Australia.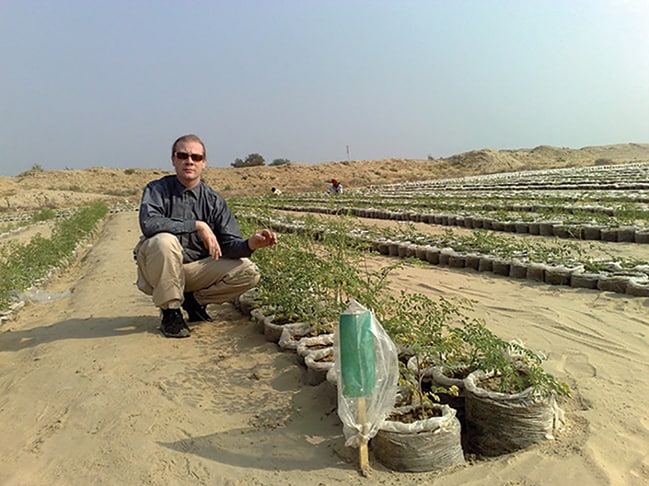 When pitching Desert Control at ClimateLaunchpad, chief operating officer Andreas Julseth also focused in on the particular business opportunity available in Central Valley, California. Making up around 14 per cent of California's total land area, the valley is one of the world's most productive agricultural regions. However, since 2011, the state has been in the grip of one of the worst droughts on record.
"In 2014, the agricultural sector in Central Valley lost 165,000 hectares to fallowing," Julseth recently told the ClimateLaunchpad audience. "Fallowing means they ploughed the land but didn't sow any seeds, because there simply wasn't enough water available to sustain the land. They estimate this had a US$2.2bn impact on the agricultural industry."
In the desperate search for water, farmers in California have been digging ever deeper, employing oil-drilling equipment to reach the disappearing aquifers. Not only is this expensive, it is eradicating an ancient natural resource in a classic tragedy of the commons. Acting out of rational self-interest, the farmers are draining a communal water resource dry. Julseth believes Liquid NanoClay can help avert the impending tragedy.
"I believe that farmers will flock to us as soon as they see that they can reduce their dependency on water by at least 50 per cent," he said. "Put it this way – if they were using our product, the present drought would no longer be a problem. I also believe that land developers will use the opportunity to buy dry land, have us treat it, and then be able to sell it for eight to 10 times the purchasing price. Because that's the reality now – dry land goes for one-tenth what fertile land goes for."
"I believe that farmers will flock to us as soon as they see that they can reduce their dependency on water by at least 50 per cent. If they were using our product, the present Californian drought would no longer be a problem

Andreas Julseth, Desert Control
If Desert Control can successfully get Liquid NanoClay to market, the potential of the technology is enormous, with implications for fragile environments around the globe and the populations that inhabit them. Along with the testing that took place in Egypt, additional third-party verification is taking place at the Faculty of Natural Sciences at Imperial College London.